Despite an upsurge in interest in his later paintings and sculptures, Derain the fauve still far outsells the later Derain. His market was revived by the sale of the studio in March 2002.
Patronised by some of the biggest dealers in the art world — Vollard, Kahnweiler and later Guillaume — lauded by André Lhote as "France's greatest living painter", and ostracised for his stance against the superficiality of the avant garde and a trip he took from occupied France to Germany, André Derain inspires contrasting views. After classical training at the Carrière studio, he met Vlaminck in 1900 and they were soon sharing the "La Baraque" studio in Chatou, cultivating a common passion for African art. They spent summer 1905 with Matisse, at Collioure on the Mediterranean, developing a taste for vivid colours. On returning to Paris, Derain exhibited at the autumn Salon in the famous "cage aux fauves". By 1908 he was hanging around Montmartre with Picasso, Braque and the other cubists that frequented the Bateau-Lavoir studios. Influenced by Cézanne, he began to incorporate primitive influences into a style of work that became known as his Byzantine period, marked by severe, hieratic figures. He fought in the 1914-18 war and emerged to find the art world at his feet. His first one-man show at the Paul Guillaume Gallery was in 1916. Inspired by the old masters, he painted portraits, still lifes and landscapes, as well as scenery for the Russian ballet or the Paris Opera. A series of exhibitions over the last decade has opened up a broader, less dogmatic perspective on Derain's work.
Artworks at auctions
André DERAIN sold well in his own day. But since his death, collectors have tended increasingly to distinguish the different phases of his very varied styles. His prolific output of post fauve portraits or nudes, often painted on commission, commanded high prices during his lifetime before falling out of fashion. In contrast, the fauve period paintings have shot up in value and it is these that now generate the real excitement at auction. Seven of the ten highest hammer prices for Derain's work are for paintings from 1905-07. While 80% of his canvases sell for less than EUR 100,000 some from this period go for more than EUR 1 million. Over the last ten years his top price was for Barques au port de Collioure (c. 1905), which went for USD 2.4 million at Christie's New York in November 1993. But other works are gradually gaining recognition. His sculptures now make up 13% of his turnover at auction. Derain worked in wood, stone and terracotta since 1906. Originals go for anything up to EUR 150,000. But most pieces on the market are bronzes cast on the orders of his wife. His drawings are plentiful and highly prized. They make up 59% of all transactions and sell for around EUR 1,500. As with the paintings, it is the drawings from Collioure that are most pricey.
The market places
The main market for Derain is France, where 80% of lots are sold and 58% of turnover made. Many drawings can be found in provincial sales but his best pieces are still sold at Paris. For exceptional fauve period canvases you will need to go to London or New York.
Buy or sell
Between 1997 and 2001, the price for Derain's work rose by 55%. Then the break-up of the artist's studio on 23-24 March 2002 threatened to swamp the market. Held at Saint-Germain-en-Laye by Loiseau, Schmitz and Digard, the sale was of the legacy of Raymonde Kanublich, mother of Derain's son Bobby. Not all of the studio was put up for auction, but it still brought an unparalleled influx of 4,000 drawings onto the market. In the event, even this failed to puncture the market as no Derain enthusiast, however discriminating, could resist bidding for pieces straight from the artist's studio. Many went for five times their estimated price. The price for Derain drawings did dip from 2001, but was still well above its 2000 level. The price for paintings remained rock solid. Lots generally sold well in 2002 with 91% of drawings finding buyers. Maybe this exceptional sale has even given extra impetus to the market. Could it have inaugurated a new generation of Derain collections? With a market this strong the risks of a flop at auction are low.
    André DerainArtprice Indexall media categories, base January 1997 = 100, currency: EUR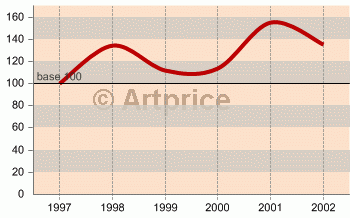 André Derain Number of lots sold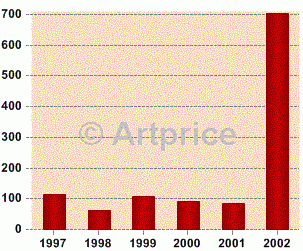 André Derain Auction sales turnover 1999-2002 / weight by country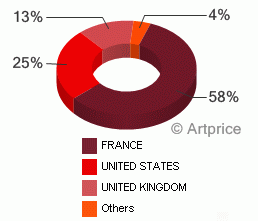 © Artprice