Artprice, the press partner of the Fiac (Foire Internationale d'Art Contemporain), publishes its reference report on the 2008/2009 contemporary art market worldwide. The book will be distributed for free to the media, to VIP's and to all the visitors coming to the Grand Palais and the Cour Carrée du Louvre from 22 to 25 Oct. 2009.
In three editions only, the contemporary art market report has come to be considered by art professionals and lovers as a milestone. This year's book is a priceless tool to understand the recent turmoil of the contemporary art market around the world.
The 144-page study printed in English and French is a guide for the art market as seen through the prism of auctions in 72 countries: it draws up the balance of auctions and makes a statement on the Art market's reaction to the crisis and on the Auctioneers's new strategies.
The report evaluates the art market's worldwide acceleration and the redistribution of its forces around the globe. This year edition's new features is a geopolitical analysis of the Contemporary Art market that examines the prices of the first three artists in the United-Kingdom, the United-States, Germany, Italy the Middle-East, China, India, Japan, Indonesia and South Korea.
The report also includes a top 500 of current artists (born since 1945), the galleries' and collectors' insight, and an entire chapter on the market of Design with Marc Newson, Zaha Hadid, Ron Arad as well as Jeroen Verhoeven, Marcel Wanders, Marteen Baas, Tejo Remy, Tord Boontje, Joris Laarman and Studio Job.
Thierry EHRMANN, the founder of Artprice and an artist, stated that Artprice's different indicators, such as the AMCI (Art Market Confidence Index), point out that « this 36th edition of the Fiac will give collectors the opportunity to buy at lower prices as there are clear signs of the Art market's recovery on all continents ».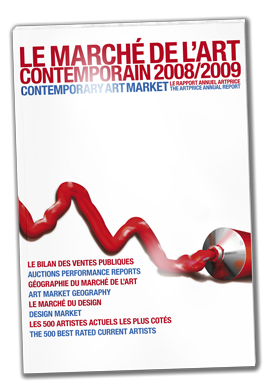 Format PDF
144 pages
Download the file

To download the file, you could also save it on your hard drive (click right on the link above, then select « save target as… », and open your PDF file with Adobe Acrobat Reader