His high turnover, regular retrospective shows and diverse output have set off an explosion in the prices paid for Fernand Léger's work. His price index has doubled in five years.
Léger was born in 1881 and in 1907 first discovered Cézanne. This led him into cubism and abstraction. Working at La Ruche from 1910 onwards, he met Picasso and Braque. But his output was always distinct from the cubist masters. He retained his colourful palette and rounded forms. In 1912, he exhibited at the Section d'Or and a year later signed an exclusive contract with Daniel-Henry Kahnweiler. His work took a fresh turn after the first world war as he tackled themes revolving around the circus and mechanisation. The great European museums were quick to welcome him. And he had big shows at the Art Institute of Chicago and MoMA in New York in 1935. In 1940 he fled the war to New York and adopted a more supple style, playing with the transparency of overlaid colours and distancing colour from form. After his return to France in 1945, the Louis Carré gallery put on a major exhibition of his American work. From 1949 he started working in ceramics at Biot with one of his students Roland Brice.
Artworks at auctions
Fernand LÉGER is among the most commonly found and most enthusiastically received names on the market. In 2002, 166 of his works were sold at auction for a combined turnover of USD 33 million. This turnover, twice that of 1999, made him the sixth biggest selling artist in our 2002 Top 500 (display the list). His highly diverse works sell for a wide range of prices. Half fetch less than EUR 5,000 but his canvases are generally large formats — averaging 4,064 cm2, around 50x80cm — and go for more than USD 500,000. Most of the million-dollar plus prices are paid for works painted in 1918-25. The most expensive of all are those from immediately after the first world war — his record stands at USD 15.2 million paid at Christie's for Le moteur (1918), when the René Gaffe collection was broken up on 6 November 2001. Oils represented 12% of sales at auction in 1999-2002, but Léger works on paper account for a massive 80% of volume sales. Prints make up 50% of lots sold and are knocked down at an average EUR 2,000. There are also a few bronzes and a lot of ceramics made in 1952-53. Brightly coloured and with striking relief these are usually a big hit with collectors. On 6 November 2002, the large format mural Femmes au Perroquet (1953) sold for USD 180,000 at Sotheby's New York.
The market places
Most of the paintings and 65% of turnover pass through New York. A third of prints are sold in Germany, while France dominates the market for Léger drawings and watercolours. That said, Paris has recently hosted the sales of some high-quality canvases, particularly when the Carré collection was broken up by Piasa and Artcurial-Briest-Poulain-Le Fur on 9 December 2002.
Buy or sell
The price of Fernand Léger works is on the rise, particularly since two major retrospectives at the Musée National d'Art Moderne (Paris) in 1997 and MoMA (New York) in 1998. As with many Section d'Or artists, ever strengthening demand is chasing a plentiful and high quality supply of work. In 2002, the no sales ratio for Léger fell by 28% and prices still rose by 19%. EUR 100 invested in a work by Fernand Léger in 1997 was worth EUR 223 in December 2002. Taking advantage of the current enthusiasm a host of collectors are trying to sell canvases bought a few years ago at above-market prices. These overambitious aficionados are setting reserves well above justifiable levels. For instance, Composition à l'arraignée noire (1938) bought for USD 120,000 (FFR 660,000) in 1994 in Paris was put up in New York in May 2001 with an estimate of USD 350,000-400,000 and bought in. According to the Artprice Index, rebased at 100 in 1994, this work should only have been priced at around USD 256,000 in 2001.
    Fernand LégerArtprice Indexall media categories, base January 1997 = 100, currency: EUR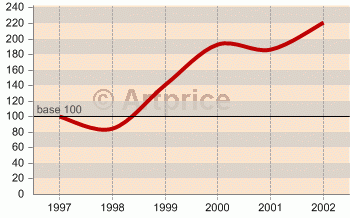 Fernand Léger Number of lots sold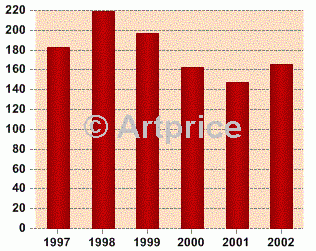 Fernand Léger Auction sales turnover 1999-2002 / weight by country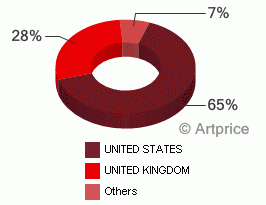 © Artprice