To coincide with the first Art Stage fair in Singapore, Artprice is publishing a Guide to the Contemporary Art Market in Asia. This free guide, produced by Artprice and edited in an English/Chinese version, will be distributed to collectors, visitors, guests and gallery-owners at Art Stage Singapore between 12 and 16 January 2011 and will be presented in the framework of a conference about the fair on 15 January. It is also freely available on Artprice.com.
The guide reviews the new hubs of the Asian art market that have emerged in, China, Japan, India and Indonesia and which are now unavoidable hot points of the global art market.
Since the turn of the new millennium, the centre of gravity of artistic creation and demand has moved very markedly to the East. Underpinned by strong economic growth, China, India and Indonesia, amongst others, have rapidly imposed themselves as major players on the international art market. Today, Taiwan, South Korea, Singapore and Japan have become unavoidable marketplaces on the global art map. Along with China, these markets are generating enough revenue to topple the USA's leadership of the global art market: in 2009 Asia's total auction revenue was substantially higher than USA's ($155m vs. $142m) for the first time ever.
The global map of the art market has radically changed… in this article report focuses on some of the key trends within the art market's new physiognomy.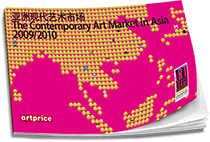 SUMMARY
The Contemporary art rush
CHINA
JAPAN
INDIA
INDONESIA
SOUTH KOREA
COLLECTORS' INSIGHT

Format PDF
36 pages
Download the file
To download the file, you could also save it on your hard drive (click right on the link above, then select « save target as… », and open your PDF file with Adobe Acrobat Reader)h5>
Download Adobe Acrobat Reader