A lackluster photography market
[19 Apr 2022]

After the very mixed results from Sotheby's, Christie's and Phillips' latest sales dedicated to photographic art, there is a very clear question mark hanging over the segment: has it run out of steam completely… or it is just on pause?

In February, Sotheby's sold a superb work by Ansel Adams titled Moonrise, Hernandez, New Mexico (1941), for $504,000. Half a milllion dollars may seem like a lot of money, but Sotheby's was hoping for a substantially higher result with a high estimate of $700,000, (i.e. closer to the $685,500 hammered for the same subject in 2020). It was therefore a 'respectable' result, but somewhat lacklustre.

Two months later (on April 7), the mood was equally tepid at Christie's sale of the excellent Richard Gere collection. Taking a total of $2.4 million, the vast majority of the prints sold within their estimates, with the exception of a couple of works:
Temná vlna (The Dark Wave), (1926) by Frantisek DRTIKOL (1883 – 1961), sold for $352,800 against a high estimate of $150,000, setting a new auction record for the Czech photographer.
Mr. Peanut in Times Square, NYC, (1956) by Diane ARBUS (1923 -1971) fetched no less than ten times its mid-range estimate at $75,600. The subject had never been offered at auction before.
Mediterranean with Mount Agde, (1856-1859) by Gustave LE GRAY (1820 -1884) reached $75,600 against a high estimate of $50,000
Jesse at 9, (1991) by Sally MANN (B. 1951) sold for $40,320, four times its low estimate, and a new high for this image. Sally Mann's auction record has stood at $266,500 since 2012.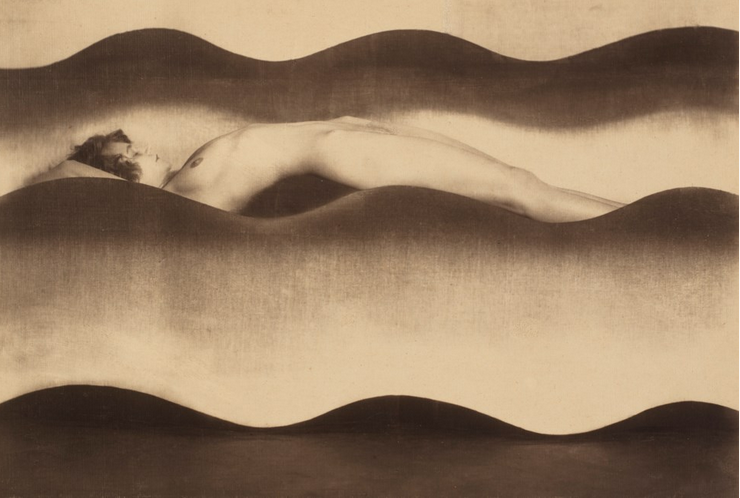 Temná vlna (The Dark Wave), (1926) by FRANTIŠEK DRTIKOL (1883 – 1961)
The Richard Gere provenance was clearly a driver for these results that far exceeded expectations. However just two days earlier, another Christie's sale elicited a somewhat feeble response, including for famous prints that are usually very coveted. Irvin Penn's Cuzco Children remained unsold along with Helmut Newton's iconic Sie Kommen (Naked), and several images by Robert Frank. A couple of works by leading Contemporary photographers like Shirin Neshat and Hiroshi Sugimoto also failed to sell, taking their price indices into negative territory.
Auction price indices for Shirin Neshat and Hiroshi Sugimoto (Copyright Artprice.com)

On 6 April, the market for Contemporary photography seemed more dynamic at Phillips with a total of $3.9 million, better than Sotheby's total from the Richard Gere Collection! Following the sale, Sarah Krueger, Head of Phillips' Photography Department, said: "We are pleased with the high prices obtained for Classic and Contemporary works at our April auction. Vik Muniz, Peter Hujar, Gregory Crewdson and Thomas Ruff were all in high demand, and Ansel Adams' strong results illusqtrate the American photographer's enduring appeal. We have set new auction records for a diverse group of photographers, including Jose Dávila and Marcia Resnick and we are pleased to have introduced their work to new collectors around the world."
The sale's top results were hammered for Contemporaries Vik Muniz and Gregory Crewdson at $119,700 and $81,900 respectively. As for Jose Dávila and Marcia Resnick, their markets are still relatively confidential, even if José DAVILA is now reaching 'substantial' prices with a new record recently set at $52,920.
Million-plus results for photographs in 2021
Last November, Christie's hammered 5 of the 7 million-plus auction results of the year 2021 with major images by Cindy SHERMAN, Richard PRINCE and Barbara KRUGER. The prices of American artists Cindy Sherman and Richard Prince have therefore remained at a good level compared to those for other Contemporary Photographers whose markets have shrunk substantially in recent years.
Top 10 auction prices for Photography in 2021:
$3,150,000: Untitled – 1981, Cindy SHERMAN (Christie's NY, 11/9/2021)
$3,030,000: Untitled (Cowboy) – 1997, Richard PRINCE (Christie's NY, 09/11/2021)
$2,190,000: Untitled (Cowboy) – 2000, Richard PRINCE (Christie's NY, 11/05/2021)
$2,070,000: Untitled – 1981, Cindy SHERMAN (Christie's NY, 09/11/2021)
$1,956,000 (estimated $300,000 – $500,000): William Henry Fox Talbot's Gifts to his Sister, William Henry Fox TALBOT (Sotheby's, 21/04/2021)
$1,590,000: Untitled – 1981, Cindy SHERMAN (Christie's NY, 11/09/2021)
$1,170,000: Untitled (Your Manias Become Science) – 1981, Barbara KRUGER (Christie's NY, 11/09/2021)
Auction price indices for Cindy Sherman and Richard Prince (Copyright Artprice.com)


Andreas Gursky's annual auction turnover, for example, has seriously contracted over the last ten years, and the photograpy segment as a whole is down -19% over the same period. Nevertheless… the year is still young and major sales are scheduled for May and November…
Andreas Gursky's auction turnover (Copyright Artprice.com)