American Impressionism in decline in 2003
[18 Dec 2003]

 

An offshoot of French Impressionism, American Impressionism emerged in the 1880s with the works of Charles Curran and Ben Foster. The movement numbers some 60 artists. Its most celebrated exponents include Childe HASSAM of Boston, who was inspired by urban subjects, and the portraitists Mary CASSATT and John Singer SARGENT.

American Impressionsim: Price Growth (1993-2003)Base 1993 = 100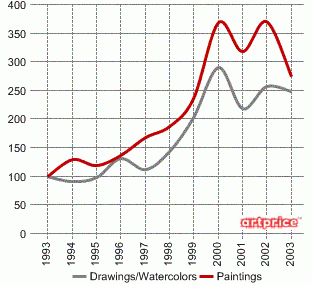 Between 500 and 800 works are sold at auction each year, most of them paintings. A breakdown of prices shows that 50% of canvasses sold between 1993 and 2003 went for under USD 10,000. Logically enough, the US accounted for 98% of these. France was home to Mary Cassatt for many years, and Paris auctions therefore also sometimes feature a few of her fine portraits – Sara avec un grand chapeau et une prune en pendentif sold for EUR 750,000 at Piasa (Paris) in June 2002.
John Singer Sargent's Cashmere (1908) holds the record for the most expensive piece of American Impressionism, selling for USD 10.1m on 5 December 1996 at Sotheby's. Childe F. Hassam is the movement's second most expensive artist with Flags, Afternoon on the Avenue (1917), which sold for USD 7.2m in 1998. After him come James Abbot McNeill WHISTLER (USD 3.8m for The Sisters (1899), sold by Sotheby's in 1995) and Mary Cassatt (USD 3.7m for In the Box, sold on 23 May 1996 at Christie's).
Prices are still a very long way off those of the French impressionists, with the highest prices starting to look outdated. Only Maurice Brazil PRENDERGAST and Thomas Wilmer DEWING have made it to the USD 3m threshold since 1998. Theodore ROBINSON's Boats at a Landing (1894) achieved the highest hammer price in 2003, fetching USD 1.9m at Sotheby's on 5 May and setting a record for the artist, but it was the only work to reach the million-dollar mark this year.
Having exploded at the end of the 1990s, the market seems to be drying up. Only half as many works were put up for auction this year as in 1999. The finest pieces are becoming a rarity, and so too the opportunities for setting records. Not one Mary Cassatt canvas went to auction in 2003. Frank Weston Benson's only painting on sale this year, Mount Monadnock, failed to find a buyer. Even sales volumes for James Abbot McNeill WHISTLER America's most sold impressionist artist by virtue of his very large of output of prints, have almost halved since 1999/2000.
Added to this is a marked fall in prices since the start of the year, with paintings down 26% and drawings/watercolours 4% cheaper. Thanks to a dynamic and varied market, however, the drawings/watercolour segment is still quite healthy and continues to offer upside potential. Their weighting is even increasing relative to other media—they accounted for 19% of sales in 2003 against only 13% in 2000. What's more, their 2003 buy-in rate is only 12%, as against 21% for paintings.