An exceptional season for Christie's in Hong Kong
[03 Dec 2019]

"In spite of the current geopolitical challenges, the market is confident" said Francis Belin, Head of Christie's Asia-Pacific zone, after their programme of Hong Kong sales in November.

In five days, Christie's HK sales generated a total turnover of $337 million which included $159.7 million from its sales of 20th Century & Contemporary Art of which $136.9 million from its evening sale versus just $52 million from the same sale a year earlier. It was in fact Christie's best-ever total for a 20th Century & Contemporary Art sale in Hong Kong and its success was driven by a number of superb works generating new records for Asian and Western artists including Sanyu, Kim Whan-Ki and Eddie Martinez.

For thierry Ehrmann, Artprice founder and CEO of ArtMarket.com, "Hong Kong is a bit like Silicon Valley: a small corner of the world currently attracting a lot of attention! Amidst the political turbulence, district council elections have shaken the city, Alibaba has accomplished the world's biggest IPO of the year and a series of new records have been hammered in its auction rooms. The Hong Kong art market is promoting what will perhaps be the first major art movement of the 21st century: an art advocating greater frivolity with a welcome and unfettered exploration of kitsch aesthetics, which Christie's has baptised "Hi-Lite".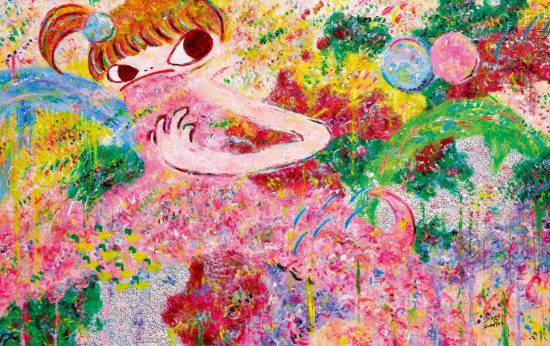 Ayako Rokkaku – Untitled (2015)
Christie's ended its major evening sale with a separate section dubbed "Hi-Lite", with a specific catalogue bringing together artists "whose neo-pop aesthetic and connection to commercial art, cartoons and street culture have gained them a global cult following. Many of the pieces selected for this sale employ a similar visual style featuring bold flattened forms, bright colors and clean lines, referencing images appropriated from popular media and fashion, music, graffiti and animation."
Among the artists included in Christie's Hi-Lite sale were a number of artists whose prices are are inflating rapidly. They include Western artists like Kaws (at the top of the list in terms of price) and highly sought-after Asian artists like Ayoko Rokkaku, Liu Ye, Takashi Murakami and Yoshitomo Nara. All seem to have assimilated the codes of fashion, marketing, pop culture, street culture and manga into their work, and all the works in the Hi-Lite section on 23 November found buyers, including a much-anticipated work by Japan's most expensive artist, Yoshitomo NARA. Presented as a veritable "masterpiece" by Christie's in a 'stand-alone sale' at the end of the 20th Century & Contemporary Art sale, Nara's  Can't Wait 'til the Night Comes is a large painting of a girl's face (almost two meters wide) with a small vampire tooth in the corner of her mouth. The cute little monster fetched a strong result at $11.9 million, but it was a long way behind Nara's auction record of $25 million for his Knife Behind Back at Sotheby's Hong Kong on 6 October last.
Although the HI-LITE section generated good results, there were a number of even more impressive results in Christie's sales, including those for works by the Sino-French artist SAN Yu. According to the auction house, one of his major paintings attracted potential buyers from 50 countries. Entitled Five nudes, this masterful late 1950s depiction of five female nudes inevitably reminds us of the famous Dance painting by Matisse (painted 40 years earlier) an artist Yu much admired. Christie's managed to sell the work for $38.8 million, a new auction record for the artist. As this was not its first auction appearance, it is interesting to look at its price history. Compared with its last public sale (at Ravenel in Hong Kong's Grand Hyatt Hotel) eight years ago, Five Nudes added no less than $22.3 million to its value.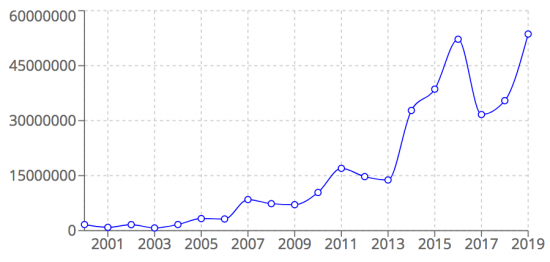 San Yu – Five nudes' indicative values
By his radicality and his ability to "merge the traditions of the East and West like no-one else before him" (to quote Eric Chang, Chairman of Asian 20th Century & Contemporary Art at Christie's in Hong Kong), San Yu has become an unavoidable artist on the Asian art market. In fact, San Yu is clearly following the same price trajectory as the other great Sino-French abstract artists ZAO Wou-Ki and CHU Teh-Chun, for whom demand is still buoyant on their best works, both in Asia and in the West.
Top new artist records in Hong Kong in H2 2019
San Yu – Five nudes (1950) – $39 million (Christie's)
Yoshitomo Nara – Knife Behind Back  (2000) – $25 million ( Sotheby's)
Whan-Ki Kim – 05-IV-71 #200 (Universe) (1971) – $13 million (Christie's)
Liu Ye – Smoke (2001/02) – $6.7 million (Sotheby's)
Huang Daozhonu – Collection of poems (17th c) – $5.5 million (Christie's)
Zheng Wuchang – Landscapes (1939) – $2.1 million (Sotheby's)
Eddie Martinez – High flying bird (2014) – $2 million (Christie's)
Li Chen – Dragon riding Buddha (2001) – $1.4 million (China Guardian)
Fei Danxu – Tour of Tao Guang temple (1834) – $1.3 million (Christie's)