Artprice 2021 Global Art Market Report: main trends and key figures
[18 Mar 2022]

Since March 15, the 2021 Global Art Market Report is available on Artprice.com. This report offers an analysis of global auction sales of fine art, including paintings, sculptures, drawings, photographs, print, videos, installations, tapestries – and NFTs – but excluding antiques, anonymous cultural property and furniture. It covers the period from 1 January 2021 to 31 December 2021.

Here is a summary of the main trends and key figures.
The full report is available free of charge, in full and in three languages, online as well as in PDF version HERE.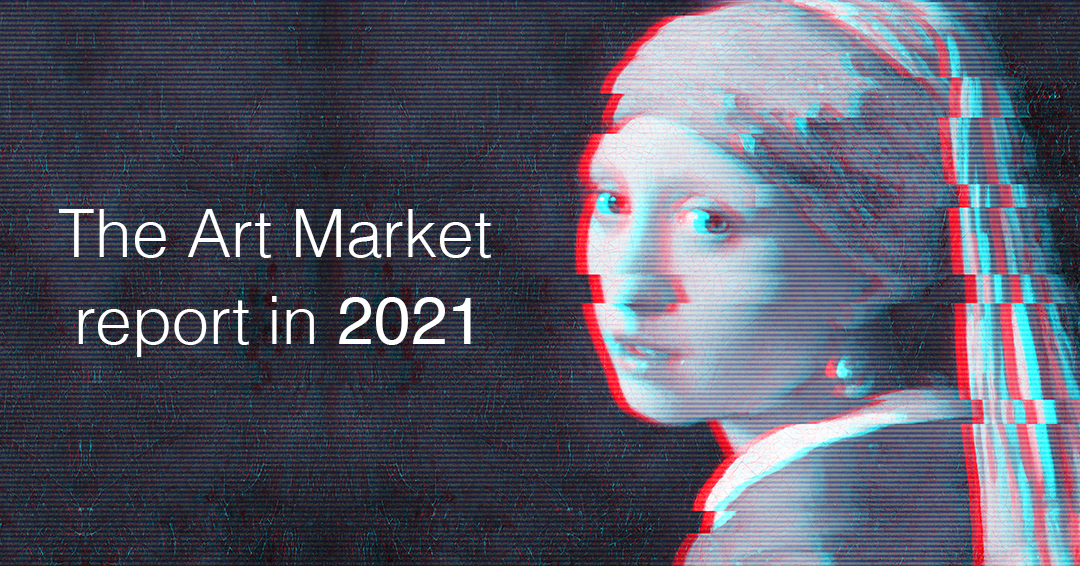 Key market data for 2021
Global art auction turnover reached $17.08 billion, a 60% increase versus 2020.
Turnover from Fine Art sales in the West rose 68% to a total of $10.9 billion.
Revenue from Fine Art sales in China grew 43% to a total of $5.9 billion.
The number of lots exchanged in auctions worldwide reached an all-time record of 663,900 up 29%.
The average price of the lots sold was $25,730 and the median price was $930.
The unsold rate contracted to 31% thanks mainly to online sales.
The Contemporary Art index showed a +3% growth.
Contemporary Art accounted for 20% of the Art Market, compared to 3% in 2000.
Soft Power
With a total turnover of $5.95 billion (35% of the global total) China hammered more fine art auction proceeds than the USA with its total of $5.79 billion (34%).
With a total of $1.99 billion, the UK was 10% down versus the level it posted in 2019.
The top three national markets in the global art market accounted for 80% of global art auction turnover.
For the first time in its history, France's annual total exceeded $1 billion at auction, at last becoming a major player in the global art market.
The German market secured 5th place in the global ranking and attracted Sotheby's to Cologne.
South Korea multiplied its art auction turnover by four, generating $237 million.
China in first position
This report shows that China has once again reached the top position in the global national ranking in terms of art auction dynamism, very clearly demonstrating its 'serious competitor' status versus the United States. While China's market has its own codes, this makes it all the more interesting and it is also why the editorial partnership between Artprice and Artron is both exciting and extremely relevant to the global reality of a rapidly changing market.
Top 10 countries by Fine Art & NFT auctions (evolution vs. 2020)
1. China (Artron): $ 5,953,355,500 (+43.0%)
2. United States: $5,794,793,900 (+102.3%)
3. United Kingdom: $1,996,657,600 (+28.6%)
4. France: $1,008,464,700 (+71.8%)
5. Germany: $356,967,400 (+18)
6. South Korea: $237,290,600 (+369.90%)
7. Italy: $212,554,100 (+49.1%)
8. Switzerland: $193,884,700 (+74.7% )
9. Japan: $167,464,400 (+75.6%)
10. Poland: $142,070,800 (+66.5%)
Artists and auctions
In 2021, one lot fetched over $100 million: Pablo Picasso's Femme assise près d'une fenêtre (Marie-Thérèse) at Christie's New York.
In 1997, the same painting sold for $7.5 million.
In 2021, Picasso, Basquiat, Warhol, Richter and ZHANG Daqian were the most successful artists at auction in the world.
BEEPLE was the most expensive living artist of the year, with a lot that fetched $69.4 million.
Gerhard Richter and Banksy are the world's most successful living artists at auction.
Banksy totaled 1,186 works sold for $206 million, including a new record at $25.4 million.
Yayoi KUSAMA is the first woman in history to join Artprice's Top 10 global artists by turnover.
Major trends
1. NFTs offer a whole new way of collecting:
The results for works by Beeple, Pak, Larva Labs, YUGA LABS have made this new market unavoidable.
The first 279 NFT lots to hit the art auction market generated a total of $232.4 million (more than the photography segment of the market).
2. Young artists broke precocity records (the so-called "red-chip" phenomenon):
Beeple (40 years old), Avery Singer (34 years old), FEWOCIOUS (18 years old) reached eye-watering prices.
3. Demand for works by African artists and artists of African descent showed tremendous dynamism:
Jean-Michel BASQUIAT became the 2nd most successful artist in the world, after Picasso.
For the first time, five major Basquiat works were sold in Hong Kong.
The Art Market 3.0: NFT, Metaverse and Blockchain
To fully comprehend the historical impact of NFTs on the art world in 2021, we must go back to the Renaissance when a similar paradigm shift occurred. Thanks to Johannes Gutenberg's printing house, artists were – for the first time – able to print their first editions. This represented a major transfer of power into the hands of artists.
This evolution allowed artists – for the first time in history – to generate income and to control their own production in their workshops and factories. Today with NFTs, we are experiencing a similar paradigm shift with the same historical importance.