Artprice's 2012-2013 Contemporary Art Market Annual Report is now online at Artprice.com!
[15 Oct 2013]

 

Artprice.com is pleased to announce the publication of the 7th edition of its exclusive Contemporary Art Market Annual Report (paper version: 146 pages). This report analyses all auction sales results recorded between July 2012 and June 2013 for artists born after 1945, and it identifies the market's key trends, as followed throughout the year by our news agency, ArtMarketInsight, and by our econometrics department.

More than a billion euros in twelve months… For the first time in the market's history, global auction turnover from Contemporary art has exceeded the 1 billion threshold. Our report answers a number of crucial questions: who are the main signatures driving the top end of the market? How strong is the speculative element? Who are the strongest price performers over the long term? Which emerging artists are likely to remain in the limelight? What are the particularities of the Contemporary Art market in Europe, in China, in the United States and in Qatar? What changes are currently underway and what risks is the market currently facing?

The Report also contains a repertory of the world's Top 500 Contemporary artists ranked by auction turnover and by the personal opinions of galleries and dedicated collectors.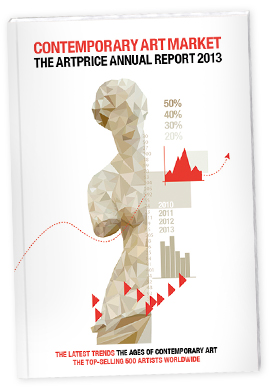 THE 2013 CONTEMPORARY ART MARKET
SUMMARY
THE LATEST TRENDS
Contemporary art posts its first billion
United States: the Basquiat trump card
China: openness and regulation
France: the international stakes at issue
The market leaders: physical deployments
The high-end market: over €500,000
Affordable art
THE AGES OF CONTEMPORARY ART
Contemporary classics
Emerging artists
COLLECTORS' INSIGHT
GALLERIES' INSIGHT
TOP 500 Artists 2012/2013
Format PDF
72 pages
Download the file
To download the file, you could also save it on your hard drive (click right on the link above, then select "save target as…", and open your PDF file with Adobe Acrobat Reader)
Download Adobe Acrobat Reader
The PDF version of Artprice's Contemporary Art Market Annual Report can be downloaded from Artprice.com in English, French, German, Italian, Spanish and Chinese.
http://www.artprice.com (c)1987-2013 thierry Ehrmann
Artprice is the global leader in art price and art index databanks. It has over 27 million indices and auction results covering more than 500,000 artists around the world. Artprice Images(R) gives unlimited access to the largest Art Market resource in the world: a library of 108 million images or prints of artworks from the year 1700 to the present day, along with comments by Artprice's art historians. Artprice permanently enriches its databanks with information from 4,500 auctioneers and it publishes a constant flow of art market trends for the world's principal news agencies and approximately 6,300 international press publications. For its 2,300,000 members (members log in), Artprice gives access to ads posted by members. This space represents the world's leading Standardised Marketplace® for buying and selling art. These sales take place under two systems: either fixed price sales or auction-sales (regulated by paragraphs 2 and 3 of Article L 321.3 of the French Code of Commerce).
Artprice is listed on the Euronext Paris SRD L.O. (Euroclear: 7478 – Bloomberg: PRC – Reuters: ARTF)
Discover the Alchemy and the universe of Artprice
Follow all of the art market's news with Artprice on Twitter
Follow all of the art market's news with Artprice on Facebook