Artprice: the 2013/2014 Contemporary Art Market Report is now online
[29 Sep 2014]

 

Who are today's top artists on the Contemporary art market? Who are the most sought-after emerging artists in the world? Where exactly is the market? Where is it beginning to thrive? What are the principal trends on the Contemporary art market… and what determines the price of an artist? Just some of the questions we focus on in this eighth edition of Artprice.com's Contemporary Art Market Guide, based on an in-depth analysis of global auction data (July 2013 through early July 2014). Whether you buy art as an investment or as a passion, this report provides insight into the workings and current condition of the Contemporary art market… a market that is fiercely competitive but which has opportunities for all art lovers, whatever their means.

The high-range contemporary art market continues to rocket! The 2013-2014 period was one of many records: a record set by Jeff Koons for his contemporary work of art sold m€38.8 ; a record number of auction sales reaching the million dollar/euro threshold and a record auction turnover for a Post-War and Contemporary Art sale. This 8th edition reports on the market's prosperity and analyses emerging markets in Africa, the Middle-East, South America and the Philippine.

The Report also contains a repertory of the world's Top 500 Contemporary artists ranked by auction turnover.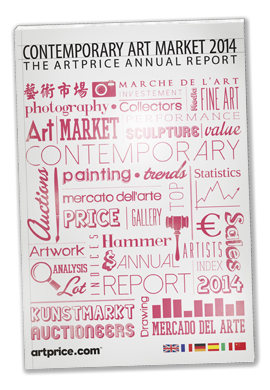 SUMMARY
THE LATEST TRENDS
Records in the art market
Artists making over €10 million
Art is not necessarily unaffordable
Bipolarity: China and the United States
Europe: the gap between London and Paris
THE EMERGING MARKETS
Focus on the Philippines
Africa and the Middle-East
Latin America
TOP 500 Artists 2013/2014
PDF version
Download the file
To download the file without going through your browser, save the document on your hard disk (right-click on the link below; select "save target as…"; then open the PDF file that has been saved by Adobe Acrobat Reader).
Get Adobe Acrobat Reader
The PDF version of Artprice's Contemporary Art Market Annual Report can be downloaded from Artprice.com in English, French, German, Italian, Spanish and Chinese.
http://www.artprice.com (c)1987-2014 thierry Ehrmann
Artprice.com is the global leader of art market information with more than 30 million indices and auction results from 4,500 international auction houses covering over 550,000 artists. Artprice Images(R) offers unlimited access to the largest Art Market ressource in the world, a library of 108 million images or engravings of artworks from 1700 to the present day along with comments by Artprice's art historians. Its world standardized Marketplace(R) serves fixed price and auction ads (regulated by French law alinéas 2 et 3 de l'article L 321.3 du Code du commerce) to its 3.2 million members (log in members).
Artprice.com is listed on Eurolist by Euronext Paris (SRD L.O.) and Euroclear: 7478 – Bloomberg: PRC – Reuters: ARTF – and on CAC® PME by Euronext since 5 March, 2014.
Discover the Alchemy and the universe of Artprice
Artprice releases
Follow all of the art market's news with Artprice on Twitter
Follow all of the art market's news with Artprice on Facebook
Contact: Josette Mey, tel: +33(0)478-220-000, e-mail: ir@artprice.com