The market for contemporary art may be shrinking everywhere else, but in Italy both value and volume sales are booming. In the first half of 2003, Italy accounted for 5% of the market by value and 19.6% by volume, with 1,085 lots generating sales worth EUR 2.2 million.
Italy's share of turnover for artists born after 1940 was 3% in the first half of 2002, and just 2% in the equivalent 2001 period. At its peak, the global contemporary art market was worth EUR 87 million—double its current size—with Italy accounting for EUR 1.7 million. Two key factors explain why Italy has surged ahead of its struggling competitors.
Italy weight in the contemporary art market (1997 – 2003)According to the half year auction sales turnover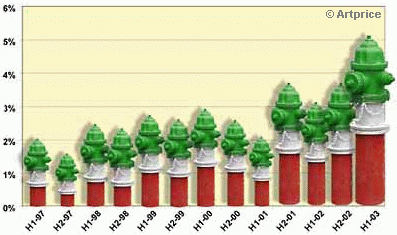 The main reason is the strength of Italy's own artistic movements. Indices for most Italian contemporary artists, such as those belonging to the Arte Povera or Transavanguardia movements, have been rising significantly. The biggest gains have been for Transavanguardia artists, whose prices rose by an average 54% between 1 January 2001 and 1 September 2003. Francesco CLEMENTE's work commands the highest prices, but Mimmo PALADINO, Sandro CHIA and Enzo CUCCHI have also seen major increases (see ArtMarketInsight of 9 December 2002).
As for Arte Povera, Alighiero BOETTI has now established himself as one of the most expensive Italian artists. Between 1997 and 2002 his drawings soared by 697%, while his tapestries gained 312%. Boetti's A tempo in tempo col tempo (1983) tapestry holds the Arte Povera record at EUR 443,800. The index of another Arte Povera member, Giulio PAOLINI, has climbed by 114% since 1999.
However, the group's most sought-after artist is unquestionably the young and idiosyncratic Maurizio CATTELAN. After La Nona Ora sold for USD 800,000 at Christie's in New York in May 2001, Cattelan confirmed his standing with La Ballata di Trotsky, which fetched GBP 560,000 a month later in London. Despite these successes, none of his installations have come close to matching such high prices.
The second reason for the buoyancy of the Italy's contemporary art market is a boom in auction house activity. In addition to the big-name Italian artists that fill the catalogues of prestigious US and UK auction houses, the local auctioneers offer a wide range of home-grown artists. Among those whose stars are in the ascendant are Mimmo GERMANA, Omar GALLIANI, Ugo NESPOLO, SALVO and Luca ALINARI.
Neither Christie's nor Sotheby's dominate in Italy at the moment. The most important houses for contemporary art are Farsetti and Meeting Art, which rarely set records but make up for their lack of star sales with busy volumes. In the first auction season of 2003, the highest bid recorded at Meeting Art was a modest EUR 14,000 for a Sandro Chia painting. But this house knocks down two out of every three contemporary art lots sold in Italy. It held 17 sales during the first six months of the year, including 11 in May and June.