Contemporary art in New-York – Confidence reigns…
[19 Nov 2007]

 

Art market players had been worried by the idea of a market downturn after the mixed results from the impressionist and modern art sales in New York on 6 and 7 November. However, one week later, the strong sales in the contemporary art sector proved that the market remains buoyant.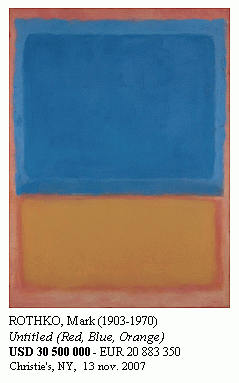 On 13 November, the 325 million achieved in 67 lots at the Christie's contemporary art auction set the tone: the market is still very firm and prices for contemporary art continue to reach new highs.
Following the disappointing outcome of the Impressionist and Modern art sale at Sotheby's on 7 November, their contemporary art sale on 14 November cut short talk of a slowdown in the art market. At this evening event, Sotheby's achieved its best-ever sale proceeds with USD 315.9 million compared with the expected USD 298.7 million, a high accompanied by a flood of records.
The strongest results from these two days came from Untitled (Red Blue Orange) by Mark ROTHKO, which achieved USD 30.5 million at Christie's, and from Second version of study for bullfight N°1 (1969) by Francis BACON, sold for USD 45,961,000 at Sotheby's, an level approaching the USD 47 million paid last May at the same auction house for Study from Innocent X.
Amongst the most awaited works, the two auction houses competed with each other in each presenting a monumental work from Jeff KOONS' Celebration series. The first, entitled Blue Diamond found a buyer for USD 10.5 million (on 13 November)… a new record for the artist which was to last only a few hours, since Hanging Heart, which had been expected to raise between USD 15 million and 20 million at Sotheby's, doubled the Blue Diamond high when the bidding culminated at USD 23.5 million! Koons, who occupies 56th position in the contemporary artist ranking by 2006 sale proceeds (source Artprice), is seeing spectacular price growth: last year, he achieved USD 16.9 million…a figure surpassed this year in just one sale.
Another contemporary art strar, Andy WARHOL,supported by 440% growth in his price index over 10 years, is still setting the auction room alight. On 13 November, Christie's notably sold Muhammad Ali for USD 8.2 million (EUR 5.6 million), well ahead of an optimistic pre-sale estimate of USD 3 million. His Elvis 2 Times, which had been expected to raise between USD 15 and 20 million, found a buyer for USD 14 million, while the sale of his portrait of Elizabeth Taylor, Liz (1963), heralded on the catalogue cover, achieved USD 21 million (EUR 14.3 million, Christie's)…a result while below its estimated range (USD 25–35 million) was still well above the USD 3.25 million (EUR 3.6 million) paid for the work at Sotheby's NY just six years previously!
On 14 November, the best result for Warhol came from a self portrait in the camouflage series, which sold for USD 12 million (Sotheby's)… In 48 hours, the king of Pop Art had 14 more million-ticket sales in his favour (in dollars)!
Another highlight of these sales was the market for Chinese artists, which confirmed its robust health in reaching new highs. Each auction house sold a canvas by ZHANG Xiaogang and another by ZENG Fanzhi. A new record was set for Zhang Xiaogang at Christie's at USD 3.5 million (EUR 2.4 million) for Bloodline Series: Mother With Three Sons (The Family Portrait)… Then came Three comrades, auctioned for USD 4,969,000 at Sotheby's, beating the record announced the previous evening by one million dollars. Sotheby's set two other records in the sector: one for FANG Lijun, who quadrupled his estimate with a successful bid of USD 4,073,000, and the other for YAN Pei-Ming whose Mao, painted in broad brush strokes, found an admirer at USD 1,609,000.
If western art, despite its good results, does not always achieve its objectives in terms of prices at auction, the price explosion continues, sale after sale, in the Chinese