Contemporary art sales in Paris: place of honour for Lalanne
[01 Jun 2009]

 While New York's auction houses hosted sales of South American art, the Paris offices of Sotheby's and Christie's were selling Contemporary Art during May. The results are better than expected for Christie's primarily due to the sale of a collection of works by François-Xavier & Claude LALANNE.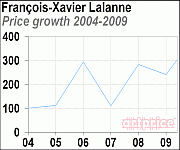 In times of crisis, the best way to organise a successful sale is by turning it into a special event… and Christie's seems to have understood this perfectly. Its Contemporary Art sale in Paris on 27 May 2009 included about 40 works by François-Xavier and/or Claude LALANNE. Such a concentration of Lalanne works from a European collection was bound to mobilise collectors, and, indeed, they collectively fuelled the bidding to substantially beyond the initial price estimates. All the works by François-Xavier LALANNE found buyers, including those created with Claude, generating more than €2.3m for the auctioneer – a sum representing one third of the sale's total revenue (€6.7m from 152 lots sold). With €2.2m more than forecast, this sale also generated outstripped Christie's Modern Art sale in Paris a week earlier (135 lots sold, total revenue of €4.2m).
In a career spanning half a century, François Xavier Lalanne – whose price index has risen 155% since 2007 – created idealised animal sculptures that contributed to a re-invention of French decorative arts. Working in conjunction with his partner Claude, he managed to dissolve the frontier between art and design. Since the winter of 2008, their works have been flowing against the market meltdown trend. On 9 December 2008, the day after François Xavier Lalanne's death, a siège-Mouton (sheep-chair) sold at Christie's Paris for five times its estimate at €110,000. Two months later, a fantastical Bar YSL pulverised its estimate when it fetched €2.4m at Christie's YSL-Pierre Bergé sale at the Grand Palais on 23-25 February. No doubt, the memory of this excellent result made a strong contribution to the results on 27 May: Christie's sold a portrait of Yves Saint-Laurent by Andy WARHOL to an Asian dealer for €620,000.On 27 May, Christie's best price for Lalanne's work was €340,000 (almost twice its low estimate) for La Dame Blanche, a monumental owl sculpted in marble. On the same day, Sotheby's did even better when it sold a Lalanne work consisting of a giant Sauterelle that converts into a bar for €450,000 (est. €250,000 – €350,000). Another version of this bar-grasshopper is in the art collections of Queen Elisabeth II of England. The general appetite for art-furniture at the sale also benefited Niki DE SAINT-PHALLE when one of her Le Banc sold for substantially above its low estimate at €460,000. In February 2006, a Niki de Saint Phalle bench of similar dimensions sold for £50,000 (€73,000) at Sotheby's in London.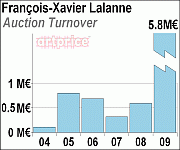 However, in spite of the success of Christie's May sale in Paris, the overall revenue total was still only two-thirds of last year's total (€6.7m in 2009 vs. €9.6m in 2008 from practically the same number of lots sold). The new climate in the art market appears to have modified the priorities of the auction houses: in previous years they sought ultra high-profile masterpieces likely to generate megabuck results. Today, in 2009, the sales are often focused on other attractions such as coherent collections or substantial parts thereof.