Flash News: MENART FAIR, a new fair in Paris – Françoise Pétrovitch, winner of the Guerlain Prize
[02 Apr 2021]
The Florence and Daniel Guerlain Foundation drawing prize is awarded to Françoise Pétrovitch
Three artists were shortlisted for this important prize reserved for contemporary drawing: German artist, Martin Dammann, Dutch artist, Erik van Lieshout and French artist Françoise Pétrovitch. The Guerlain Foundation asked everyone to make a video showing their works and commenting on their work from their studios as a way of introducing themselves to the members of a decidedly international jury.
Françoise Pétrovitch's video takes us into an oneiric universe, but one that is familiar, sensitive and powerful at the same time. Her paintings are superbly fluid with bursts of light left by the white of the paper. Spontaneous gestures are committed to large sheets placed on the floor, without any preliminary sketch. After deliberation by the jury on 25 March, the 56-year-old artist won this 14th prize for contemporary drawing with an endowment of €15,000. One of her works will also join the Cabinet d'art graphique of the Pompidou Center's National Museum of Modern Art.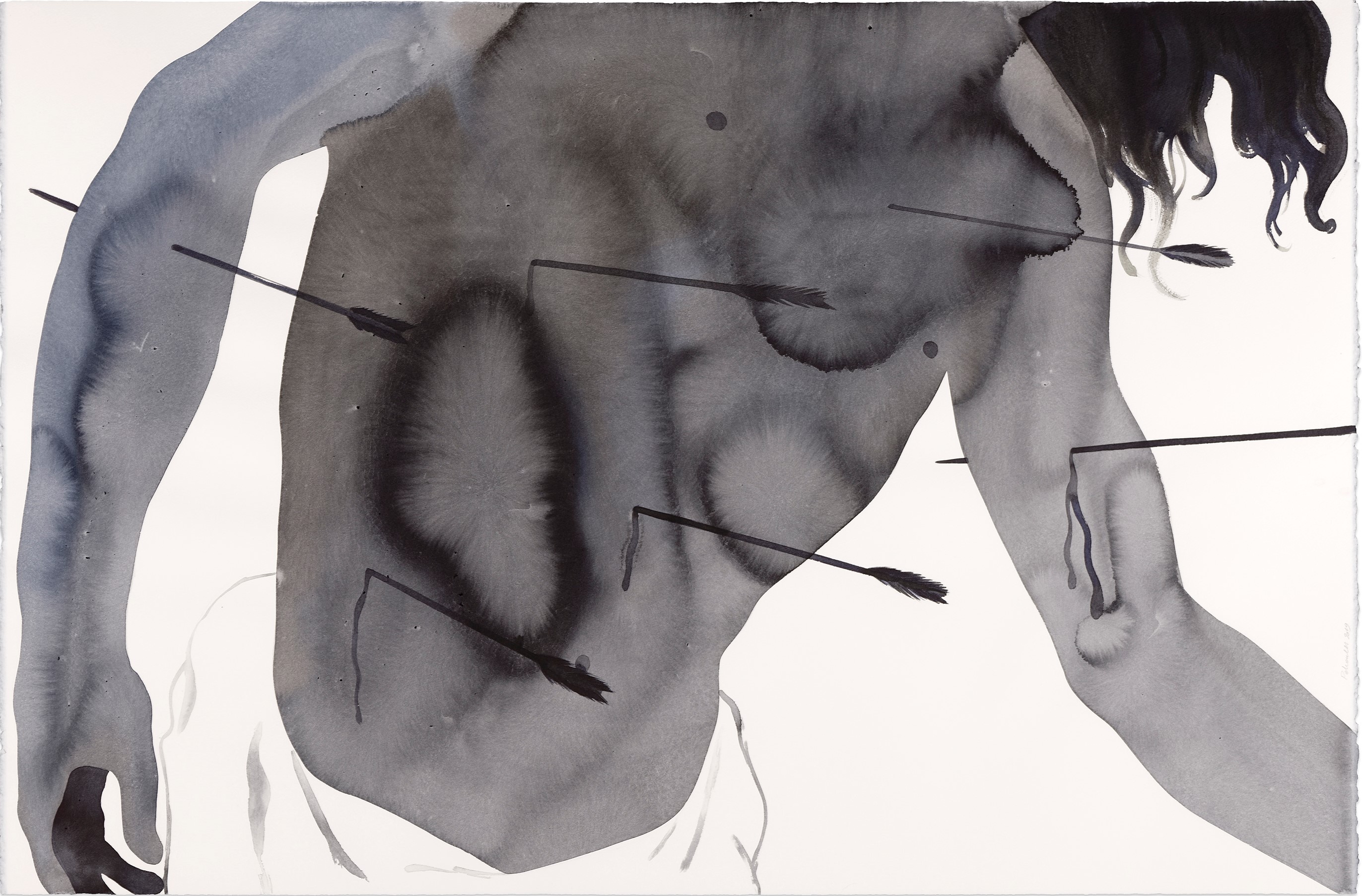 Françoise Pétrovitch – Saint Sébastien (Zurbarán), 2019. Lavis d'encre sur papier, 80 x 120 cm. Courtesy Semiose, Paris. ©A. Mole
.
Represented by the Semiose gallery (Paris), Françoise Pétrovitch's work is already part of Florence and Daniel Guerlain's collections and donation to the Pompidou Center's National Museum of Modern Art. Her work can also be seen at the Jenisch museum in Vevey and the Beaux-Arts museums in Rennes and Chambéry, among others. Indeed, since the end of the 1990s, Pétrovitch's work has been shown several museums including the Modern Art Museum in Saint-Étienne, The Louvière in Belgium, the Carré d'Art in Nîmes, and the Museum of Hunting and Nature in Paris.
In 2015, Pétrovitch was the French artist selected by Washington's National Museum of Women in the Arts for the exhibition Women to Watch. Three years later, in 2018, she was the first Contemporary artist to benefit from a solo exhibition at the Louvre-Lens. This year, her work is being shown at the BnF-François-Mitterrand (Derrière les paupières until 31 July Paris) where "a hundred emblematic works on paper are gathered together: prints, artists' books, drawings and sketches, old or very recent works, some never previously exhibited" as part of a partnership with the Hélène & Edouard Leclerc Fund, which will present a retrospective of Pétrovitch's work in Landerneau next winter. 2021 is therefore an important year for this unavoidable artist on today's Contemporary Art scene.
MENART FAIR, the new fair dedicated to Middle Eastern art opens in May in Paris

At a time when many fairs have been cancelled, postponed or virtualized, a brand new fair is arriving in Paris under the name MENART FAIR ( MENA for Middle East & North Africa). The fair is the initiative Laure d'Hauteville, who worked on this project for several years while directing the Beirut Art Fair in Lebanon. Laure d'Hauteville joined forces with collector Paul de Rosen and entrusted the curatorship to Joanna Chevalier, her accomplice for several years at the Beirut Art Fair.
MENART FAIR fills a void and, as the first international Modern and Contemporary Art fair dedicated to artists from the Middle East and North Africa, it will at last highlight the diversity of the artistic scenes often overlooked by European collectors and art enthusiasts.
For its director, "the artistic profile of the Middle East North Africa region is still young. Several "Moderns" have asserted themselves there and are now internationally recognized; but the young generation of contemporary artists is one of the largest communities on the international art scene. This new generation has an incomparable wealth of talent and diversity and is tremendously dynamic; its languages which converge or contradict each other, forming a unexpected mirror of the world!"
For this first relatively modest edition, 22 galleries will gather from 27-30 May 2021 in the private mansion of the Cornette de Saint Cyr auction house in Paris. The fair will be showcasing works by artists from Morocco, Algeria, Tunisia, Egypt, Syria, Lebanon, Palestine, Israel, Jordan, Iraq, Iran, Saudi Arabia, Qatar, United Arab Emirates, and Yemen.
GALERIES

May 27-30, 2021 – Cornette de Saint Cyr – 6, avenue Hoche, 75008 Paris. 22 galeries // 13 countries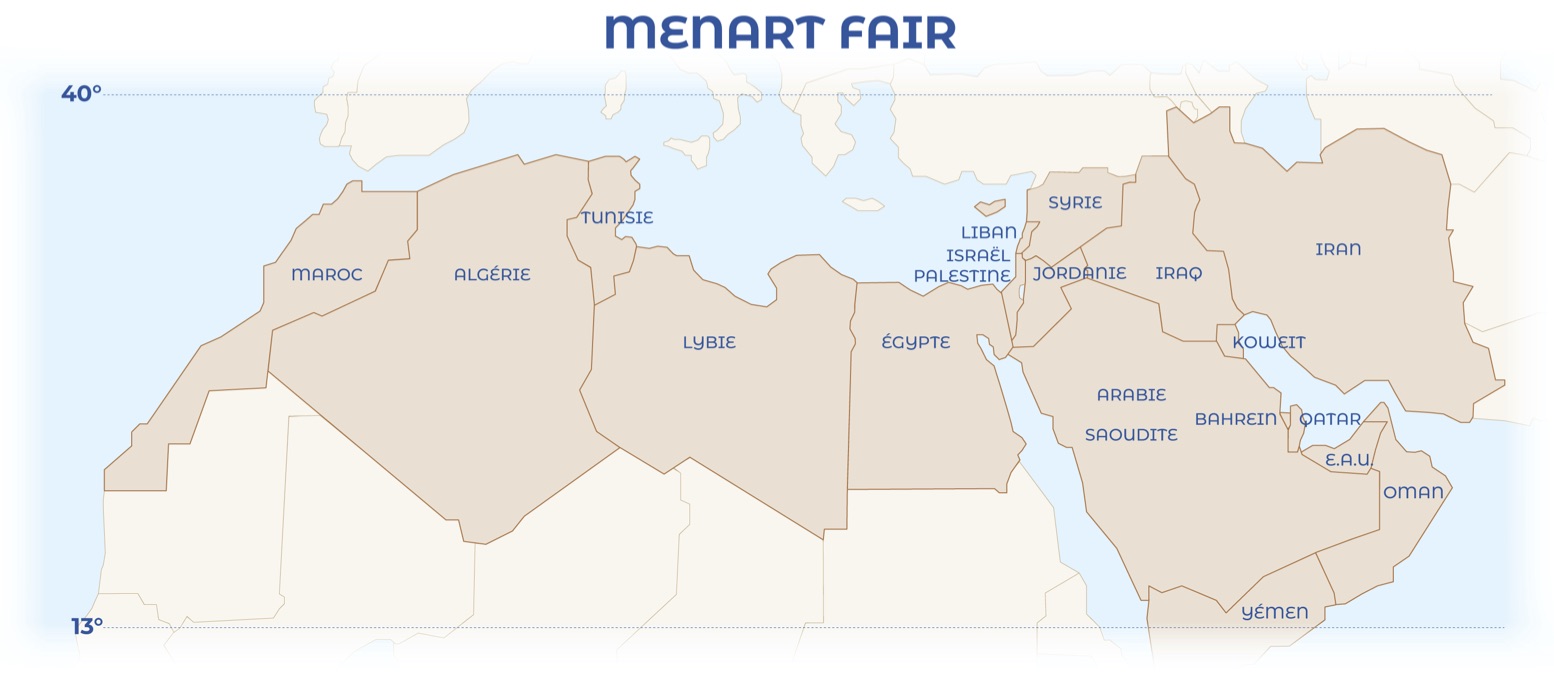 193 Gallery, France
ATELIER RELIEF, Belgium
ATHR, Saudi Arabia
AYN GALLERY, France
By Lara Sedbon x Raphaël Durazzo, France
Eiwan al Gassar Gallery, Qatar
Elmarsa Gallery, United Arab Emirates
GALERIE BESSIERES, France
Galerie Cheriff Tabet, Lebanon
Galerie Esther Woerdehoff, Switzerland / France
Galerie La La Lande, France
Galerie Nathalie Obadia, Paris / Brussels
Galerie Tanit, Lebanon / Germany
GALLERIA CONTINUA, San Gimignano / Beijing / Les Moulins / Habana / Roma / São Paulo / Paris
La Galerie 38, Morocco
Leila Heller Gallery, US
MARK HACHEM, France
Mono Gallery, KSA
Saleh Barakat Gallery, Lebanon
SHIRIN ART GALLERY, Iran
Studio Nada Debs, Lebanon
Wadi Finan Art Gallery, Jordan

.
Photo caption: Laure d'Hauteville (right) and Joanna Chevalier.