The lull in NFT sales allows the entire ecosystem to develop more serenely
The lull in NFT sales allows the entire ecosystem to develop more serenely
[16 Dec 2022]

"This year, the NFT market has found a better balance between supply and demand, a balance comparable to that prevailing in the Fine Art Market," says thierry Ehrmann, CEO of Artmarket.com and Founder of Artprice. "No ultra-high profile projects, but much more selective buying which has driven the Art-NFT unsold rate to 36% in 2022, compared with only 12% in 2021. The bankruptcy of FTX has been a blessing in disguise as it has induced greater reserve on the part of buyers".

Global auction turnover from the sale of art-NFTs has amounted to just $13 million this year compared with $232 million last year. In a context of lower media attention and less spectacular results, artists, galleries, museums, and collectors have been intensifying their exchanges and discussions on the role of NFTs in the art world.
Distribution by price range of NFT lots at public auctions: 2022 vs 2021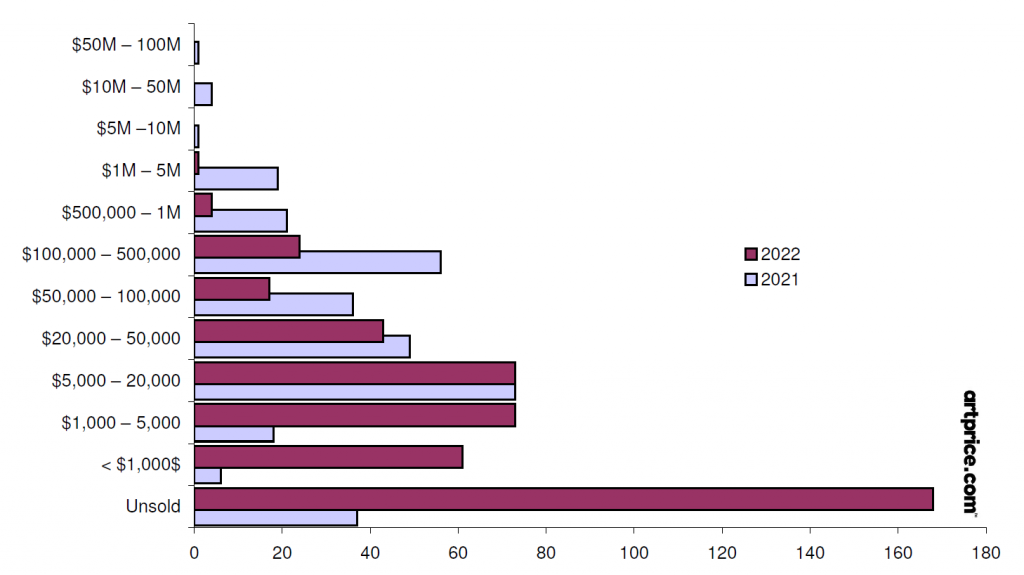 Interest among the general public may have waned, but not among art market professionals
After the financial madness of 2021, all things "Web3" are facing a bear market that has affected all the cryptocurrencies: Bitcoin and Ethereum have both lost two-thirds of their value in the course of the last twelve months. But this has not prevented many notable developments from enriching the NFT ecosystem, including the arrival of non-fungible tokens on the Instagram social network, the opening of the "NFT Factory" opposite the Centre Pompidou in Paris, and the launch of Christie's 3.0 platform.
Meanwhile, almost all strata of the traditional art world have, in turn, shown a concrete interest in NFTs, and this interest has been both institutional and private. The current slowdown in the market is being seen as an opportunity to develop thoughtful projects, while also giving time for a broader uptake of the technology. Artists like Jeff KOONS, Olafur ELIASSON, Urs FISCHER, and Sebastiao SALGADO already see it as a new artistic universe to explore. At the same time, galleries like Pace, Petzel, Magda Danysz, and König are opening their stables to 'digital' artists who have long remained outside of their business model.
Unsurprisingly, American museums are particularly active in the presentation, acquisition, and creation of NFTs. A recent New York Times article titled "NFTs, in Decline Elsewhere, Are Embraced by Some Museums" (Farah Nayeri, Nov. 30, 2022) summarizes the reasons ICA Miami and MFA Boston are pushing to persevere with this technology, against the current of the market.
Picasso, Bacon, Rodin, and Bonnard (among others) in exchange for NFTs!
The highly-respected Museum of Modern Art in New York has taken the decision this fall to set up an NFT fund by auctioning off part of the William S. Paley collection. In the framework of this project, the museum has sold two important works: a post-Cubist Pablo PICASSO painting titled Guitare sur une table (1919) that fetched $37.1 million, and Francis BACON's Three Studies for Portrait of Henrietta Moraes (1963) which sold for $27.1 million. In total, Artprice has identified 22 works from the William S. Paley collection that have been sold between October and November 2022 through Sotheby's generating a total of $84 million (including fees). This should allow the endowment of the prestigious MoMA's NFT fund with around $70 million, as originally planned.
At the same time, the MoMA is currently hosting an exhibition titled Refik Anadol, Unsupervised. At the crossroads of art and science, this Turkish-American artist (born in 1985) has already seduced several institutions and traditional collectors with his work which is sometimes linked to the concept of "dataist". His Living Architecture: Casa Batlló also generated the best result of the year 2022 in the Art-NFT category at $1.38 million at Christie's New York on May 10, 2022 (10% of the proceeds were donated to charity). Refik ANADOL is delighted with the interest shown him by major museums (including the British Museum and the Center Pompidou-Metz) that are shining a substantial spotlight on his work.
Wait… or go forward?
French museums for their part would like to see greater clarity in the NFT field both from a legislative and a tax perspective, although some are already showing very concrete curiosity. In January 2023 the Granet Museum will be hosting an exhibition entitled "Sphere Code Cylindre", in reference to a famous quote by Paul Cézanne. The Musée d'Aix-en-Provence has invited eight digital artists to produce works that dialogue with its collections. Each work will give birth to an NFT and the exhibition will be an opportunity to organize a discussion on the subject of digital art and Web3, based on a very practical example.
So while the general public is slowly forgetting the enormous sums spent last year on a technology that it was also discovering for the first time, many far more ambitious projects are emerging thanks to museums and galleries, but also to all kinds of structures emerging in the Web3, capable of anticipating collector's needs and various related issues.
"In this context, we must congratulate the complete success of Ethereum's The Merge operation", recalls thierry Ehrmann. "In preparation for 7 years, this evolution has reduced the energy consumption of the Blockchain by -99.95%, thus anticipating the energy problems that we fully perceive today."