From Monet to Koons… records beaten and stunning results
[21 May 2019]

In New York last week buyers were for the most part in a strongly acquisitional mood faced with some 1,700 lots in the catalogues of Impressionist, Modern and Contemporary art. The most outstanding records – $110.7 million for Claude MONET, $91 million for Jeff KOONS and $88.8 million for Robert RAUSCHENBERG – illustrate the extent of market demand for icons.
All-time record for an Impressionist work: Sotheby's takes $110.7 million for a Monet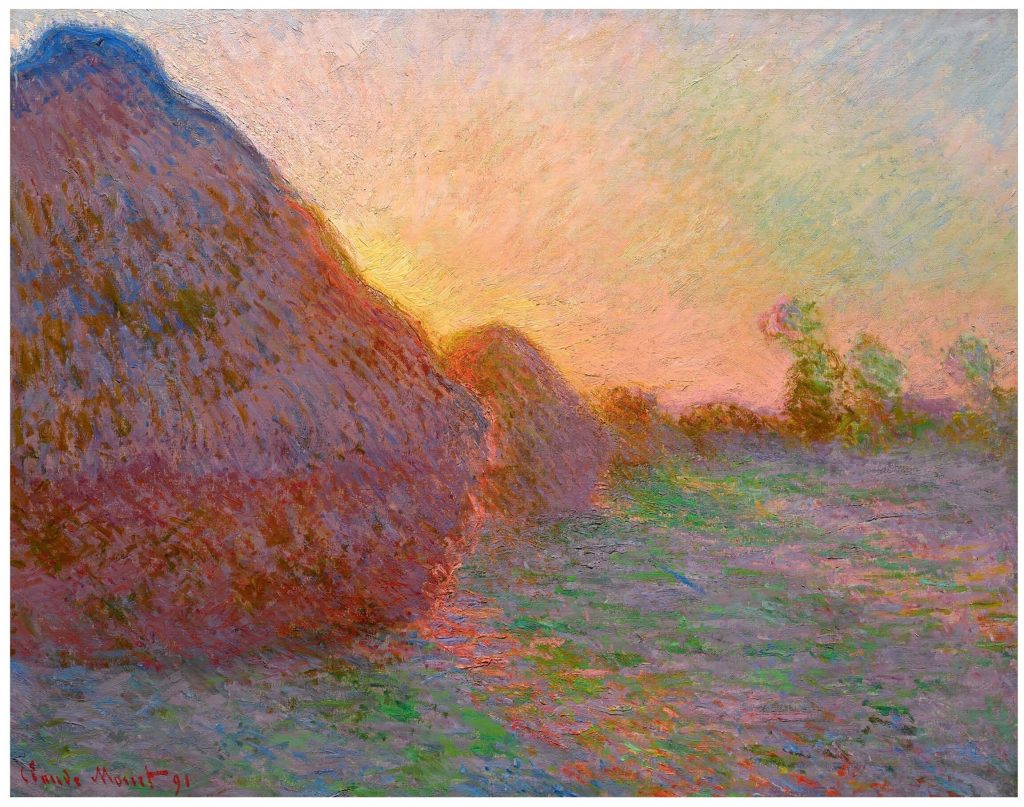 Claude Monet – Meules (1890)
An extraordinary painting of haystacks captured in the evening light, Claude Monet's Meules (1890) was expected to fetch around $55 million. But when the hammer fell, the painting had doubled that figure fetching an impressive $110.7 million. The buyer, who remains anonymous, has set a new record for Monet and the world auction record for a work from the Impressionist movement. In 1986, a collector acquired the masterpiece at a Christie's sale in New York for just $2.5 million. Its value has therefore multiplied no less than 44 times in 33 years. Monet's previous record was set in May 2018 at $84.6 million for Nymphéas en fleurs also at Christie's New York. Sotheby's very strong result on 14 May proves that the emblematic canvases of the great Modern Art movements are increasingly likely to cross the symbolic $100 million threshold.
Record for a living artist: Koons' Rabbit reaches $91 million
It is true… there won't be many opportunities to acquire a shiny Rabbit by Jeff Koons in the near future. This 1986 sculpture (from an edition of three, plus one artist's proof) – one of the Prince of Kitsch's most famous works – has been exhibited in major museums around the world: the Chicago Museum of Contemporary Art, the Stedelijk Museum, the Tate Modern, the Whitney Museum, the Pompidou Center and even at the Koons exhibition at the Château de Versailles in 2008. The iconic work from the Newhouse collection was the subject of intense media hype before being offered on the evening of 15 May. Christie's New York premises was adorned with neon letters saying "ICON"… the auctioneer spent a lot promoting this "iconic" work and gave it an estimate of $50 – 70 million. They even had a special showroom set up in the Rockefeller Center rotunda for the chromed rabbit… and it all paid off with the work far exceeding expectations: the result takes Koons several steps closer to Andy Warhol's all-time auction record…
New record for Pop Art: $88.8 million for Rauschenberg
On 15 May at Christie's it took 11 minutes (which seemed like an eternity) for Robert Raushenberg's extremely desirable Buffalo II (243.8 x 183.8 cm) to reach the winning bid of $88.8 million. The work, Buffalo II (243.8 x 183.8 cm), combines all the major themes of American social upheaval in the 1960s and was painted shortly after the assassination of President John F. Kennedy. In 1964, the painting won the Grand Prize for painting at the Venice Biennale and Raushenberg became the first American honoured by the career-boosting prize. Last Wednesday's result beat the high estimate by $18.8 million and added no less than $80 million to the artist's previous auction record.
Christie's Contemporary Art sale posted a total of $538.97 million (with 91% of lots sold on May 15) compared with $399 million from its Impressionist & Modern sale on 13 May (86% of lots sold). So the Contemporary segment was the clear winner this time round.
Louise Bourgeois' Spider fetches $32 million
Spectacular auction results may have accelerated considerably in recent years, but those above $30 million are still rare… and unprecedented for women. On 15 May, Christie's managed to change that by fetching $32 million for a 7 metres in diameter and 3 metres high Spider by the major Franco-American artist Louise BOURGEOIS. The work was the second in an edition of six. In 2015 the third (3/6) reached $28.2 million.
Christie's Modern Top 3 bring in $133.6 million (13 May)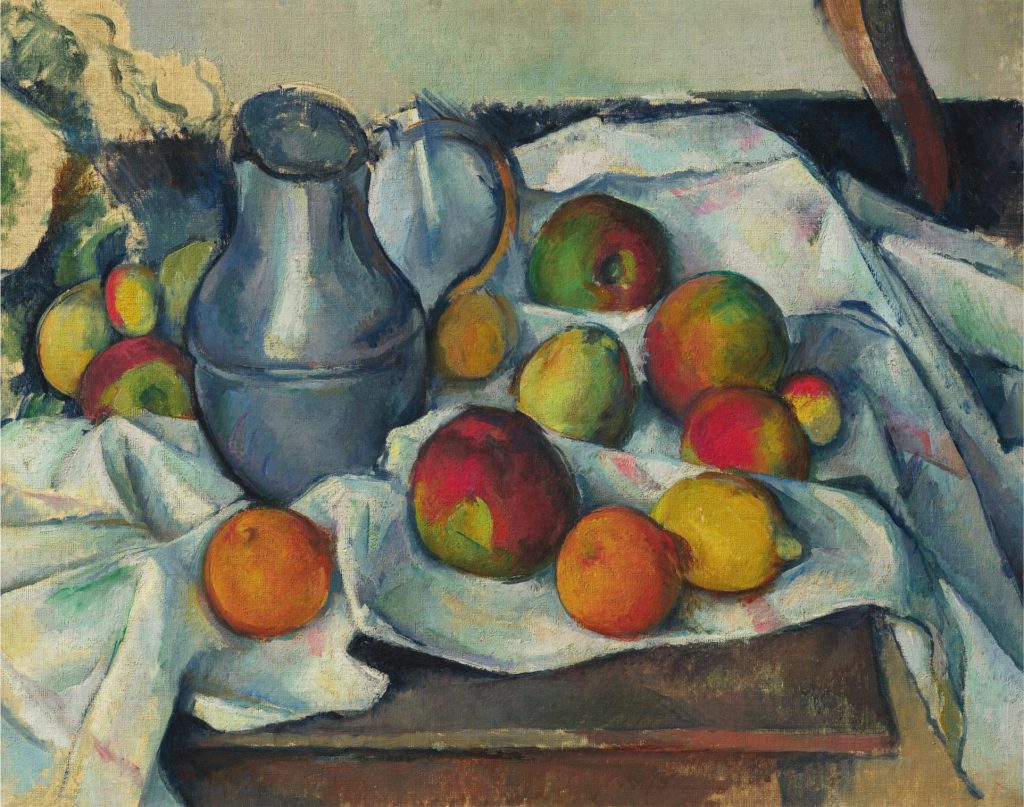 Paul Cézanne – Bouilloire et fruits (1888-1890)
The highlight of Christie's Imp/Mod sale last week was a masterpiece by Paul Cézanne, Bouilloire et fruits (1888-1890) from the S.I. Newhouse collection (the "best collector in the world" according to David Geffen) which fetched $59.3 million. The result was reassuring as it reconnected with Cézanne's absolute record 20 years ago when the heirs to the John Hay Whitney collection sold Rideau, cruchon et compotier via Sotheby's. At the time, the work became the most expensive still life in the world at over $60 million.
The second best result at the 13 May sale was generated by Vincent Van Gogh's Arbres dans le jardin de l'asile (1899) which reached $40 million, his 9th best-ever result. Given the results obtained in the past for his similar subjects, we might have expected a stronger result for a work of this quality.
In third place was a stone sculpture by Amedeo Modigliani. Tête was made around 1911 and is one of only 26 unique sculptures by the artist (of which 16 are in public collections). The work sold at its mid-way estimate – $34.3 million – becoming the artist's third highest-valued stone sculpture behind two larger subjects (+10 and +20 centimeters respectively). The highest price ever hammered for a Modigliani Head was $70.7 million (73 cm) at Sotheby's on 4 November 2014.
Sothebys Modern Top 3 (14 May)
Sotheby's Imp/Mod Art Sale on 14 May took $350 million, below Christie's total ($399 million), but with an exceptional sold rate of 91% and, above all, a world record for Impressionism with Monet's Meules fetching $110.7 million.
The other two works on Sotheby's Top-3 podium were 1960s Picasso canvases: Femme au chien, a 1962 portrait of Jacqueline Roque surprised the room by fetching $54.9 million against an estimated range of $25 – 30 million. An imposing work (162 x 130 cm), it set a record for a post-1960 Picasso. A few minutes later, his 1968 Mousquetaire à la Pipe joined a private Asian museum for $20.7 million proving that prices are rising for Picasso's later works. In total, seven works by Picasso generated $93.5 million at Sotheby's evening sale on 14 May.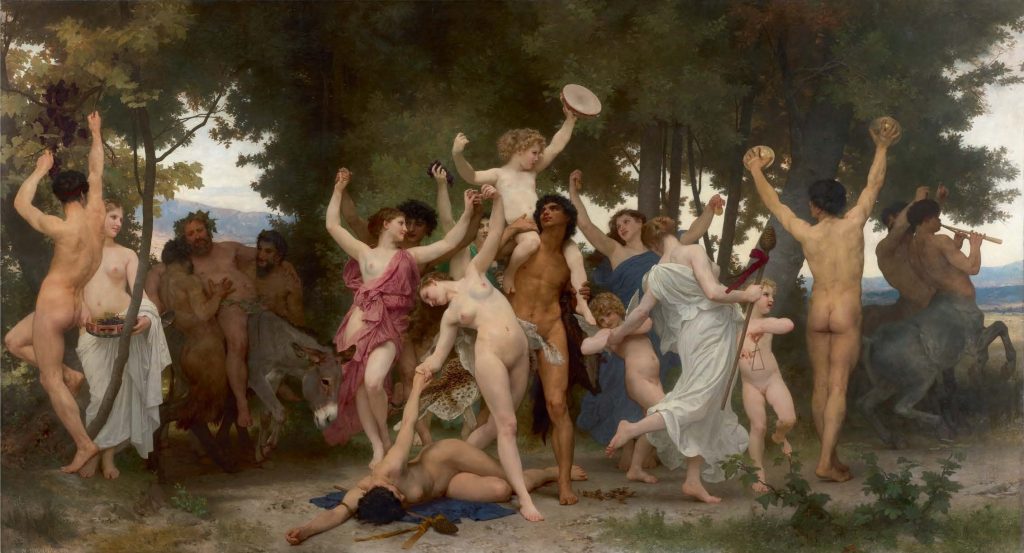 William BOUGUEREAU – La Jeunesse de Bacchus (1884)
A major disappointment, however, was the failure of a 6 x 3 metre William BOUGUEREAU (1825-1905) masterpiece from the artist's family – La Jeunesse de Bacchus – for which Sotheby's was expecting at least $25 million. The price was obviously too ambitious for this artist whose current record has stood at $3.5 million since 2000.