Highlights expected at Christie's at the beginning of December
[27 Nov 2020]

December's art sales will mark the last salvo of what has been – despite everything – an extraordinary year on the art auction market. Artprice takes a quick look at the most eagerly awaited works on offer as the year's end approaches.

Christie's Hong Kong… 2 December
Visits started on 21 November in New York for "round two" of Christie's "ONE" sale, which largely embraces "20th century" art. For this last major sale of 2020, Christie's has invested a great deal in its online catalogue, with numerous high-quality images and numerous video teasers presenting the masterpieces in 2 December sale. Broadcast online and live from two of the most important centers of the global art market – Hong Kong and New York – this high-level sale promises a prestigious journey through Modern & Impressionist art, Post-War & Contemporary art… and even design.

The catalogue – designed to appeal to as many major collectors as possible – proposes a savvy mix of young artists who are currently hot on the market (Shara HUGHES, Amoako BOAFO, Martin WONG) with the most international Asian signatures (Yayoi KUSAMA, Yoshitomo NARA, ZAO Wou-Ki, Kazuo SHIRAGA) and a healthy dose of works by Andy Warhol. The sale also features an impressive painting by Joan MITCHELL (Trees estimated $5-7 million), a fine Dubuffet from 1945 (estimated $ 4-6 million), and, although no auction records are expected for the major signatures, the session might set new records for the French artist Georges MATHIEU whose Remembering the House of Austria is expected to fetch between $2 and 3 million, and for Isamu Noguchi, whose Man sculpture is carrying a high estimate of $5 million.

Sanyu masterpiece in the spotlight
Christie's 'big' masterpiece of the fall season has nevertheless been treated separately. It's a painting by the Sino-French artist SAN Yu, one of the most sought-after artists on the market at the moment, whose works are, logically, rapidly gaining value. Entitled Goldfish, the painting is the subject of a single lot auction on the evening of 2 December, immediately after the evening sale of Modern and Contemporary Art. Goldfish is described as "the first and only work by Sanyu to depict eight goldfish in such exquisite detail as the central subject of the composition, making the work completely unique and without compare within the context of the artist's oeuvre." This work, which merges Matissian joy with the positive symbolism of the goldfish in China, is being auctioned for the third time. First acquired for less than $250,000 at Sotheby's, it could fetch $20 million and enter Sanyu's Top 10 auction results, despite its modest size.

Price progression for Goldenfish:
    ⁃    $248,400 at Sotheby's Taiwan – 19 Oct. 1997
    ⁃    $8.7 million at Sotheby's Hong Kong – 05 Oct. 2013
    ⁃    Estimated between $15.5 and $23.3 million at Christie's on 2 December 2020

If it is well orchestrated and if collectors 'play the game', this 2 December sale should easily exceed a total of $120 million in turnover and end the year on a high!

.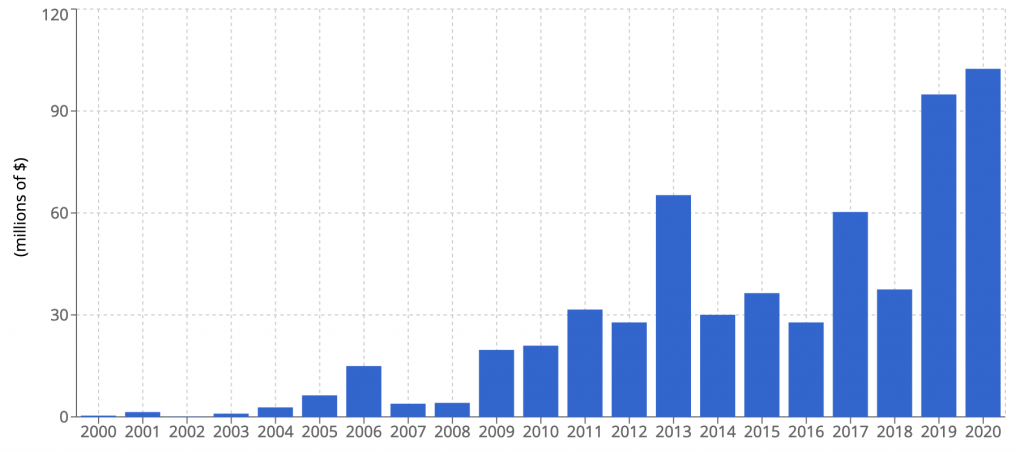 Sanyu: turnover at auction before Goldfish
.
No discounts here!
Sotheby's will take over from its rival on 8 December with a multi-period sale bringing together masterpieces created over the past 150 years. The sale, which will include Impressionist, Modern and Contemporary works, will revolve around Pablo PICASSO's Buste de femme assise (1962) depicting Jacqueline (his wife and muse at the time) from a series on the same theme. The closest work in this 1962 series that has recently sold through auction is Femme au chapeau assise, buste, whichfetched $5.3 million at Sotheby's New York in 2018. Sotheby's intends to do much better with this Buste de femme assise as it is estimated $8 – 12 million. A painting by Picasso… expected to double the value attributed to a similar work in 2018… proof – if it was needed – that masterpieces are far from being 'sold at a discount' at the end of this very difficult year.