David Hockney makes the biggest splash in London…
[17 Feb 2020]

On 11 February David Hockney's The Splash sold for £23 million ($31.2 million) in London – at more than eight times its 2006 price – taking Sotheby's total revenue from its prestige Contemporary Art sale to $120 million, substantially ahead of Christie's $72.7 million total from its equivalent session the following day (12 February). Before highlighting the Contemporary Art market's current trends – as seen from these recent London sales – we take a quick look at the history of Hockney's 1960s Pop icon.

Why is The Splash an important work?

The Splash is undoubtedly one of HOCKNEY's most famous works and one of three "Splash" paintings in the same vein: The Little Splash (which belongs to a private collection,) The Bigger Splash (in the Tate Modern in London and shown at the Pompidou Center in Paris as part of Hockney's 2017 retrospective)… and The Splash, which just sold on 11 February at Sotheby's. About the three works, Hockney has said: "I loved the idea of painting this thing that lasts for two seconds; it takes me two weeks to paint this event that lasts for two seconds." The three canvases from 1966 also offer an insight into the American dream that completely captivated Hockney at that time… a life of freedom at a time when homosexuality was still illegal in England – a dolce vita bathed in superb colours amplified by the magnificent Californian sunlight.

For Emma Baker, director of Sotheby's Contemporary Art Evening Sale: "Few works of art have reached such a mythical status as this painting […] it is not only a remarkable work by David Hockney, but a veritable Pop icon that defined an era and gave a visual identity to Los Angeles […] As recognizable as Munch's series of screams, Monet's water lilies or Van Gogh's flowers, Hockney's splashes are anchored in our cultural imagination."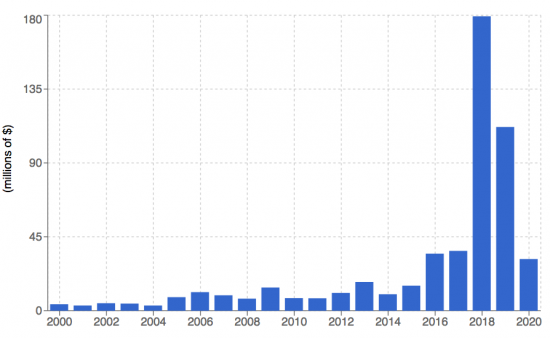 David Hockney. Turnover (copyright Artprice.com)
Hockney… one of the most sought-after artists of our time
The sale of The Splash marks the fourth auction result above $20 million for David Hockney who appears to be at the height of his glory. Before Jeff KOONS' Rabbit sold for $91 million (including fees) in May 2019, Hockney had spent 6 months as the "most valued living artist in the world" after his canvas Henry Geldzahler and Christopher Scott (1969) sold for $90.3 million at Christie's (November 2018). That new record was hammered a few months after a major retrospective that was shown consecutively at the Tate Modern in London, the Pompidou Center in Paris and the Metropolitan Museum in New York. By the end of 2019, Hockney once again ranked among the 10 best-selling artists on the global Art Market (based on annual auction turnover) with a total of over $130.5 million (versus $206.5 million in 2018, his best-ever annual total).
Trends
Among the leading works in Sotheby's Contemporary Art session were works by Christopher Wool, Roy Lichtenstein, Yves Klein, Francis Bacon, Damien Hirst and Adrian Ghenie. The Arrival (2014) by Adrian GHENIE reached $5.4 million driven by four enthusiastic bidders. The subject of the painting is Josef Mengele, one of the most ill-famed figures of Nazi Germany (the Auschwitz doctor), as an embodiment of evil.
Other very good results included $1.5 million for Banksy's Vote to Love which doubled its high estimate, and $1.9 million each for works by Maurizio Cattelan and Gunther Uecker which also both doubled their high estimates.
Genieve Figgis

(copyright Artprice.com)
In addition, Julie CURTISS's first appearance in a major London sale proved to be extremely successful. Her mysterious Witch reached $210,000, three times its low estimate despite its small dimensions (less than 50 cm). The prices of this 37-year-old French Surrealist took off after a solo show at the Anton Kern gallery in New York. None of her works had been sold publicly before that exhibition and her prices immediately rocketed generating a record at over $420,000 (4x the low estimate) at Christie's New York for her Pas de Trois on 14 November 2019. A few days ago Curtiss announced that she has just negotiated a new collaboration with the prestigious White Cube, in addition to the Anton Kern gallery.
Also represented by the Anton Kern Gallery in New York, American artist Nicole EISENMAN's European Painting (2004) fetched $501,000, one of her best results since her current auction record of $791,000 was (also) hammered at Sotheby's in London (Close To the Edge, 2015) last October.
We also note the success of Nicolas PARTY (born 1980) with a pastel work that fetched more than $200,000, twice its high estimate, at Christie's on 12 February. This Swiss artist based in New York had surprised last November when his canvas Rocks (2016) sold for more than a million dollars during Christie's HI-LITE sale in Hong Kong.
Christie's prestige Contemporary Art session in London (12 February) also posted good results, even if it lacked mega-lots to compete with The Splash at Sotheby's. Dana Schutz and Jordan Casteel (born in 1989) were particularly well supported: with more than $900,000 for the former (Kissing in the Dump) and a new record of $668,000 for the latter (Mom, a work from 2013). Christie's best result of the evening was $6.5 million for a Pop portrait of Muhammad Ali by Andy Warhol (1977). The second and third best results were hammered for a Jean-Michel Basquiat (The Mosque) and a David Hockney (Walnut Trees).
Both auction houses sold a work by Cecily Brown for more than a million dollars and both presented works by the Irish artist Genieve FIGGIS (born 1972) who ignited bidding in Hong Kong last fall.