In less than 6 months, Sotheby's and Christie's have captured 23% of the French market.
[13 Jun 2002]

  While rumors suggest Drouot, the traditional home for France's auctioneers, may be sold, Sotheby's and Christie's have burst onto the French market. France recently reformed its auctions market throwing it open to competition. French art has long held a great allure for foreign auction houses, and Sotheby's and Christie's have been quick to make the most of the new regime. Moving swiftly into a market that had long been off-bounds, the two leading English auction houses have set the tone for the new season…and in less than four months have won more than 23% of the French market. Both have adopted fiercely competitive strategies, and there has been a step up in the quality of works offered at auction since January.

The themes chosen by the two auction houses – classic drawing and photography – are tailored to the French market and have been the subject of the year's most successful sales. Paris is recognised as the worldwide centre for both genres. The traditional Salon du Dessin, the world's most important fair for drawings and other works on paper, sparked a number of other events including an impressive themed sale at Christie's. Paris is also the location of choice for the most highly reputed photography fairs, such as Paris Photo. Since each event brings together the best-informed collectors in a particular field, Sotheby's and Christie's shrewdly seized the opportunity to hold profitable sales. The only challenge was to offer works with sufficient pulling power, which they met with works on paper from the Pierre de Charmant collection, and classic photographic prints from the André Jammes collection.

In June they continued to steal the show, announcing prestigious sales, notably a close of season sale with auctions of old master and 19th century paintings. With internationalisation comes specialisation: auctions tend to be held where the auction houses have a competitive edge, at the place where the works were created. In France, 19th century painting seems to be one of the key market niches, and the two auction houses are holding sales on this theme on consecutive days: 26 June at Christie's and 27 June at Sotheby's. At first glance this might look like very aggressive competition. But in fact the close scheduling of two auctions should attract more collectors, which is good news for the auction houses as it tends to push up the bids. This approach means they can orchestrate art market seasons around a succession of themes.
The big French auction houses have responded with marketing strategies that are just as formidable as those of Sotheby's and Christie's. Tajan and Piasa have entered the fray with auctions of old master paintings on 24 and 25 June respectively. This wealth of supply should stimulate demand, pushing up prices and profits. The technique can work well. Sotheby's and Christie's New York auctions of contemporary, modern and impressionist art are often all held in May over three days at most. Such high profile events inevitably attract intense attention and set the mood for the rest of the season.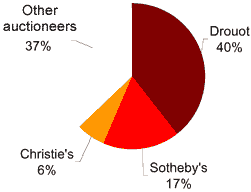 Auctioneers' share on the french market Based on the fine art auctions turnover from 01-jan-2002 to 01-may-2002