Hans Arp – market data
[03 Mar 2020]

Dadaism, Surrealism, Abstraction… Jean (Hans) Arp was closely involved with some of the most famous developments in fine art during the first half of the 20th century. Ahead of an exceptional sale of works previously belonging to Greta Stroeh, Artprice takes a close look at the market for creations by this pioneer.
From the birth of Dada to the Arp Foundation
In 1916, Hans ARP participated in setting up the Cabaret Voltaire which subsequently gave birth to the Dada movement. Together with Hugo Ball, Richard Huelsenbeck, Tristan Tzara, Marcel Janco and Hans Richter, Dada excoriated the atrocities of war and revolted against 'academic art' in general, inventing a profoundly living form of creativity. It was the year Arp created his first Dada reliefs… inspired by the "laws of chance".
Arp subsequently moved closer to the Surrealists (André Breton wrote the introduction to his first Surrealist exhibition) and embarked on an abstract, 'biomorphic' path – his fluidly shaped sculptures evoking the female body without actually representing it.
In 1954, Arp's work received one of the art world's most prestigious endorsements, the Grand Prize for sculpture at the Venice Biennale. This was followed by a flurry of orders for bronze casts of his works in plaster, which he was previously unable to afford. In 1958 his reputation was further enhanced with a solo exhibition at the Museum of Modern Art in New York, and then in 1960 he was awarded France's highest Order of Merit, the Legion of Honour, for his life's work.
Jean
Arp and Greta Stroeh
When she arrived in Paris around 1975, Greta Stroeh (1939-2001) became friends with Marguerite Arp-Hagenbach, Jean Arp's second wife. Together, the two women decided to document and promote the work of Jean Arp, who had died in 1966. This work eventually led to the creation of the Jean Arp Foundation in 1979. Located in Clamart (France), the Foundation is built around the artist's studio as well as that of Sophie Taeuber. It is one of the rare examples of artists' homes that have 'survived' the disappearance of their occupants.
Greta Stroeh built up a collection spanning over thirty years of Jean Arp's artistic production. On 26 March 2020, Christie's Paris will be offering over 80 works mainly by Jean Arp, but also by his first wife, Sophie Taeuber-Arp, Alberto Magnelli and Joan Miró. This exceptional sale could make 2020 the densest year in Arp's auction history. 2019 was already particularly abundant, with 154 lots sold.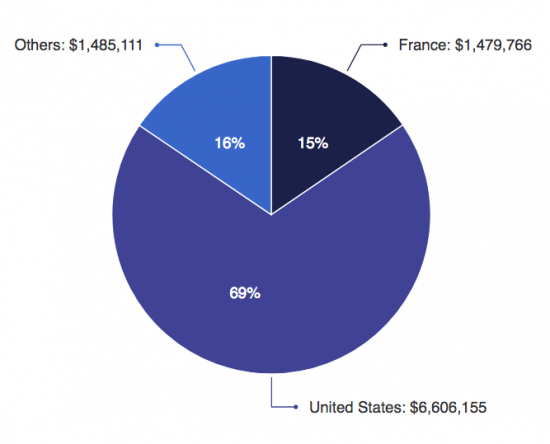 Hans Arp – Geographical distribution (2019) – (copyright Artprice.com)
A torso at $550,000
At $550,000 the most expensive high estimate in the upcoming Christie's sale (March 26) is for a biomorphic bronze torso with a golden brown patina from the Greta Stroeh collection. Created in 1931 and cast in 1976 by Georges Rudier, the work is from a limited edition of 6 copies.
Generally speaking, Jean Arp's sculptures change hands for anywhere between $7,000 to $1 million, although his exceptional works can fetch much higher prices. At the lower end of his market, small posthumous casts from large editions (300 copies) usually sell for around $2,000.
A record at $5.8 million
Jean Arp's auction record was hammered for a marble sculpture (non-reproducible) entitled Déméter that sold at Christie's New York in November 2018. His works in marble are the rarest with only one or two auctioned each year.
$3,250 for a drawing
Jean Arp's market also consists of relatively affordable drawings (études) and a comfortable number of engravings. As a result, 74% of his works change hands for less than $ 5,000 (2019). The last Arp drawing to be sold at auction fetched over $3,000 (Sotheby's London, 5 February 2020).
The United States accounts for 69% of his auction turnover
The majority of Arp's museum-quality works are sold in America. According to our 2019 figures, France generated just 15% of his total auction turnover.
An unsold rate of 22%
Compared with a global average unsold rate of 38%, Arp's unsold rate of 22% indicates constant demand. It will be interesting to see if the 78% success rate is confirmed on 26 March.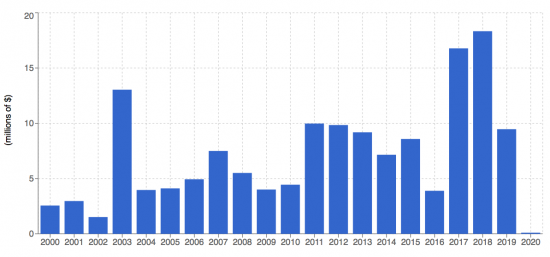 Hans Arp Turnover at auction – Chronological progression (copyright Artprice.com)