Kiki Smith in Paris… last chance!
[14 Jan 2020]

Curator Camille Morineau organised the vast retrospective of Kiki Smith's work that is currently showing in the 10,600 ft² of the Monnaie de Paris until 9 February 2020. It's the first solo show by this American artist in a French institution and it represents a unique opportunity to discover her singular, poetic and powerful universe, her pantheistic vision of the world and the intense femininity of her œuvre. Tracing forty years of creation, the exhibition brings together a hundred works: sculptures, drawings, engravings, tapestries, stained glass… and even medals.

Born in 1954 in Nuremberg but raised in the United States, Kiki SMITH is the daughter of sculptor Tony SMITH (1912-1980). Her pantheistic work is very much the opposite of her father's minimalist abstraction. In essence… it's all about the body, perhaps originally inspired by her training in emergency medical care in 1985. For Kiki Smith, the body is the primary vector of everything… "our common denominator and the locus of our desires and our suffering"… because, as she says… "the entire history of the world resides in our bodies".

Highly singular, Kiki Smith's world is as much sensory as symbolic. It has the evocative power of the great Louise BOURGEOIS, whose works were also exhibited alongside those of Kiki in 2013 (Palais des Papes and Collection Lambert, Avignon).

Still relatively unknown to Europe's general public, her work has enjoyed numerous solo exhibitions in the United States, including a retrospective organized by the Walker Art Center in Minneapolis in 2006. She has received lots of awards including the Skowhegan Medal for Sculpture, the Athena Award for her engravings from the Rhode Island School of Design, the Edward MacDowell Medal for Outstanding Contributions to Sculpture and was made an honorary member of the Royal Academy of Arts in London in 2017.

Several of her techniques have been rewarded, including engraving and printmaking, fields in which she excels. The MoMA and the Whitney Museum possess a large number of these works, and prints represent half of her lots sold at auction. One hundred of these prints are currently on show at the Centre de la Gravure de La Louvière (exhibition: Kiki Smith – Entre chien et loup (Between Dog and Wolf) until 23 February 2020).

One of Smith's strengths is the production of large-format engravings – two or three metres tall – from which she produces spectacular prints that can fetch several tens of thousands of dollars (Negative Legs). More modest formats are available for a few hundred dollars, as are her editions of glass or porcelain sculptures representing body parts, cat heads or a strange egg yolks… Three of her small sculptures will be offered for sale at Wright Auctions in Chicago on May 16 next (Cat).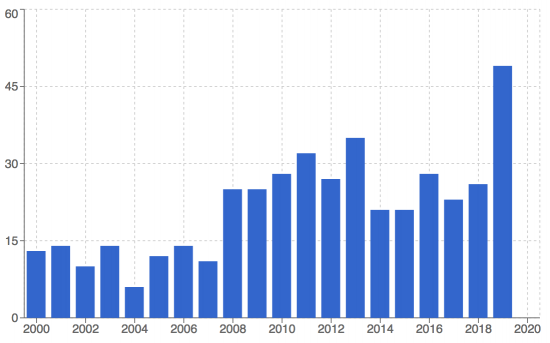 Kiki Smith – Chronological progression. Number of lots sold (copyright Artprice.com)

Kiki Smith in numbers
310 centimeters – Smith's largest lithograph sold at auction was her Banshee Pearls which fetched $8,750 at Auctionata in 2016 (Banshee Pearls)
$296,000 – Her auction record (for her Butterfly sculpture) currently stands at $296,000. That result was hammered back in 2006, which suggests her high-end market lacks dynamism.
49 lots – A record number of her works were sold publicly in 2019. Her recent exposure will have boosted demand for her work.
86% – Kiki Smith's auction market is essentially American; the United States accounted for 86% of her 2019 auction turnover.
$ 145,000 – In 2019, Kiki Smith's annual auction turnover was just $145,000. A meager total as few of her iconic works came onto the market. In November, an interesting sculpture, Revelation, was unfortunately bought in against a low estimate of $80,000 (Phillips, New York)… and that, despite the work having been exhibited at the Whitney Museum of American Art in 2006.