Luxembourg Art Week / The Fair … online only!
[10 Nov 2020]

Unfortunately, the worrying growth of covid-19 infections across Europe and the latest anti-covid restrictions have put an end to Luxembourg's plans to host a physical Art Fair. However, Alex Reding, founder of Luxembourg Art Week, has worked hard over the summer in anticipation of the current scenario.
Scaled back to a purely digital format, the online visit to the fair has been carefully designed to be as close as possible to physical reality, thanks to the use of highly innovative tools.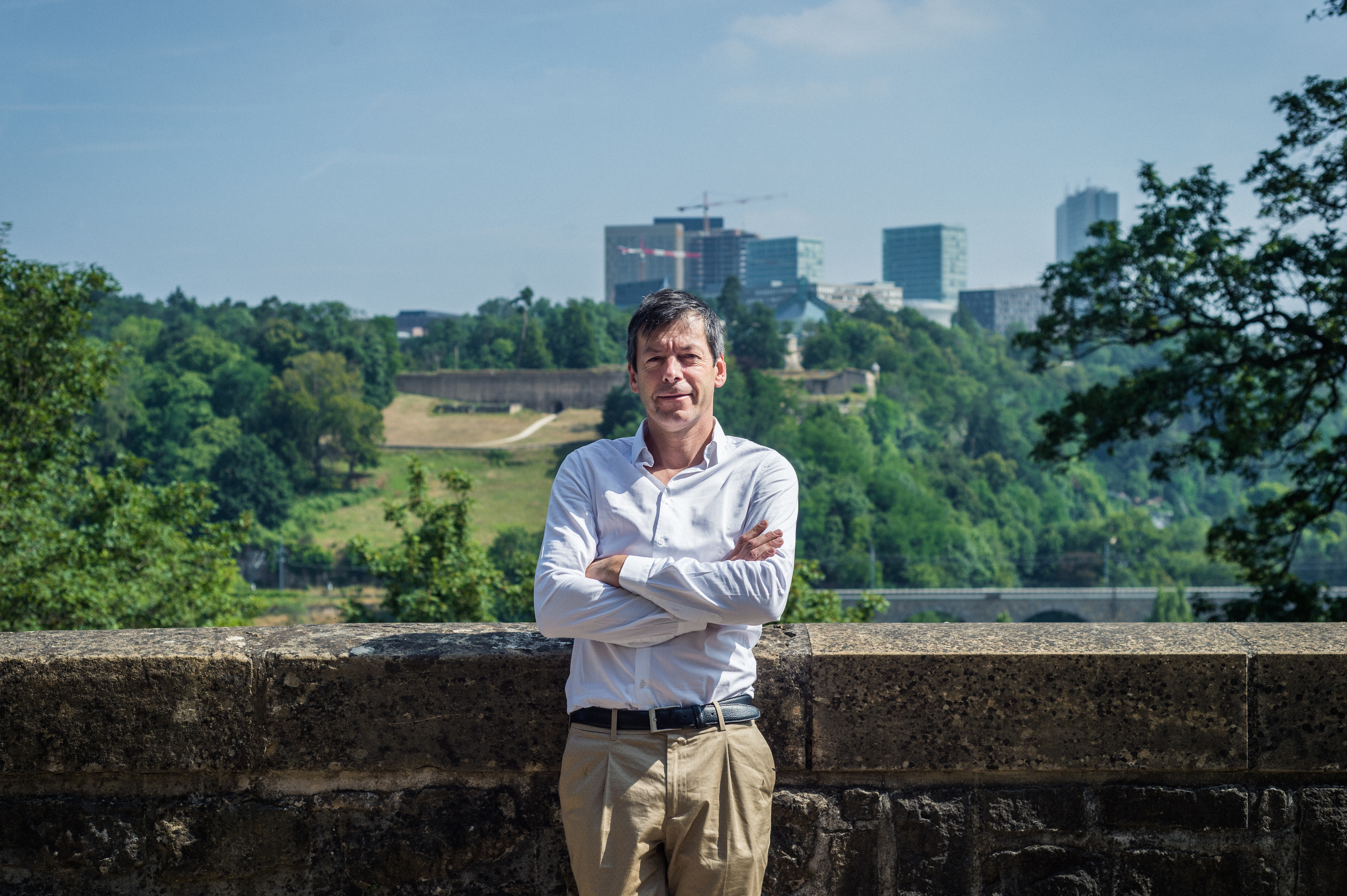 Alex Reding ©Mike Zenari
"It's an unfortunate scenario, but one we had taken into account". The reality of the figures – 800 new cases per day at the end of October – has forced us to react", confided Alex Reding told us on 29 October.
The Fair's CEO, who also runs a gallery, has been planning ahead by working on the development of a virtual tour since June. In effect, the online experience of the fair goes way beyond a simple 3D simulation.
"Collectors familiar with the physical spaces and the organisation of the stands will easily the find their bearings because we have set up a platform whereby you can move around in the virtual space of the fair, just like walking from stand to stand. You can get closer to each work displayed, find out about prices, ask for information using a contact terminal available on each exhibitor's stand… "
In short… a veritable virtual double of Luxembourg Art Week / The Fair has been designed to allow exhibitors to promote and visitors to discover and acquire in the best possible conditions, while maintaining the experience of visiting a fair as much as possible.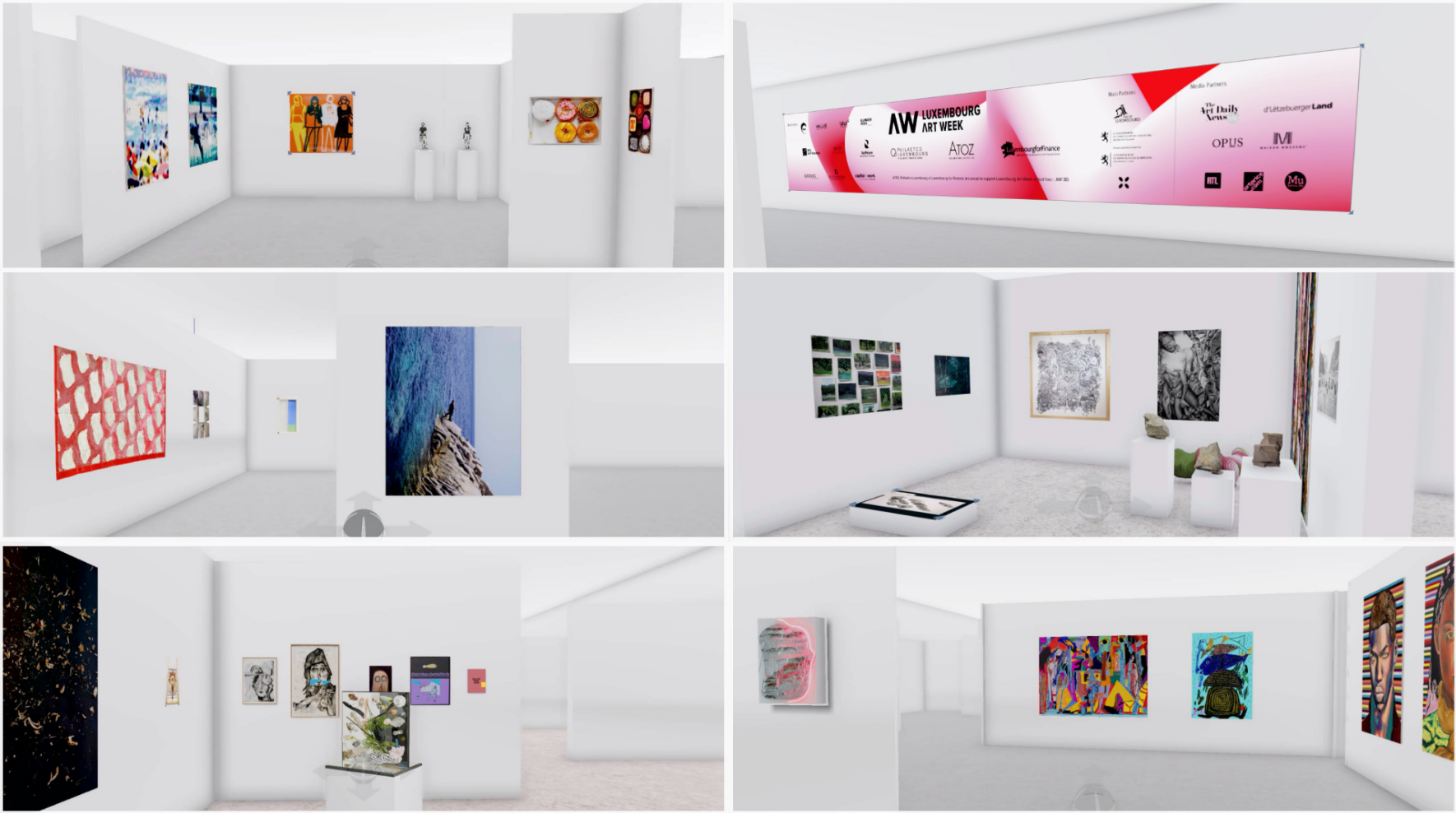 Luxembourg Art Week / The Fair. Virtual view
As seen by

Justine Jacquemin, owner of DYS

Gallery

(Brussels)
In this unprecedented context, the gallery has 'adapted' by offering a virtual tour of its exhibitions and has also opened a virtual showcase, DYSXS, which presents original works on paper for sale in small formats and at affordable prices.
What is your selection of works for the fair?
We are offering a selection of works by five artists born between 1949 and 1988, mostly female: Jacques Courtejoie, Annabelle GUETATRA, Bruno HELLENBOSCH, 
KRJST Studio et Yasemin SENEL.
Each photograph by Jacques COURTEJOIE (1949) is unique and the result of several successive photographs, montages and collages, the last copy of which is enhanced by hand with colored pencils and inks. From his decadent universe emerges a subtle eroticism, a nostalgia for lost loves and a toxic ambivalence in which the profane mingles with a religious iconography that appears appropriated for other intentions. Annabelle GUETATRA (1985) is an artist who works mainly on paper. In watercolor, in pencil, in ink, integrating glued elements, often highly transparent, or, on the contrary, by applying engraving ink, densely black, offering contrasts in texture, finesse of line and depth. Always in search of new mediums, she has recently tried her hand at ceramics in which she produces playful strange dogs with wheels and pompoms, or human-shaped rattles decorated with bells. Her universe is both sassy and dreamlike, sensual and strange, sensitive and powerful, graceful and fierce. We will be presenting very small paintings by Bruno HELLENBOSCH (1977) in which overlays of colours, subjects and patterns are mixed. KRJST Studio is a duo of two young artists who create magnificent contemporary tapestries. I will also be presenting small works on paper and canvas by Yasemin SENEL (XX), an artist who has – over time – developed a personal mythology rich in references, with powerful female characters.
Could you tell us which work you consider the most important of your selection?
©
We are very happy to present MEDUSA, a beautiful tapestry signed KRJST studio. Founded in 2015, KRJST Studio is a duo of two young Belgian artists who make contemporary tapestries. Each tapestry is the result of a long process of graphic research, reflection on materials, relief, texture and a transcription in woven form of a work which is previously worked in 3D with pastel, aerosol, and glue… The image is decomposed, dissolved and transformed by the interlaced threads. The result is a large, rich and lush tapestry… fin de siècle and yet eminently contemporary. Their works are usually richly coloured. MEDUSA has the particularity of being almost monochrome, in different shades of white that highlight the play of textures and the materials used, paper, wool, mohair, raffia, nylon … The tapestry is entirely embroidered and reworked by hand, which makes it a unique work. It is offered at €12,000.
How long have you been present at Luxembourg Art Week?
We took part in Luxembourg Art Week last year and we encountered a mixed audience of highly specialized collectors, occasional buyers and people who were just curious. Overall, our proposal was very well received. The proximity to Belgium and Brussels is obviously interesting for us since the public we meet in Luxembourg are happy to travel. We therefore had the opportunity to see them again at the gallery. We are particularly happy to participate in this new edition, even if it will be totally virtual. In any case, this will provide visibility with a quality public for the works of our artists.
Have you readjusted your selection taking into account the restrictions and the cancellation of many specialized events (Drawing Now, Art on Paper … etc)?
Not particularly; I established my selection on the basis of the invitation to promote Brussels artists and on my knowledge of the proportions of the stand and the location of the exhibition (identical to last year). But I have chosen to offer works that range from €500 to €12,000 in order to reach a larger audience.
As seen by

Loïc Garrier, Ceysson et Bénetière gallery (Luxembourg, Paris, St Étienne, New York, Geneva).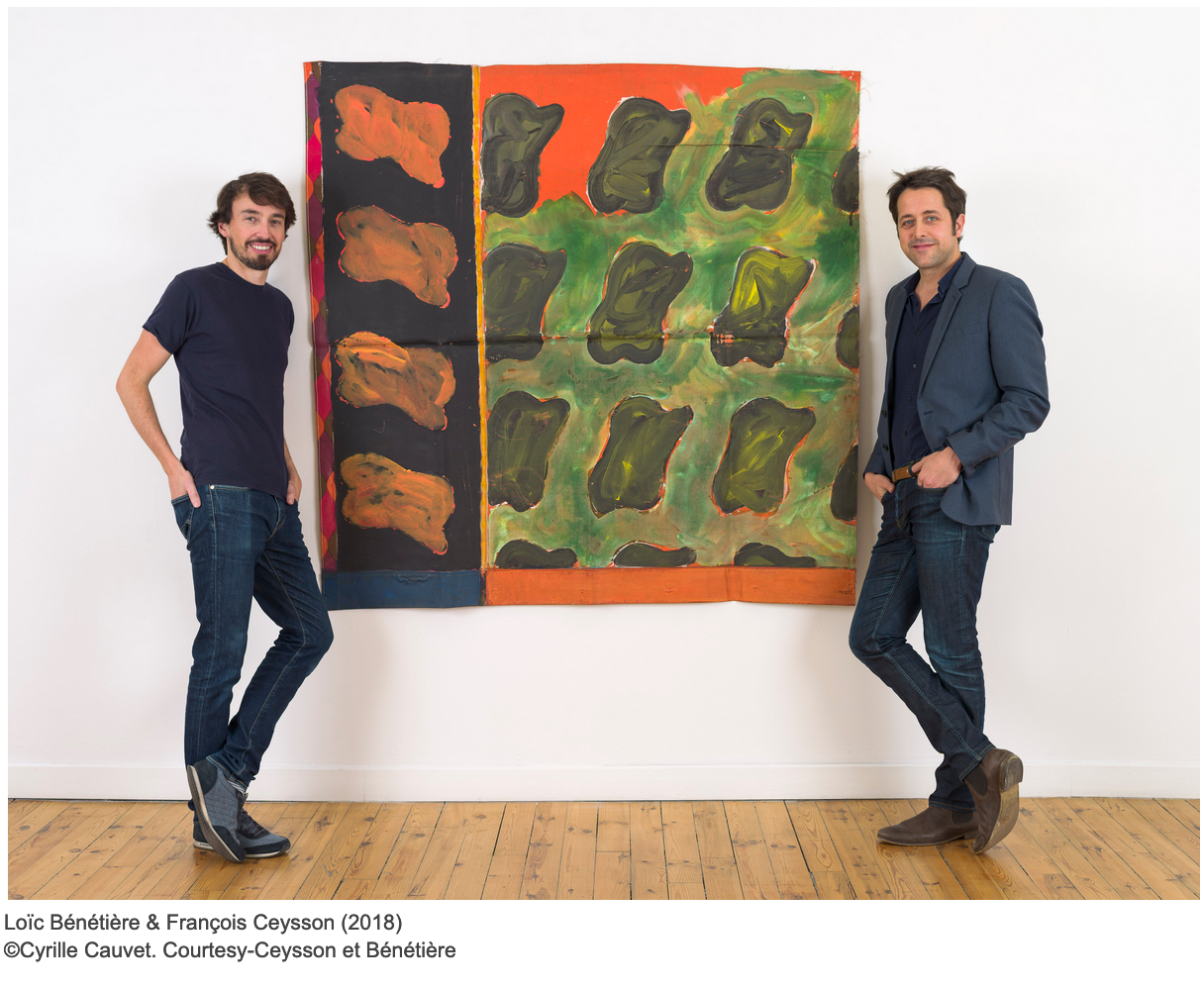 The gallery is not at its first attempt in terms of virtual participation in fairs having already participated in Art Basel HK, Drawing Now and even Art Brussels, which actually got a strong attendance due to the novelty of the format.
Loïc Garrier (Director of the Paris gallery and manager of the gallery's fair participations) tells us that it will probably be necessary to constantly reinvent in order to continue to attract collectors who quickly lose interest in everything online. This is why they have chosen to focus on the physical experience of space – benefiting from a major location in Luxembourg with 1500 m2 and soon another 1000 m2 in Saint Étienne – to focus their energy and to offer a more personalized selection to their collectors at fairs. In fact, this year, they are participating in less than 10 fairs compared with 17 normally… and almost all of them have gone virtual. They have also stepped up their online present on social networks with in-depth presentations of their artists and their works, especially on Instagram. New artists – some of whom are well-known – are joining the gallery which proves its in good health… and they will breathe new life into it.
What is your selection of works for the fair?
Pierre BURAGLIO (Fenêtre 1990-2020, 55 000€ at Travelling I (2020) at 3 000€); ORLAN (Corps-Sculpture en perspective sur socle N. 8 (1965), éd.3/7 at 30 000€ and Tentative pour sortir du cadre à visage découvert (1966-2019), éd.2/7 at 38 000€); Aurélie PÉTREL (House III, #2/4 (2017), éd.1/3 at 6 000€ and Héritage S&K, Pier 18 (2018), éd.2/3 à 12 000€); Philippe RAMETTE (Exploration rationnelle des fonds sous marins : l'arrivée (2006), éd.2/5 at 20 000€ and Éloge du déséquilibre, éd.1/6, 25 000€); Tchun-Mo NAM (Bean 18-75 (2018), oil on canvas at 60 000€ and Spring 20-201 (2020), Acrylic on resin at 24 000€); Bernar VENET (sculpture 216,5° Arc x 24 (2009), patinated laminated steel, and  grease pencil and graphite on paper : Two indeterminate lines (2013), price on request); Claude VIALLAT an acrylic on canvas from 1982 (75 000€), and another on canvas from 1993 (28 000€).
Could you present us a flagship work in this selection?
It is difficult for me to choose a single work but I would say the most symbolic for me would be Heritage S&K, Pier 18. This photograph by Aurélie Pétrel is the result of a research by the artist concerning Harry Shunk & Janos Kender. This duo took pictures from the 1950s on various artistic scenes from Klein and Arman in France to American artists such as Rauschenberg and Warhol. Aurélie focuses here in her research into a place in New York called Pier 18. There was an exhibition that took place in 1971, with Jan Dibbets, Gordon Matta-Clark, Mario Merz and the French artist Daniel Buren. The exhibition was a kind of research laboratory for artists, with no public… only artists were allowed. The only testimonies of this event are the photos of Shunk & Kender. Aurélie pays tribute to this American art scene and to photography. It is a work that physically condenses the different aspects of Aurélie's work: artistic heritage, photography, research and materiality. Aurélie Pétrel offers a new observation of photography and is today a pioneer in Contemporary photography.
Did you change your initial selection following the cancellation of the live fair?
We reacted of course to the virtual presentation of the fair but we did not change the planned works. We adapted by taking more photos of the works. The move to virtual-only environment requires an adaptation for them: providing more images of the works to offer collectors more details for one artist's work.
Collectors are remaining loyal and are following them despite everything… which is rather reassuring in this context.
As seen by

gallerist Félix Frachon (Ixelles, Belgium)
We are a gallery which defends physical encounters, I consider myself a facilitator. The moment of the meeting between a work, an artist, and its collector is crucial, and we have always favored this key moment. In addition, we represent artists who come from afar, who are little known in Europe, and our gallery is a place where exchanges and dialogues have time to take place. This is why we opened a second space [the Félix Frachon gallery Rue Saint-Georges 5, Brussels and 26 BY, Rue Saint-Georges 26] in 2017 before starting to participate in fairs. We knew it would get complicated: out of the five fairs for which we imagined a stand in 2020, not a single one took place physically, they were canceled or switched online. During the first lockdown, we had to adapt quickly… it wasn't in our DNA. We have found a variety of successful strategies, notably with series of lectures broadcast on the gallery website. It's yet another opportunity to discover how to compensate for the absence of a physical relationship and to reflect on this subject in an intelligent way. We are among those who believe that art should be accessible to all, and online media are great tools to reach a wide range of people who would probably not be there. I am therefore excited about the new possibilities although my way of conceiving my work as a gallery owner was not necessarily in phase with the notion of 'all digital'.
Are you going to change your selection for the online fair?
We always see our fair stands as an extension of the gallery, so they are not linear stands, which can sometimes seem frozen and overcrowded. These are stands which have themes and defend an idea. Our price range for this fair is between €2,000 and €5,000 – still with the aim of making art accessible to all – and we have an important piece for around €35,000. In an online context, we have to make a selection… which is a pity… but that's the way it is… Given the change in the fair's overall organisation, we decided to do a commemorative and festive retrospective of the gallery. We are celebrating the fourth anniversary of the gallery's creation. We currently represent 20 artists from so-called 'emerging' countries. Our vocation is to promote artists who are little–known internationally and to make them known on the European scene. We will particularly highlight three artists that you will find on our stand:
Jimmy RUF was born in 1980 in Senlis, France. From an early age he was confronted with the dual beauty and horrors of humanity. He spent the first sixteen years of his life in Africa. For the impressionable child he was then, certain images were particularly striking, the destruction during the Iran-Iraq war of the 1980s… for example. Likewise, from an early age and in contact with the finest examples of sculpture and architecture from ancient Egypt, he began to see creativity as a source of greatness and transcendence. The passage through the ages of these creations left a trace in him that has guided him. He is committed to showing the world what touches him most deeply: human vanity – creativity – what some call 'transubstantiation'. This exploration is manifest in the varied artistic forms that he engages in through a wide variety of media including photography, painting, drawing, sculpture, installation and video.
Arnaud Rochard's paintings are like an invitation to travel that doesn't hesitate to push back the boundaries. Discovering his artificial and utopian islands takes time; you have to venture into his abundant landscapes straight out of his imagination. From the start, we think of "tapestry", printed fabrics, engraving. The landscape represented is saturated with dense and mysterious vegetation, strewn with clues revealing its complexity. Here, there is no central subject, the painting opens onto depth, the perspective has broken down to favor a mural representation… a large window open to infinity. The coloured and precious flat areas intrigue, echo and contrast with the black and white of the background. We hesitate between the real and the abstract, always with this feeling of freedom. For Arnaud, engraving is not an end in itself but a pretext to be visited as much by the colour as by the volumes. The flow between the techniques is exhilarating. The hybridization of engraving by colour generates an astonishing effect, an intriguing perspective for the viewer. Arnaud's universe is at the same time calm and « peaceful », restful and exasperating. His work is anchored in landscape as if it were the privileged environment for projection into the future… reminding us of Lawrence Durrell quote: "Everything that comes out of me is a landscape". Arnaud Rochard was born in 1986 in Saint Nazaire, he lives and works in Brussels.
Vishal K Dar, born 1976 is an artist and architect based in Gurgaon, India. He uses satire and scale to address deeper personal issues, and his practice – very diverse in terms of media – often extends outside the gallery and into the public realm. Transformations and everything nocturnal are among the most visible themes of his works. Through the creation of places, he infuses a dreamlike quality into his works while allowing them to address contemporary issues.
.
MAIN SECTION
Antonella Cattani contemporary art – Bolzano
Galerie Arnoux – Paris
 ARTSKOCO Korean Connection – Luxembourg
Ceysson & Bénétière – Luxembourg, Paris, Saint Etienne, New York, Genève
CULTUREINSIDE GALLERY – Luxembourg
DavisKlemmGallery – Wiesbaden
Galerie Eva Meyer – Paris
Josef Filipp Galerie – Leipzig
Galerie VC&R – Anvers, Knokke
GALERIE BERTRAND GILLIG – Strasbourg
Galerie Laurent Godin – Paris
GALERIE F. HESSLER – Luxembourg
JARMUSCHEK + PARTNER – Berlin
Bernard Jordan – Paris, Berlin, Zurich
Kahn Gallery – Londres
GALERIE ANJA KNOESS – Cologne
Gebr. Lehmann – Dresde
Galerie Lelong & Co. – Paris, New York
MACADAM GALLERY – Bruxelles
MARUANI MERCIER – Bruxelles, Knokke, Zaventem
Mazel Galerie – Bruxelles
mediArt – Luxembourg
MOB-ART studio – Luxembourg
Nosbaum Reding – Luxembourg
GALERIE OBRIST – Essen
Patinoire Royale / Galerie Valérie Bach – Bruxelles
Radial Art Contemporain – Strasbourg
Schönfeld gallery – Bruxelles, Anvers
Galerie Schortgen – Luxembourg
Stems Gallery – Bruxelles
Valerius Gallery – Luxembourg
galerie Nadja Vilenne – Liège
GALERIE VOSS – Düsseldorf
Zidoun-Bossuyt Gallery – Luxembourg
zs art galerie – Vienne
FOCUS
Archiraar Gallery – Bruxelles
CAPS – Bruxelles, Anvers, Ostende
Dauwens & Beernaert Gallery – Bruxelles
Galerie DYS – Bruxelles
Galerie Felix Frachon – Bruxelles
Nationale 8 Gallery – Dilbeek
Archiraar Gallery – Bruxelles
CAPS – Bruxelles, Anvers, Ostende
Dauwens & Beernaert Gallery – Bruxelles
Galerie DYS – Bruxelles
Galerie Felix Frachon – Bruxelles
Nationale 8 Gallery – Dilbeek
Spazio Nobile