Major Georg Baselitz retrospective at Pompidou Center
Major Georg Baselitz retrospective at Pompidou Center
[02 Nov 2021]
The Pompidou Center in Paris is hosting the largest Georg Baselitz retrospective ever organized in the world: six decades of creation by an essential artist. The exhibition will be open until 7 March 2022.
Baselitz never liked overly 'classical' artists. He prefered Soutine, Picasso, Duchamp, Otto Dix or the African statues that he has collected passionately for half a century. A painter, drawer, engraver, sculptor, Baselitz became a major figure in German painting during the second half of the 20th century. According to Bernard Blistène, co-curator of the Pompidou Center retrospective, he has "fought, throughout his life, against ideologies by seeking accomplices in the history of art and literature".
Born in 1938 in East Germany under the Third Reich just before World War II, Georg Baselitz grew up in the midst of ruins, then under the totalitarian regime of the GDR (former East Germany). He therefore belongs to the generation of post-war German artists dubbed the New Fauves, a generation whose work referred to the trauma of war in an aesthetic that completely ignored academic considerations. From its early days this aesthetic was brutal, populated by raw, violent, sexual subjects which at first provoked indignation (quite deliberately) before being later consecrated for their essential contribution to art history.
A "monstrous painter"
Hans-Georg Kern adopted the name Georg BASELITZin 1961 in reference to his native village Deutschbaselitz, near Dresden in Saxony. The name change corresponded to the moment when Baselitz set out his artistic intentions in the so-called 'Pandemonic Manifestos' along with Eugen Schönebeck. Based on Lautréamont's Chants de Maldoror, he notably asserted that "the artist has no responsibility towards anyone. His social role is to be anti-social. His only responsibility lies in the message that his work projects to the outside world."
Wilfully anti-conformist, Baselitz has defined himself as "a monstrous painter". It is true that his works often have the impact of a sharp punch: voluntarily unfinished sculptures, deformed or even torn bodies, images of sex and masturbation (1960s), finger paintings (1970s), his so-called Frakturbilder (rupture-paintings), his upside-down people (to subvert academicism and perhaps, above all, to demystify the traditional iconography of the hero)… Baselitz painted his first upside-down painting in 1969 with a work titled Der Wald auf dem Kopf (The Forest on its head). Thereafter, inversion became the Baselitz thing… a leitmotif to which he has submitted all the subjects in his repertoire – characters, landscapes, birds, etc. It has become the most salient aspect of his work and therefore of his identity as an artist.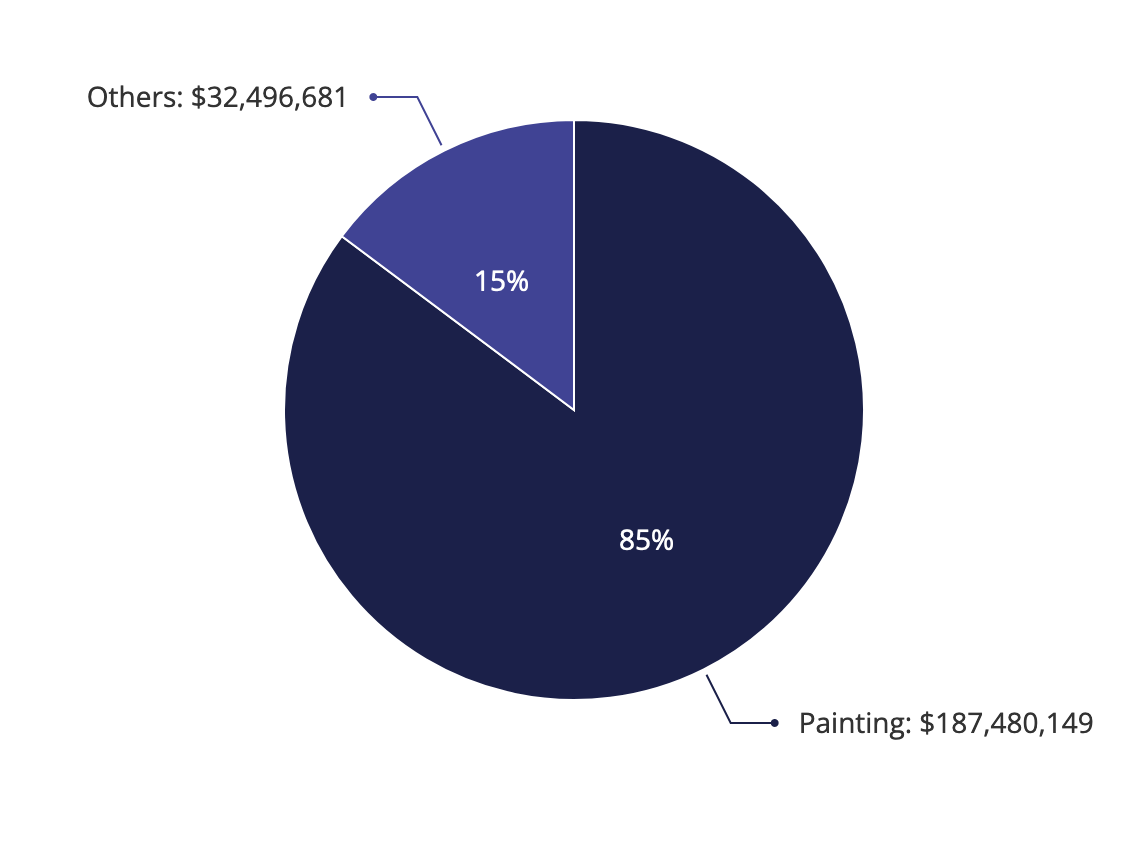 Baselitz: auction results by categories (copyright Artprice.com)
.
From his earliest works, Baselitz distinguished himself via a provocative and violent iconography that infuriated the censors. In 1963 two of his paintings were confiscated during one of his first exhibitions in West Berlin, described as being "an affront to public modesty… pornographic… and an insult to Germany". They were returned to him at the end of a well-publicized trial that ended two years later, in 1965. Once denigrated, these paintings are now museum pieces.
"Artists should (…) hate all that is official, transgress all prohibitions, be suspicious, incredulous"
His market
On the auction market, half of his works change hands in Germany but not necessarily the best pieces. Iconic and internationally recognized, Baselitz's masterpieces are generally offered on the most prestigious marketplaces – London and New York – with the former accounting for 61% of his auction turnover over the past 10 years and the latter for 25%. Rare and highly sought-after, his best works are now fetching between $500,000 and $6.5 million.
Consistently ranked among the 100 top-performing artists in the world by annual auction turnover (Artprice's global ranking), Baselitz has not yet exceeded the $10 million threshold, unlike other iconic artists in the second half of the 20th century. But he is not far from this threshold since his "Mit Roter Fahne (With Red Flag)" (1965) fetched an auction record at $9.1 million (Sotheby's London) in 2017. The painting is from his "Helden" (Heroes) series that effectively consolidated his international reputation.
Metaphors of the global stalemate during the Cold War, the paintings in his "Heroes" series have become cultural and historical emblems that inform our 21st century existence. Comprising around forty works on canvas, these Heroes were painted between 1965 and 1966 are – for the most part – kept in institutional collections around the world, such as the Tate in London or the Louisiana Museum of Modern Art in Humlebaek (Denmark).

Price index for paintings (yellow) by Georg Baselitz (copyrigt Artprice.com)
.
A sculptor with a primitive gesture
In sculpture as in painting, Baselitz thwarts classical codes. Here, he attacks the material with an axe or a wood chisel for a direct, coarse, immediate, impactful cut. A radical act to get to the point. The forms are coarsely hewn from beech, lime or cedar. The woods are selected for their textures, colors and materiality. Suggesting a form of sculptural primitivism, Baselitz has created heads and standing figures, enhanced with a few brushstrokes, that have a totemic presence. His best-selling three-dimensional work (My New hat, 2003) fetched just under $2.3 million at Christie's in London in October 2014. This is well below the prices paid for sculptures by his compatriots Thomas SCHÜTTE (over $5 million) and Martin KIPPENBERGER ($9.5 million). Baselitz's upside potential therefore appears to be substantial as regards the Contemporary sculpture market in general, and his compatriots in particular, especially since the artist is represented by one of the biggest and most powerful galleries in the world: the Thaddaeus Ropac gallery.
"I think sculpture is a more direct way than painting to achieve the same result because 3D creation is often more primitive, more brutal and less reserved than painting usually is."
Average auction prices per medium:
His most popular and coveted works – paintings and sculptures – are also the rarest on the auction market, which also offers drawings (approximately 25% of the lots) and, more commonly, prints (60% of the lots).
Painting: between $500,000 and $6.5 million judging by recent results.
Sculpture: over a $1 million for a (unique) wooden sculpture. Very rare.
Drawing: between $20,000 and $80,000 for works with color.
Prints: from $1,000 for etchings. Between $2,000 and $10,000 for woodcuts.
Key dates
1938 Born in Deutschbaselitz (GDR)
1969 First 'upside-down' painting
1975 First trip to New York and participation in the São Paulo Biennale
1976 Started collecting African art
1980 Represented Germany at the Venice Biennale
1985 The National Library of France organizes a first retrospective of his engravings
1995 Exhibited at the Guggenheim in New York
1996 First retrospective in France at the Musée d'Art Moderne de la Ville de Paris
2004 Tokyo Praemium Imperiale Award
2007 Retrospective at the Royal Academy of Arts in London
2019 Elected to the Académie des Beaux-Arts de France
Aged 83 Georg Baselitz continues to paint for two to three hours every day.
He is represented by the Thaddaeus Ropac Gallery.