Narrative Figuration – The rehabilitation of a French movement
[10 Mar 2008]

 

After the Art Paris contemporary art fair (from 3 to 7 April), the Grand Palais will stage a much-anticipated three-month retrospective on Narrative Figuration (Narrative Figuration, Paris, 1960-1972, from 16 April to 13 July), a French art movement mirroring American Pop Art of the 1960s.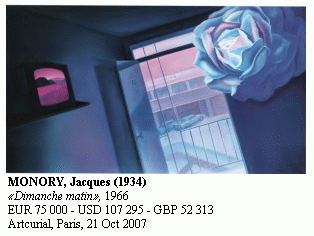 Narrative Figuration put figurative painting back at the forefront of 1960s art. The work of Gudmundur Erro, Valerio Adami, Jacques Monory, Gérard Fromanger, Yvan Messac, Gérard Schlosser, Hervé Télémaque, Alain Jacquet or Peter Klasen marked a veritable return to traditional images on traditional canvas. The group's most sought-after artist is Jacques MONORY, whose price level has soared by more than 500% in ten years; next in line are Gérard FROMANGER (+ 353% between 1997 and 2007), Valerio ADAMI (+231%), ERRO (+209%), Gérard SCHLOSSER (+204%) and Peter KLASEN (+120%).
Jacques Monory, the most sought-after artist but not the most expensive, recorded a first exceptional result in 2005 during the Paris sale of the Patrice Trigano collection at Christie's, when La voleuse no.3, a canvas measuring more than three metres, achieved EUR 50,000. Two years later, canvases less than a third its size were flirting with this price level, as witnessed in the sale of Meurtre N°VI for EUR 48,000 on 20 October 2007 at Cornette de Saint-Cyr. The following day, Artcurial was to set a new record with Dimanche matin, a 1966 work, auctioned for EUR 75,000!
Another high point for narrative figuration in 2007: the Christie's sale on 11 December offered six key pieces from the Hervé Loevenbruck collection. The headline lot was Comicscape by Erro (200 x 300 cm), saturated with images borrowed from comic strips. The painting achieved EUR 720,000, well above its estimated range of EUR 300,000 to 400,000! Note that, just six years earlier, a work from the same Scape series, certainly less visually rich but of the same size, was accessible for less than EUR 40,000 (Oct. 2001 Cornette de Saint-Cyr, FFR 250,000). at Cornette de Saint-Cyr. The following day, Artcurial was to set a new record with Dimanche matin, a 1966 work, auctioned for EUR 75,000!
Galvanised by the record Erro sale, collectors at Christie's on 11 December pushed the bidding up to EUR 140,000 for a 1969 work by Valerio Adami entitled Figura con valigia. In 17 years, no Adami work had achieved such a high price! You now need to reckon on between EUR 20,000 and 100,000 for one of his top-quality acrylics. The water colours are also very popular: it is becoming difficult to acquire a fine one for anything less than EUR 10,000 whereas, in 2005, one could easily find them in the EUR 2,500 to 6,000 price range. On 27 November last, for example, the drawing Gymnasium doubled its estimate in Milan, the hammer coming down at EUR 14,000 (Christie's).
The less sought-after oils and acrylics by Gérard Shlosser, Peter Klasen or Gérard Fromanger are accessible for between EUR 5,000 and 8,000 on average. The Fromanger paintings offered at auction between October and December 2007 in Vienna and Paris, measuring more than a metre, went for between EUR 6,000 and 7,000. Klasen prices escalate significantly depending on their date, collectors focusing on the historic works. Thus, an acrylic from the 1960s, measuring around thirty centimetres, can exceed the EUR 10,000 threshold, whereas a similar-scale work produced 30 years later is accessible at around EUR 2,000. On 8 February, for example, Massol sold Flammable solid, a 1995 work in acrylic and collage, for just EUR 2,200.