Overview of the art auction market during the first half of 2010
[23 Aug 2010]

 

At the end of the first half of 2010, global auction revenue from fine art amounted to €2.9 billion. This figure is indeed €800m short of the peak of the first semester of 2007 (€3.7billion), but it is up €1.2 billion versus first semester 2009.

How has the market recovered so quickly?
Mainly due to the return of investors to the top end of the market and the buoyancy of the Asian market.
Since the beginning of 2010, the world's most expensive masterpieces have returned to auction rooms generating 8-figure results, a selection of which are discussed in our article The 10 best results on the London art market in 2010
Today, in the United-States, an artwork offered at over $100,000 has more chance of selling than a work offered at under $10,000. And yet the high end of the market was in a critical condition towards the end of 2008 with more than 38% of works failing to sell. In 2010, the bought-in rate for works above the $100,000 line has fallen to 27%, while that for works above $1m is only 20%.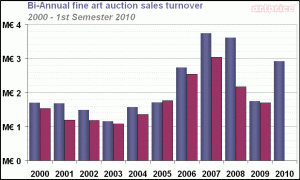 Chinese performances
The crisis seems to have side-stepped the Chinese art market which, with total art auction revenue (TAR) of €322 million in the first half of 2010, has posted a better figure than for the same period of 2007 (€212 million).
While the UK and US markets were struggling to recover (second semester 09), Chinese auctions were steaming ahead and the country posted its best-ever semestrial total auction revenue. Indeed, the €384.4m generated by Chinese art auctions in the second half of 2009 represented more than twice the French TAR and was substantially higher than the UK figure. Thus, before the UK recovered its composure in 2010, China was effectively in second place, just €116m behind the United States, for the second 2009 semester.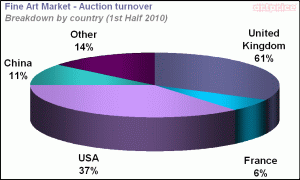 This year, the auction performances of Hong Kong (capital of the Asian art market and fourth city in the world for art sales behind New York, London and Paris) and Shanghai are very impressive: the TAR of the former has risen 158% versus the first semester 09, while the latter's has increased a staggering 187%!
Hong Kong's success owes much to Christie's and Sotheby's presence on the island. For example, Sotheby's HK branch, active since 2008, has posted new summits this year, notably with records for LEE Man Fong whose painting Bali Life fetched $2.8m on 5 April 2010 and for LIU Ye whose Bright Road fetched the equivalent of $2.1m on the same day.
The fast-developing Asian art market is still a long way from maturity and the global art market's centre of gravity is continuing its eastward migration.