Paul GAUGUIN's paintings from his first stay in Polynesia (1891 to 1893) have nearly all become prestige masterpieces in the world's major museums, and those still in the hands of private collectors easily fetch millions of dollars. During the 1980s these paintings were at the heart of a speculative rush primarily focused on Impressionist and Post-Impressionist art. However, although the prices soared suddenly, they have never slid back, and – having resisted the last major financial crisis – they are rising once again.
Over the years, Paul Gauguin (along with Vincent VAN GOGH (1853-1890)) has come to be seen as the archetypical artiste maudit (unfortunate and misunderstood…). He died in 1903 in the arms of his very young Tahitian companion in the middle of the Pacific Ocean. He was 55, penniless, overcome by syphilis, personal problems and lawsuits… and no-one cared. Today he is considered one of the greatest painters that ever lived. This year, Paul Gauguin is the subject of a biopic by Vincent Cassel, as well as of an illustrious retrospective at the Grand Palais in Paris.
The numerous appearances of Gauguin's works in auction rooms – the details of which have been carefully archived by Artprice – allow us to retrace the history of his prices and show exactly how and when public opinion regarding Gauguin began to change.
From the "Paul Gauguin sale" in 1895… to today
When Paul Gauguin returned to Paris in 1893, he was in a hurry to present paintings he had just completed in Polynesia and which he already considered a turning point in his career. But the cold reception to « Œuvres récentes » at Durand-Ruel prompted him to sell around fifty of his paintings at auctions. Thus Nafea Faaipoipoi (Quand te maries-tu ?) (1892), which Durand-Ruel had not managed to sell for FF 1,500 in 1893, was sold two years later for just FF 500.
Among the canvases sold at the Drouot auction « Tableaux et dessins par Paul Gauguin, Artiste Peintre » on 18 February 1895, Te Fare (La maison) (1892) was acquired by the art historian Daniel Halévy, on the advice of his friend Edgar Degas, for FF420 (roughly $90 and equivalent to about $1,500 today). The painting remained in the Halévy family until 1991 when it fetched FF 52 million ($9.7 million) at Ader-Tajan.
On 28 February 2017 Christie's was assigned to sell the same painting in London for the third time in its history… and the work fetched over $25 million. The painting that the artist himself had struggled to sell for a tiny sum in 1895 is now worth a fortune.
Price evolution of Te Fare (1892) – [72 x 92 cm]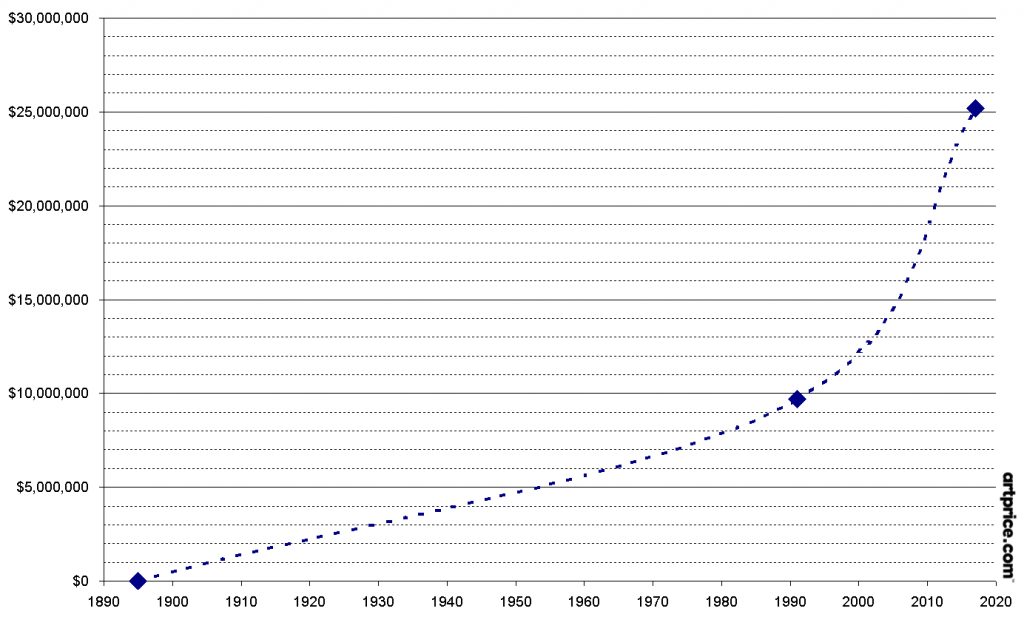 Sale

Hôtel Drouot Paris

18.02.1895

Ader-Tajan Paris

07.11.1991

Christie's New York

02.28.2017

Price (USD)
$90
$9,700,000
$25,200,000
The three successive auction results for this painting provide only a partial appreciation of the price evolution over the 122 years that separate the last result from the first. Of the forty Polynesian-inspired paintings sold in 1895, two others surfaced at auctions, providing additional information:
Te Poipoi, le matin (1892) – 68 x 92 cm
18 February 1895: FF 320 ($70) at Hotel Drouot Paris
16 June 1908: FF 1,255 ($270) at Hotel Drouot Paris (acquired by Ambroise Vollard)
7 November 2007: $39.24 million at Sotheby's New York
Hina Maruru (La fête de la Lune) (1893) – 93 x 70 cm
18 February 1895: FF 360 francs ($75) at Hotel Drouot Paris
14 October 1965: $275,000 at Parke-Bernet Galleries in New York
Similar Works
A number of other Polynesian-inspired Gauguin paintings, not included in the 1895 sale, have also been assigned for auction several times, and provide additional useful information on the construction of Paul Gauguin's prices in the 20th century.
Jeune homme à la fleur (1891) – 46 x 33 cm
10 November 1987: $2.1 million at Christie's New York
9 November 2015: $13.6 million at Christie's New York
Cabane sous les arbres (1892) – 72 x 43.5 cm
6 November 2002: $4.63 million at Christie's New York
2 May 2012: $8.48 million at Sotheby's New York
Le violoncelliste (Portrait de M. F. Schneklud) (1894) – 93 x 73 cm
17 October 1940: $4,100 at Parke-Bernet Galleries New York
Nativité (1902) – 44 x 62.5 cm
19 October 1955: $24,000 Sotheby Parke-Bernet New York
5 May 2015: $5.85 million at Sotheby's New York
« Te fare Hymenee » (la maison des chants) (1892) is another; probably belonging to Ambroise Vollard at some point, this painting first attracted the attention of a couple of major Hungarian collectors: Marczell de Nemes first, and Baron Herzog subsequently. The latter  acquired the work at a public sale in June 1913 for $1,300 (FF 6,200) at Manzi Joyant in Paris.
The canvas then crossed the Atlantic to the United States where it changed hands several times. In 1936 it was in New York; in 1940 in Annapolis; then back to New York in 1970. In November 1982, the Texan collectors Mr and Mrs Algur H. Meadows sold the work at Christie's New York for $700,000. Six and a half years later, on 4 April 1989, the new owners sold it at Sotheby's in London for $6.6 million!
Finally, on 6 May 2008 Christie's included Te Fare Hymenee (1892) in its prestigious Impressionist & Modern Art sale in New York, where it fetched $8.4 million.
Price progression of Te Fare Hymenee (1892) – 51 x 90 cm

Sale

Manzi Joyant Paris

06.14-18.1913

Christie's New York

03.11.1982

Sotheby's London

04.04.1989

Christie's New York

05.06.2008

Price (USD)
$1,300
$770,000
$6.6 million
$8.44 million
The auction history of Te Fare Hymenee (1892) clearly shows a spectacular value accretion during the 1980s. The 1989 price was undoubtedly inflated by the speculative bubble on Impressionist and post-Impressionist works while the May 2008 result was more than likely depressed by the approaching financial crisis; but it is nevertheless appears that the value of the painting was transformed between 1980 and 1990.
Summary of Paul Gauguin's prices between 1895 and 2017
In total, nearly forty Paul Gauguin paintings depicting Polynesian scenes were auctioned at the 1895 auction with prices ranging FF 100  to FF 900. Until 1908, Gauguin's market was essentially focused on Ambroise Vollard's gallery. Vollard bought lots of his works and sold a few to major collectors. It was probably Vollard who sold Te fare Hymen (1892) to Marczell de Nemes. The prices remained very low, but gradually a number of increasingly serious museums and collectors started to show an interest in Gauguin's work.
In 1913 the Lyon Museum of Fine Arts was the first French museum to buy one of his works: Nave Nave Mahana (1896). The acquisition was his first significant public recognition and the price of his paintings rose considerably… to several thousand dollars. Over the next 40 years, this value range evolved little: in the middle of WWII a small painting entitled Paysage aux cochons noirs (1891) fetched $3,800.
However, in the late 1950s his market began to move. Nativité (1902) was purchased $24,000 in 1955, and a decade later Hina Maruru (1893) reached $275,000. The latter was a little larger than the first, but the subjects are both important, and the huge price  difference clearly reflected an appreciation in Gauguin's prices over the ten years that separate the two sales.
The value of Gauguin's Polynesian paintings continued to grow slowly during the 1970s and early 1980s. In 1982, Te fare Hymen (1892) was purchased for $770,000. In the late 1980s, the exceptional purchasing power of Japanese collectors rapidly inflated the prices of Impressionist and Post-Impressionist works, including works by Gauguin. In 1989, Te fare Hymenee (1892) was acquired for $6.6 million. But when the Japanese Nikkei started falling in the early 1990s, none of Gauguin's works retreated in value. For the next 15 years, his prices remained at roughly stable, posting a gradual increase in value.
During the years following the 2008 crisis, his best paintings became a little rarer at public sales. But in March 2010 his small painting Te Arii Vahine (1896) still fetched more than $10 million.
Gauguin's prices reached a new peak in February 2015 when the New York Times revealed that his Nafea Faa Ipoipo (Quand te maries-tu ?) had been acquired in a private deal for $300 million1. At the time, the painting was part of a Paul Gauguin retrospective at the Beyeler Foundation. Sold by the artist for FF 500 in 1895, the painting suddenly became the most expensive artwork in the world!
Price evolution model for Paul Gauguin's Te Fare Hymenee (1892)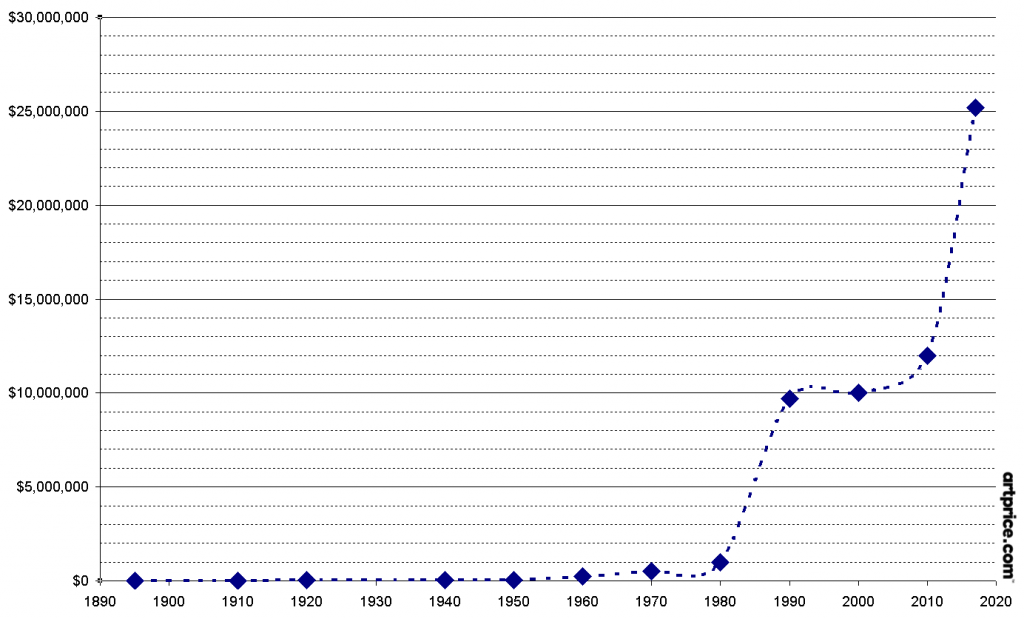 Nevertheless, the graphic representation of Te Fare's price evolution above is misleading. Although the price appears to rocket in the 1980s, this is really only a "scale effect". In reality, the value of the work grew as much before this period as it grew after. The strongest value accretion undoubtedly took place between 1895 and 1980, during which works initially sold for less than $100 reached a value of around one million dollars. Using a logarithmic scale, we can see the relative price changes over the long term.
Logarithmic representation of the price evolution of Paul Gauguin's Te Fare (1892)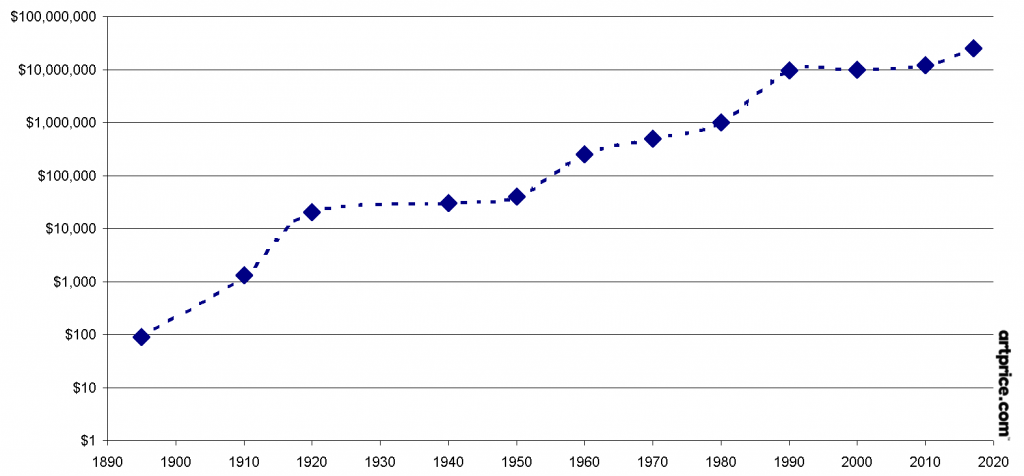 This graph clearly illustrates the periods of strongest price evolution. The twenty years after the painter's death were particularly dynamic, as was the period 1955-1965 and finally the 1980s. So ultimately, it was these three periods that have most contributed to Gauguin's current prices. The recent price boom is just one more step in the historical recognition of the artist.