The Paris art market gains in quality
[10 Dec 2019]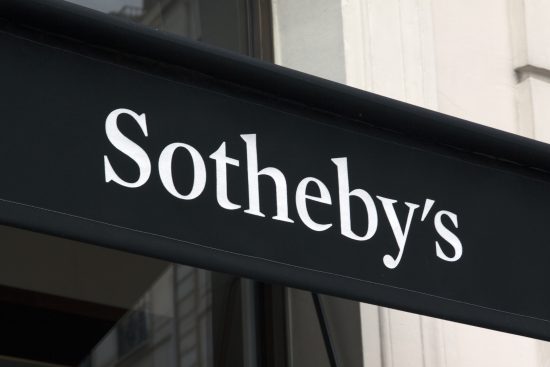 Sotheby's stands out from its competitors in Paris. A month after the records hammered at its Claude and François-Xavier Lalanne sale – 100% of the lots sold and the highest total for a Sotheby's sale in Paris (€91.3 million versus an estimated high total of just 23 million!) – the company has ended the year in style with a day of successful sales of top-level Contemporary art.
The French art market has received another boost after the success of Sotheby's Contemporary Art sales in early December generating a considerably stronger total than its eternal rival Christie's in the same field. The $48 million taken by Sotheby's on December 4 more than doubled Christie's total ($19.8 million). For 2019, Sotheby's Contemporary Art department has reached $104.4 million, a new record for Sotheby's Parisian outlet. Announcing the significant increase in its annual total, up 15% versus 2018, Guillaume Mallécot, Director of Sotheby's evening sales, declared enthusiastically: "This year, Sotheby's France has once again consolidated its leading position in Contemporary art, proving that Paris is an essential pillar of this market, especially for the Post-War treasures at the crossroads of the United States and Asia."
We take a quick look at some of the top results including the new world record for a drawing by Jean Dubuffet:
Pierre Soulages → Sotheby's Paris most recent sale of Contemporary art on the evening of December 4 ended with a total of €43.5 million ($48 million) and 11 lots fetching over a million dollars. Among the highlights was a hypnotic pastel by Sam Szafran, a masterpiece by Kazuo Shiraga, three important paintings by Jean Dubuffet (out of a total of five Dubuffet lots), a painting from De Stael's highly prized Agrigente series and two works by Pierre SOULAGES including a remarkable 1954 work that sold for $4.4 million. Indeed, just a few days ahead of his hundredth birthday, Pierre Soulages is one of the most sought-after artists on the market, and not just the French market. He has lots of fans all over Europe, the United States and Asia, and his prices are still rising. On November 27 last, auctioneer Jessica Remy – officiating at Tajan – hammered a new French record for Soulages at $10.6 million (Peinture 200 X 162 cm 14 Mars 1960). The canvas had prestigious provenance having belonged to James Johnson Sweeney, former curator at the MoMA and the Guggenheim in New York, and was at its first auction appearance.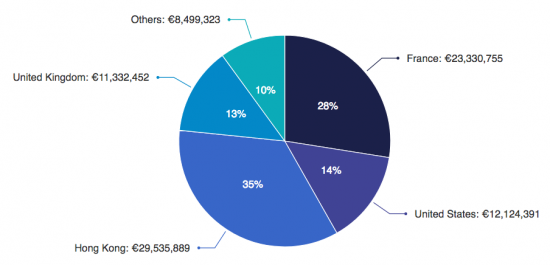 Kazuo Shiraga – Geographic distribution (2015-2019)
Kazuo Shiraga → The most expensive piece in the December 4 sale was a much more nervous abstract work than Soulages' Peinture 97 x 147 cm 2 février 1954. Measuring nearly three meters and painted in 1960 by Kazuo SHIRAGA, founder of the Gutai group (a radical movement in the second half of the 20th century), Tentaisei soushiko is undoubtedly one of the best Shiraga works still in private hands. At $5.5 – 7.7 million this powerful canvas was relatively attractive and elicited bidding up to $8.6 million, the artist's second best-ever auction result.
Sam Szafran → Died last September (read our last article),Sam SZAFRAN was well represented at the sale with two pastels, L'imprimerie Bellini, which reached nearly a million dollars ($971,000), and Escalier rue de Seine (Autoportrait) which fetched $325,470. Both works exceeded their high estimates. Essentially sold in France (98% of his lots), with an auction turnover of over $2 million this year versus less than $150,000 last year, it has been a historic year for this artist's market.
Focus on resales at Sotheby's December 4th evening sale…
Nicolas de Stael's Agrigente (1954) → having fetched $403,000 at Sotheby's London in July 1998, the work sold for $2.9 million. However, considering De Stael's recent new auction record, the result was hardly surprising. On October 17 last, Christie's Paris sold his superb Parc des Princes (Les grands footballeurs) (1952) for $22.2 million to a private European collector. The artist's previous record was $10 million less: in May 2018 his Nu debout (1953) fetched $12.1 million at Christie's New York.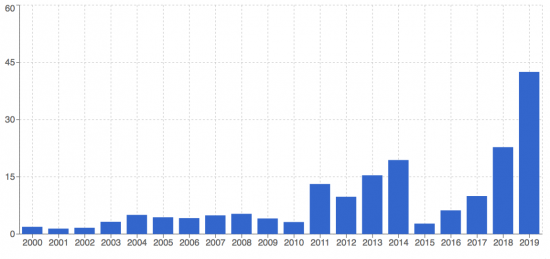 Nicolas de Stael – Turnover – Chronological progression
Jean Dubuffet's Légende du bonheur (1961) → having fetched $1.5m in 2011 at the same auction house, the work more than doubled in value to reach $3.4 million, well above its estimates. But the best success of the day for Dubuffet was for his drawing which sold for $4.8 million setting a new auction record for a drawing by the principal genitor of Art Brut.
Head (1949) by Francis Bacon → A face in the process of disappearing or dislocating… Francis Bacon's Head is a work on human fragility demonstrating all the artist's psychological power. Purchased for a little over $1.5 million in London (Sotheby's) in 2012, the work fetched nearly $1.9 million on December 4th. An encouraging result for a Parisian market that has lots of Bacons to offer, but rarely canvases of this quality.
The previous day, Christie's offered some of the same flagship signatures as those in the Sotheby's catalog: four works by Jean Dubuffet and works by Maurice Estève, Georges Matthieu, Serge Poliakoff, Kazuo Shiraga, Victor Vasarely, and, inevitably, Pierre Soulages… But only two works crossed the 1 million dollar threshold on December 3 versus 11 the next day at Sotheby's. Christie's nevertheless distinguished itself with a powerful red work by Lucio FONTANA and a large canvas by Keith HARING. The Haring work fetched nearly $ 2.5 million and the Fontana went for $2.9 million, generating the artist's second best-ever auction result in France. Unfortunately for the seller, Fontana's flamboyant Concetto Spaziale did better two years ago in New York. Its new owner can therefore congratulate him/herself on an acquisition at a particularly interesting price…