The second School of Paris at the forefront of modern art sales
The second School of Paris at the forefront of modern art sales
[07 Apr 2003]

 

Paris, 2 April 2003 – Christie's scores a hit with a lively modern art sale: 100% of lots sold, turnover of EUR2.6 million.

It was a bold step, holding an auction in the middle of the Gulf War, particularly one showcasing the artists of the second School of Paris, whose prices slumped badly between 1991 and 1996 and whose paintings are still selling at barely 1992 levels. In the event though, enthusiasts for the movement showed up in numbers and bid furiously for the 41 canvases on offer. Again and again the price estimates, though admittedly modest, were tested and comprehensively beaten.

Artprice Index (1992-2002): the second School of Paris paintings base 1992 = 100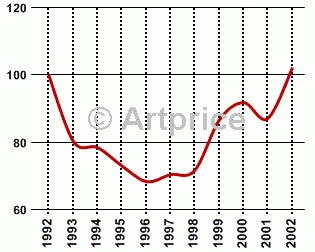 Any nerves felt by the organisers would have been calmed with the first lot. Albert MARQUET's Femme nue couchée went close to its high estimate, selling for EUR80,000.
Bidding hotted up with lot 3, but really took off with lot 4, Composition jaune et noire by Fernand LÉGER, which was estimated at EUR90,000-105,000 and knocked down for EUR250,000.
The most memorable hits were Serge POLIAKOFF's abstract paintings, including a 1969 Composition abstraite painted shortly before his death, a large format work (162 x 130cm) that was put up with an estimate of EUR120,000-180,000 and finally went for EUR320,000. It was a good piece and followed a 90% rise in Poliakoff's prices over the last six years. More surprising was the success enjoyed by Pierre SOULAGES, whose index had slipped back to its 1997 prices after strong rallies in 1998 and 2000. Two of his pieces went for EUR105,000, the first Painting 97 x 162 cm, 27 June 1971, doubling its estimate. The only oil by Hans HARTUNG in the auction was snapped up amid healthy bidding for EUR190,000 while three of his pastels went within their estimated ranges.
An encouraging sale, then, but we are not yet near the prices seen in the late 1980s. Hans Hartung's T 47-10 fetched the equivalent of EUR1.2 million at Jutheau (Paris) on 20 June 1990. Nine Poliakoffs topped the half-million mark in 1989 and 1990. So far, these kind of prices have not been repeated. Fine works by Maurice ESTEVE, Alberto MAGNELLI, Jean FAUTRIER, Maria Elena VIEIRA DA SILVA and Jean-Michel ATLAN come up regularly at auction and go for prices stubbornly below the records of 1990. This could change, though. At the moment the New Paris school is still very much a domestic phenomenon — 60% of sales are made in France and most collectors are French — but if the British and American houses start taking more of an interest, prices could move quickly back towards their highs.