The Top 2021 German artists
[28 Dec 2021]

Artprice's fifth and final review of the strongest artists at auction by nationality looks at the top-performing German artists in 2021. This Top 10 ranking has just four names: Wassily Kandinsky, Sigmar Polke, Lucian Freud and Gerhard Richter, with the latter not only dominating the market for German artists, but also holding a Top-5 position in the global annual turnover ranking (all creative periods combined)!
Gerhard Richter in the Global Top 10
Seven of the Top 10 auction results in 2021 for German artists were hammered for works by Gerhard Richter, a key figure whose work is considered the very essence of German Contemporary art, at least, by major collectors active at the auction sphere.
However, none of these seven major results – between $13 and $33 million – benefited the German market directly. They were all hammered abroad, mostly in New York and Hong Kong, thereby illustrating the recent bipolarity of the Contemporary Art market, which now seems to be largely a tale of two cities.
This year, New York accounted for nearly half of Richter's auction turnover (over $100 million) and Hong Kong roughly a quarter. This is indeed a very recent phenomenon: only since 2020 has Hong Kong really established itself as a major market place for Contemporary Art in general, and for Richter in particular. Previously, the artist's best works were mostly offered in New York and London.
With a total auction turnover of over $246 million this year, Richter is in fifth place, ahead of Vincent Van Gogh, in Artprice's provisional annual auction turnover ranking for 2021.
Richter's market prices are not only buoyant; they have never been higher! Our price index for Richter indicates an 18% increase during the year 2021 alone. If we go back twenty years, his prices have risen over 700%.
Comm graph: $100 invested in 2000 in a work by Gerhard RICHTER is worth an average of $819 in December 2021, an increase of +719% in 21 years.

Gerhard Richter. Price Index since 2001 (Copyright Artprice.com)
The Sigmar Polke from the Macklowe collection
It was also an excellent year for Sigmar POLKE's secondary market which turned over $36 million. Among the hundred or so lots exchanged under his signature, the vast majority fuelled the German market (63%), but his best result was hammered in New York as part of the Macklowe Collection sale, which generated $676 million at Sotheby's in November. Painted when the artist was 25, Rasterbild mit Palmen (1966) was purchased by the Macklows from the famous Saatchi gallery in London in 1988. This prestigious provenance undoubtedly contributed to generating Polke's second best-ever auction result at $25.2 million, double its mid-range estimate.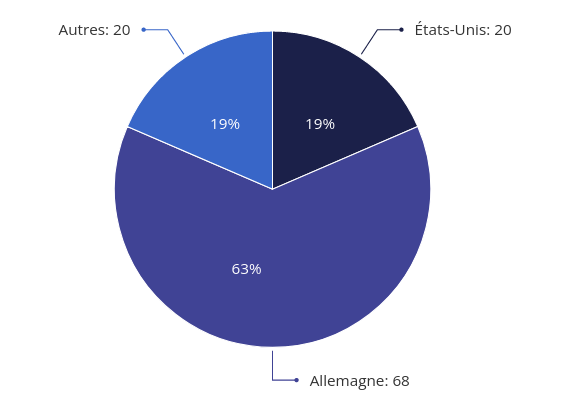 Sigmar Polke. Lots sold by country 2021 (Copyright Artprice.com)
Lucian Freud classified thanks to David Hockney
Exiled in London after Hitler came to power in 1933, Lucian FREUD's grandson Lucian is one of the most sought-after and highly-regarded living painters of our time. In 2015, Christie's New York sold one of his paintings (Benefits Supervisor Resting) for $56 million. The work in question is indeed an imposing canvas, both by the power of its subject and by its dimensions (150 x 160 cm). This year, Lucian Freud's signature generated another major result with a portrait of another leading artist of our time, David Hockney. Measuring just 40.6 x 31 cm, the portrait fetched $20.6 million! Not shown in public since the 2012 Lucian Freud exhibition at the National Portrait Gallery in London, the canvas is the last in a series of portraits of famous personalities, including one of Queen Elizabeth II.
Its sale, which generated 85% of his 2021 turnover, has put Lucian Freud among the year's 100 top-performing artists in the world by auction turnover.
In 2021, his auction market posted a 100% sold rate (for paintings) with buying opportunities being extremely rare. In fact, only four paintings changed hands this year, and none were offered last year.
The most 'historic' artist in this ranking and a veritable pillar of Art History is the unavoidable Wassily KANDINSKY who generated one of the best results for German artists this year at $29.3 million for his superb Tensions Calmed (1937). In the same American collection for 60 years, this masterpiece elicited the second highest result ever hammered for a work by Kandinsky, whose auction record stands at $42.2 million since 2017. The work was sold at the start of the summer in London, the world's leading marketplace for the finest Kandinsky works.