US impressionists down as home economy sags
[24 Aug 2003]

 

Hammer prices for US impressionists have slumped in the last six months, as the local American demand that usually supports the market has dried up. In the last three years the school's price index has fallen by 33%. But over 10 years, US impressionists have still seen prices rise by 144%, making them substantially better investments than their British or French counterparts whose prices grew by a relatively modest 64%. That said, French impressionists remain safer investments than the Anglo-Saxons who have been prone to huge price swings.

American Impressionism: Price Growth Artprice Index base December 1992 = 100
Currency = EUR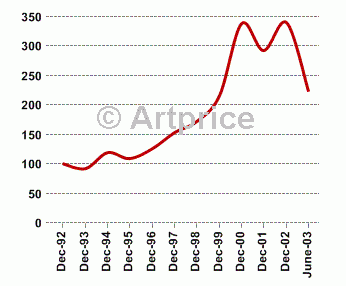 For some artists, including Mary CASSATT and William Merritt CHASE Chase prices tripled in less than two years only to fall vertiginously. A year after its peak in 2000, the price index for Mary Cassatt had fallen by 60%. Then, in 2002, the market picked up and prices started to climb again. Christie's scored a hit with a portrait of Katherine Kelso Cassatt, sold in November 2000 for USD2.7 million, though this is still USD1 million short of Cassatt's record with In the Box in May 1996. But a host of other artists broke records in 2000, including James Abbot McNeill WHISTLER (2,6 M$), Daniel GARBER (500 000 $) and Arthur TANNER (500 000 $). The school's top price at auction is still the USD10 million paid for John Singer SARGENT's Cashmere (1908) at Sotheby's in December 1996 (see ranking). But in the last five years, the US impressionists' leading light has had nothing exceeding USD2 million.
Despite a sluggish start to 2002, the American impressionists' price index has been rising, driven not by the movement's masters but by minor artists such as Edmund Charles TARBELL, Charles Courtney CURRAN, Edgar Alwin PAYNE, Theodore Clement STEELE, Fern Isabel COPPEDGE. Like Thomas Wilmer DEWING, whose The Song sold for USD3.1 million at Sotheby's in December 2002, all these second-string artists had record sales last year. Others, including Theodore Clement Steele have continued to surprise the market in 2003. His Horse and Carriage fording a River in an Autumn Landscape estimated at USD4,000-6,000 fetched USD65,000 at Freeman.
Despite dwindling numbers of lots put up for auction, investors are becoming increasingly selective. Almost 22% of US impressionist paintings failed to find a buyer in 2002 compared to less than 15% in 1999. Paintings estimated at less than USD50,000 seem to be selling more easily, judging by a bought-in ratio below 17% in 2002 and investors can still pick up a wide choice of works by Wilson Henry IRVINE or Ben FOSTER for less than USD10,000 a piece.
The Top 10 most expensive American Impressionist artistsRanking by highest hammer price at auctionRANKARTISTLOTSALE1John Singer SARGENTUSD 10,100,000 : Cashmere (1908)05/12/1996 (New-York, Sotheby's)2Childe HASSAMUSD 7,200,000 : Flags, Afternoon on the Avenue (1917)21/05/1998 (New-York, Christie's)3Frank Weston BENSONUSD 3,800,000 : The Sisters (1899)25/05/1995 (New-York, Sotheby's)4Mary CASSATTUSD 3,700,000 : In the Box 23/05/1996 (New-York, Christie's)5William Merritt CHASEUSD 3,600,000 : Peonies (c.1897)27/05/1993 (New-York, Sotheby's)6Edward Willis REDFIELDUSD 3,200,000 : The road to the mill23/05/1990 (New-York, Christie's)7Maurice Brazil PRENDERGASTUSD 3,200,000 : The Stony Beach23/05/2001 (New-York, Christie's)8Thomas Wilmer DEWINGUSD 3,100,000 : The Song (1891)04/12/2002 (New-York, Sotheby's)9Dennis Miller BUNKERUSD 2,800,000 : Wild Asters (1889)01/12/1999 (New-York, Sotheby's)10James Abbot McNeill WHISTLERUSD 2,600,000 : Harmony in Grey – Chelsea in Ice 25/05/2000 (New-York, Christie's)