YBA 2003: are the Young British Artists still creating a sensation in the auction rooms?
[04 Apr 2004]

 

When Damien HIRST curated the Young British Artists' first group exhibition, « Freeze », in London back in 1988, his own work, along with that of Gary HUME, Sarah LUCAS and Fiona RAE, had little market value. At the time, the Young British Artists' reputation was confined to an inner circle of the London art scene. However, with the group's main mentors—gallery owner (and advertising mogul) Charles Saatchi, and Jay Jopling, founder of the White Cube Gallery—spreading the faith, global recognition was swift to come. By 1997, while the "Sensation" exhibition was pulling in 300,000 visitors in London, the results from the sale of the Boston Children's Heart Foundation collection at Sotheby's New York signalled the onset of a wave of speculation on the other side of the Atlantic. Rachel WHITEREAD's sculpture, Untitled, Double Amber Bed, estimated at USD 30,000-40,000, fetched USD 150,000 and in the process created a new status for a whole generation. Two years later, "Sensation" drew the wrath of New York mayor Rudolph Giuliani when showing at the Brooklyn Museum of Art. And in another four years, prices for the YBAs were at peak levels.

Since this momentum set in, the YBAs have only sold their work through the major auction houses in New York or London. The following figures speak volumes: whereas in 1992, Damien HIRST's God was bought in at GBP 4,000 in London, six years later, it went under the hammer for GBP 170,000. Collectors who bought YBA works 10 years ago certainly made a sound investment: EUR 100 invested in 1996 was worth EUR 385 seven years later, a much greater return than that on the art market as a whole. This momentum was apparent in 2003, with Damien Hirst's massive artwork, Something Solid beneath the Surface of all Creatures Great and Small, fetching USD 1.05 million on 13 November 2003, and setting a new record both for the artist and the group. However, more recently the uptrend has been running out of steam. Although buyers are still snapping up major works, prices have been tending to fall over the last two years. All in all, prices tumbled 28% on average between 2001 and 2003.

Young British Artists / Price growth 1996-2003Artprice Index base year 1996 = 100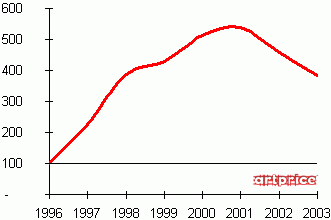 Despite the decline in average prices, 2003 saw some fine individual performances. For example, Mark FRANCIS's Positive Clone, a very large format work dating from 1996, which in June 2002 was bought in at less than GBP 7,000 in London, fetched USD 72,000 at Phillips De Pury & Luxembourg in May 2003, 10 times the estimated price. Damien Hirst has also had some good results. Hirst's price index rose 13% in 2003, and his no-sales rate has been declining steadily over the last two years. The 1995 Turner Prize winner has been the unrivalled leader of the group for years: 28 of his works went under the hammer in 2003, bringing in a total of almost EUR 4 million. However, this pre-eminence does not necessarily mean he is unassailable. Although Hirst has commanded the highest prices within the group for years, he is now closely trailed by his junior, Jenny SAVILLE (born in 1970), prices of whose classically produced paintings rose constantly up until 2002. Saville set a personal record at auction with her Figure 11.23, which fetched USD 480,000 on 14 May 2002 in New York. However, the young artist had a bad year in 2003: of the two paintings put up for auction in that year, one, Untitled, sold for below the estimated range and the other, Nats, was bought in. Plenty of other artists have also been affected: Sarah LUCAS, Rachel WHITEREAD, Marc QUINN and Tracey EMIN have all witnessed sharp falls in the prices of their sculptures since 2001.
Depending on the mediums used, prices can sometimes tumble much faster than the market as a whole. Marc Quinn, for example, generated a lot of publicity with Self, a self-portrait sculpted in the artist's own frozen blood. However, the work was highly sensitive to changes in temperature and was recently destroyed during work carried out at the Saatchi Gallery. Damien Hirst's Spot Paintings have also suffered from accelerated ageing, with the lacquer used cracking over time on overly supple canvases. These kinds of problems can have repercussions, notably for insurance purposes, even though certain artists consider that this sort of rapid deterioration is inherent to their work and their use of unstable materials.