General market consolidation
In 2016 China re-emerged as the clear leader of the global art market with an auction turnover total of $4.79 billion from 91,400 lots sold.
2016 Auction turnover distribution by country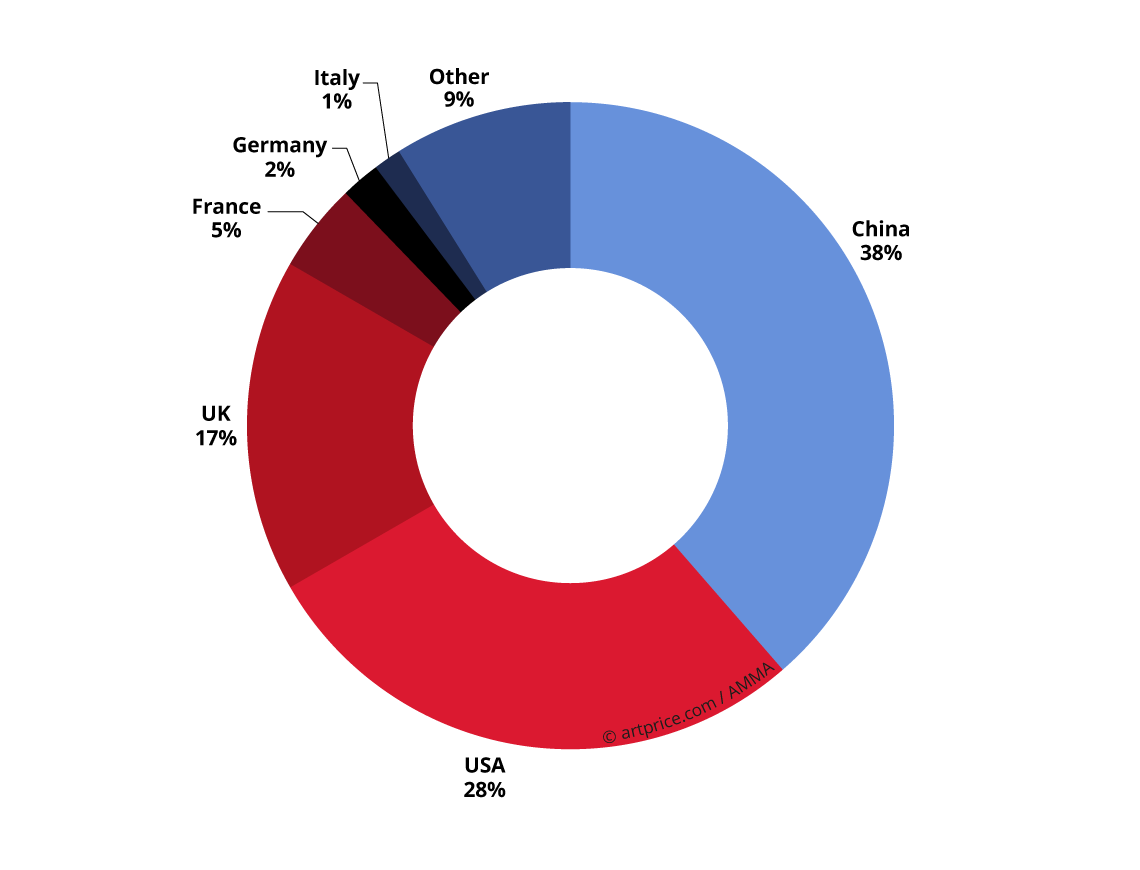 In 2015, the Chinese art market underwent a serious readjustment and posted a 26% decrease in turnover, whereas the United States generated its best-ever performance totaling $6.2 billion. In 2016, the situation reversed: the Chinese art market stabilized (-2%) while the West suffered a 36% contraction. Posting a total of $3.5 billion from 72,500 lots sold, the USA lost its leader title on the global art market.
Auction turnover totals by country (2015/2016)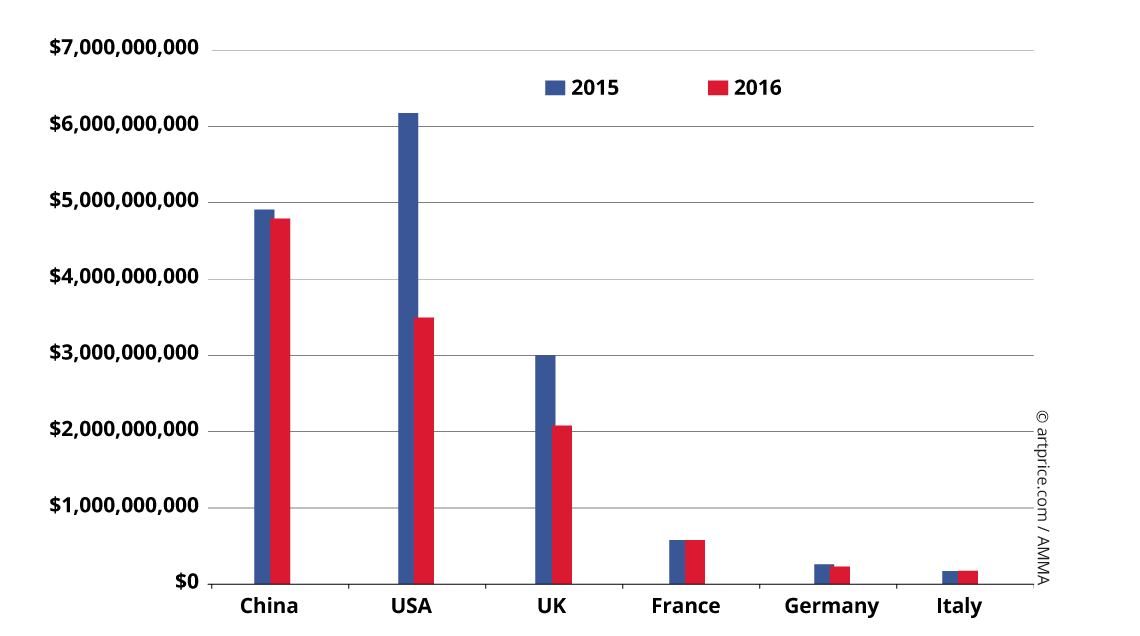 Between 2009 and 2014, the principal Western countries of the global art market experienced five consecutive years of growth. In 2015, they maintained the pace thanks to an extraordinarily dynamic high-end: 140 results above the $10 million threshold, including two results above $170 million (a threshold never before crossed). Naturally, this exponential price growth could not last indefinitely and financial hesitations – initiated in H2 2015 – prompted a sharp fall in the number of top-end masterpieces offered in sales rooms. As a result, only 61 works fetched over $10 million in 2016, and none reached into the 9-digit zone. This contraction has primarily affected turnovers at the major Anglo-Saxon marketplaces which host the major prestige sales, with New York down -43% and London down -30% vs. the previous year.
Transaction volumes up in the West
The Western art market demonstrated extraordinary resilience and dynamism throughout a tumultuous 2016 marked by a series of political surprises and financial market hesitations. Indeed, the record volume of transactions partially compensated the reduced turnover.
The 398,000 fine art lots sold in the West represented the highest volume ever recorded, while the overall unsold rate remained stable at approximately 37% compared with 2015. The auction houses have shown a remarkable capacity to stimulate demand with an appropriately tempered supply, while maintaining the quality of the lots offered for sale. The United States and the United Kingdom posted trading volumes up +24% and +27% respectively. This supply strategy has allowed sellers to maintain transaction volumes at their highest level and stabilise prices.
Western Fine Art turnover and lots sold (2005 – 2016)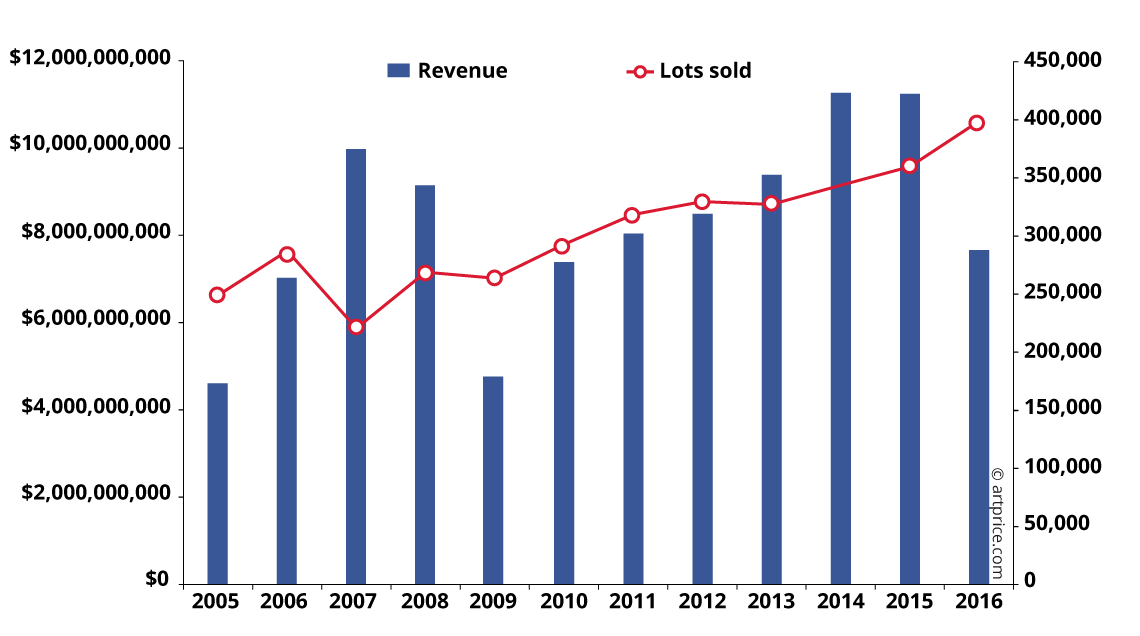 In 2016, most of the major European art market hubs respected this general trend. France, Italy, Austria and Belgium all posted flat turnover totals (between +1% and -1% vs. 2015), but they all posted higher transaction volumes: +8%, +4%, +14% and +15%, respectively.
Germany and Switzerland were exceptions to this new dynamic. Both countries maintained their respective 5th and 7th positions in the global ranking, but posted contractions of -12% and -5% in auction turnover. Spain's performance was even worse ($17 million) suffering a 20% reduction in turnover, dropping to 27th place in the ranking. Spain is being increasingly squeezed out by emerging marketplaces like Turkey ($31 million), the Philippines ($29 million) and the United Arab Emirates ($23 million).
The Chinese market finds its equilibrium
The structure of the world's leading art market is profoundly different to the structure of Western art markets. Surprisingly, with approximately two-thirds of its artworks remaining unsold, China has a much higher unsold rate than the West. In fact over the last ten years this rate has become the norm in China, which nevertheless stands out as the most dynamic market in the world with 277,500 artworks on offer in 2016.
Calligraphy and traditional painting still account for the bulk of the Chinese market, representing 92% of lots sold and 81% of sales turnover. However, Hong Kong's growing market generates much of its turnover from Oil Painting and Contemporary Art. Today, Hong Kong is one of the world's largest and most dynamic art marketplaces capable of attracting the best art from both Asia and the West. It is also a major outlet for in-vogue artists. Although an integral part of the People's Republic of China, Hong Kong has branches of many highly prestigious European and North American galleries. The city also hosts one of the three editions of Art Basel, the world's most selective fair of Western Contemporary art.
Phillips' Fine Art turnover in 3 cities (2006 – 2016)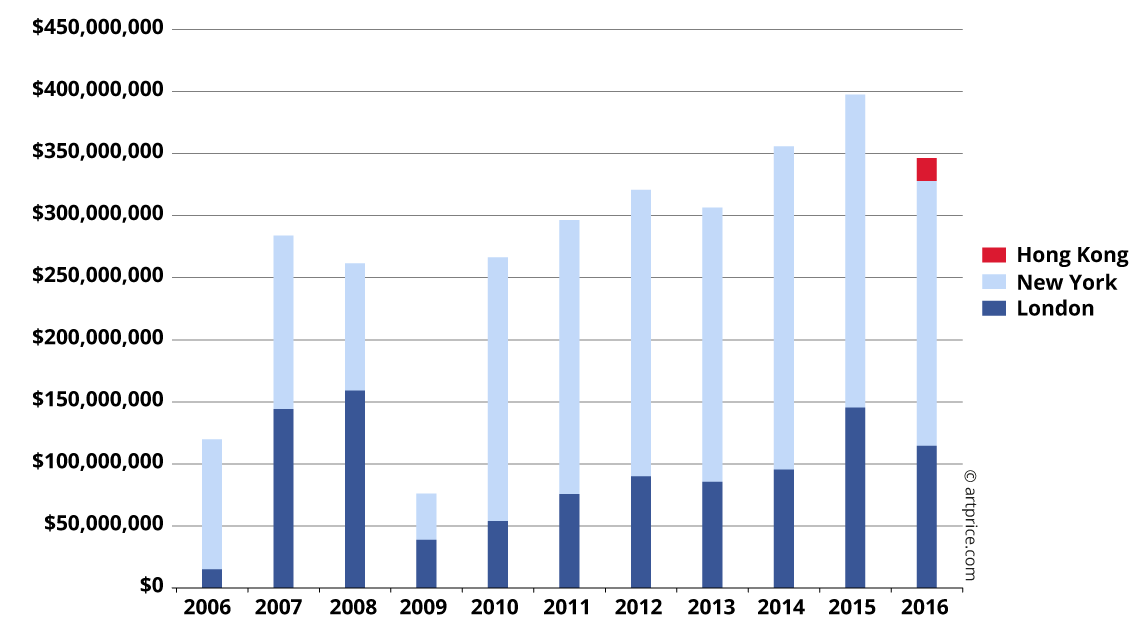 In November 2016, the American auction house Phillips held its first sale of 20th Century & Contemporary Art & Design Evening Sale in Hong Kong. The sale brought together works by major Eastern artists (Yoshitomo Nara, Zeng Fanzhi and Ufan Lee) and Western artists (Roy Lichtenstein, Gerhard Richter and Anish Kapoor). By opening a new Fine Art sales outlet in Hong Kong, Phillips has adopted the strategy previously followed in the 1980s by Christie's and Sotheby's, then by Bonhams and then by China's top two auction houses, Poly International and China Guardian. The presence in Hong Kong of all of the world's leading secondary market players (and top galleries…) confirms the decisive and growing importance of this city on the international scene, which acts as a perfect bridge between the People's Republic of China and the West.
With 38% of global Fine Art auction turnover, China has never accounted for such a large share of the global art market. Six Chinese auction houses are now among the Top 10 Fine Art auction operators, while the four Western firms in the ranking are all present in Hong Kong (Christie's is also present in Shanghai).
Top 20 auction houses (2016)
| | | Revenue ($) | Auctioned lots |
| --- | --- | --- | --- |
| 1 | Christie's | 3,054,089,923 | 16,243 |
| 2 | Sotheby's | 2,888,199,582 | 13,945 |
| 3 | Poly International | 988,895,776 | 9,398 |
| 4 | China Guardian | 609,113,322 | 6,648 |
| 5 | Beijing Council | 551,777,500 | 3,879 |
| 6 | Phillips | 346,337,625 | 3,269 |
| 7 | Xiling Yinshe Auction | 176,433,817 | 4,341 |
| 8 | Bonhams | 144,534,764 | 6,818 |
| 9 | Holly International | 123,197,961 | 1,470 |
| 10 | Zhong Hong Xin International Auction | 90,348,753 | 986 |
| 11 | Canton Treasure Auction | 89,724,121 | 2,014 |
| 12 | Shanghai Jiahe Auction | 87,014,164 | 1,849 |
| 13 | RomBon Auction | 72,915,814 | 2,505 |
| 14 | Dorotheum | 72,482,762 | 4,807 |
| 15 | Seoul Auction | 71,749,020 | 1,143 |
| 16 | Shanghai Mission Auction | 69,379,508 | 414 |
| 17 | Artcurial | 67,324,517 | 3,269 |
| 18 | Beijing Hanhai Art Auction | 63,413,712 | 2,924 |
| 19 | Beijing Inzone International Auction | 62,874,981 | 454 |
| 20 | Grisebach | 56,069,263 | 2,159 |
© artprice.com / AMMA
General stabilisation of prices
After falling throughout 2015 and into the first half of 2016, the overall art price index returned to a positive orientation due primarily to the adjustment of Western supply and the stabilisation of Chinese auction turnover.
Artprice global price index – Base 100 in January 1998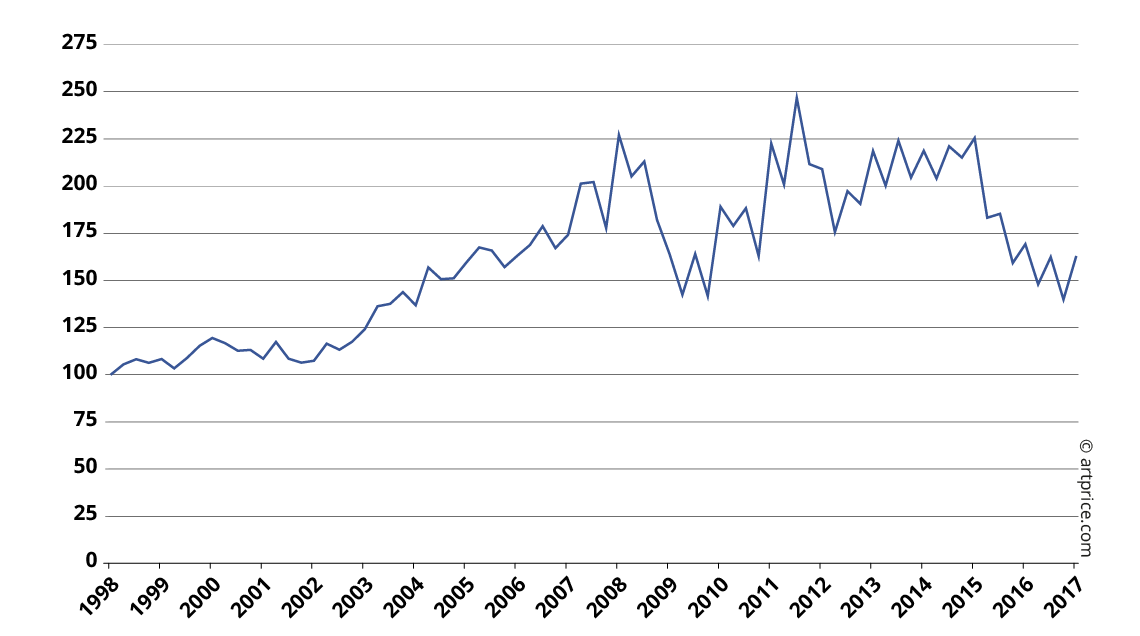 In 2015 the numerous auction records acted as a smokescreen for a generalised depreciation of the Western market. This year, the auction houses abandoned the race for records in order to consolidate the core market. In transaction terms, the "under $50,000" price bracket showed the sharpest increase, rising from 341,000 to 382,000 lots. These transactions now account for 96% of total Western market transactions.
In China, the adjustments undertaken last year and pursued in 2016 have likely stabilised a market whose value had risen too quickly. Between 2008 and 2011, the average price of an artwork at auction in China rose suddenly from $22,000 to $52,000, while the number of transactions tripled. In just four years, the total turnover from Fine Art at auction sales in China was multiplied by a factor of 6.5, rising from $1.6 billion in 2008 to $10.5 billion in 2011. By stabilising at around $4.8 billion in 2016, the Chinese market has resolved several major weaknesses, including that of unsettled final bids.
Art's financial performance
The intrinsic development of the art market and a cluster of external economic and financial factors have contributed to a reality that is increasingly evident: art has become a perfectly serious alternative investment. Alongside traditional investments – financial assets and real estate – artworks represent not just aesthetic values, but also offer highly competitive returns. High price volatility – which might appear to make this type of investment overly risky – can be largely controlled.
Price structure (2016)
| Auctioned lots percentage | for a price inferior to |
| --- | --- |
| 100% | $81,447,500 |
| 99% | $239,600 |
| 98% | $106,250 |
| 97% | $66,555 |
| 96% | $47,500 |
| 95% | $36,350 |
| 90% | $14,765 |
| 80% | $5,415 |
| 70% | $2,810 |
| 60% | $1,600 |
| 50% | $970 |
| 40% | $615 |
| 30% | $400 |
| 20% | $245 |
| 10% | $130 |
© artprice.com
Based on a sample of more than 3,900 artworks that had already been sold at auction and whose provenance was confirmed by the auction houses responsible for their resale, Artprice has calculated an average return on investment (ROI) of +88% over an average holding period of 11 years, i.e. an annual yield of 5.9%. In our sample, 45% of the works posted a negative price variation. Fortunately, the gains largely offset the losses. This finding perfectly illustrates the importance of building a diverse collection to reduce the overall risk and benefit from the general value accretion of art in the long term.
Numerous examples attest to the kind of returns that are possible from investment in art. In 2016 we saw the following cases:
Richard Smith's Another Place (1959), sold by Christie's in London in March 2006 for $2,700 and acquired in November 2016 for $44,000 at Sotheby's. A gain of +1,500% in 10 years, driven primarily by a revival of his market following the artist's death in April 2016. His auctioned lots tripled in 2016 compared with previous years.
Victor Vasarely's Rhombus-C (1968), purchased in 2004 for $14,700 at Farsetti in Prato (Italy) and sold twelve years later at Dorotheum in Vienna for $106,000, more than 7 times its purchase price.
George Condo's "Ballet blanc" (1998), acquired in 2003 for $14,300 at Christie's New York, sold at Sotheby's in the same city in September 2016 for $200,000, generating an annual return of +22% for the collector.
The uncertainty of investments in art is still primarily related to changing preferences over the long term. Whereas price changes remain relatively small over months, they can be giant in either direction over one or two decades. In 2016 we again saw examples of this:
Richard Prince's Untitled (Jokes) (1989), bought for $27,830 at Sotheby's in New York in May 1993 and sold for $4.8 million at Christie's New York in May 2016.
Martin Barré's "67-Z-12" (1967), bought at Etude Briest in Paris for $7,000 in 2000 and sold by Artcurial on 6 June 2016 for $215,000, i.e. 30 times its purchase price.
Vassily Tsagolov's From the Series of Office Afairs (2008/09), bought at Phillips London in 2009 for $54,000 and sold by the same house for $1,700 on 13 April 2016. The buyer, who acquired the work at the artist's price peak, had already tried to sell the painting in 2015. The final depreciation amounted to -97%.
Outlook
The major adjustments in both the East and West, despite operating in opposite directions, are contributing to a delicate stabilisation of prices around the globe. The outlook is now much more optimistic than last year. In 2016 doubts hovering over the market in the first months of the year were relayed by a number of political events that fueled fears of a crisis. However fourth quarter results suggest that the worst disturbances are behind us. The primary risk going forward is that of another major political upheaval that could impact the art market via financial markets.
Global Fine Art auction turnover, by semester (2008-2016)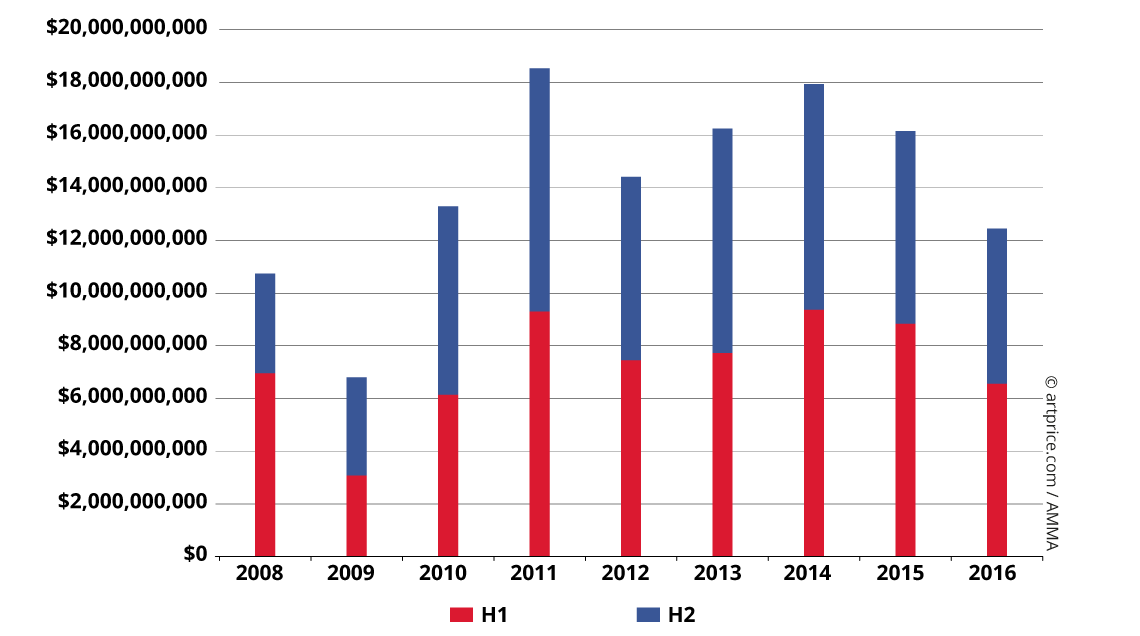 In 2017, it is unlikely that the major auction houses will generate results as good as those in 2015. They are likely to continue strengthening the core market before gradually returning to a growth path. The contraction of sales turnover in the USA and the UK was probably both necessary and provisional.
Note that 2017 is a particularly busy year in terms of major artistic events. The Whitney Biennial – postponed in 2016 -, the Venice Biennale and dOCUMENTA 14 will take place during the first half and will undoubtedly stimulate sales.
Table of contents
General market consolidation