Top price American art
The strength of the American art market is still largely driven by its national artists, mostly Postwar and Contemporary. Together, these artists represent only 6% of Western lots sold, but account for 17% of total Western Fine art auction turnover. They therefore constitute a particularly important micro-segment in the global art market and largely contribute to its overall growth.
Price index per creative period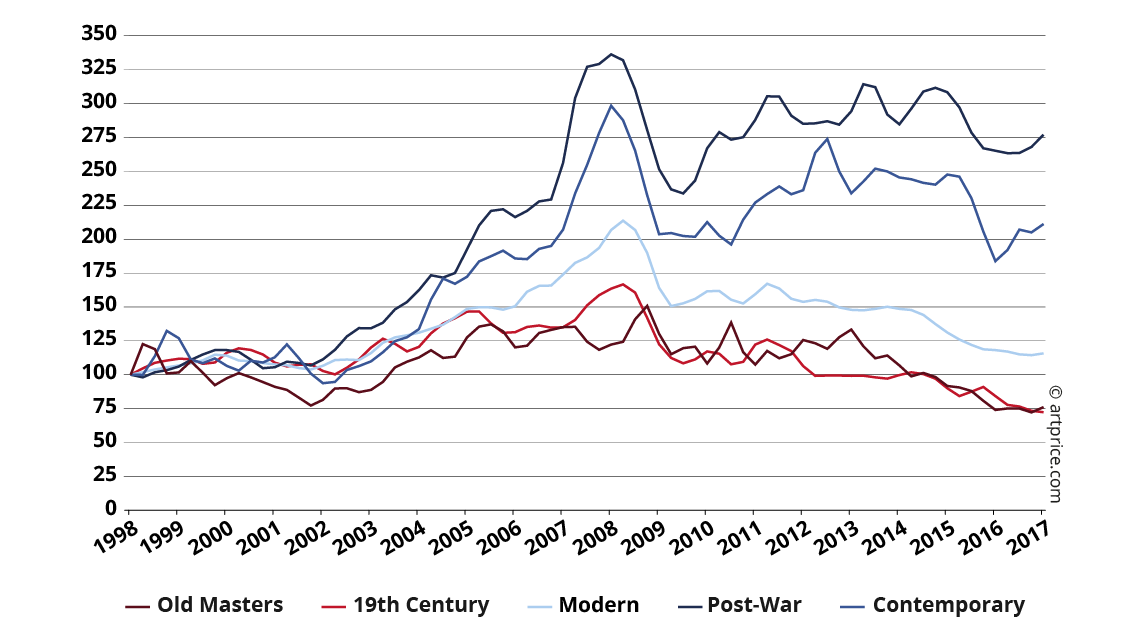 Emblematic of the Contemporary period, Jean-Michel Basquiat is now an unavoidable market heavyweight… a signature that attracts major museums and collectors alike. On 10 May 2016 he was rewarded with a new personal record and just missed setting a new auction record for Contemporary art (still held by Jeff Koons whose Balloon Dog fetched $58.4 million at Christie's New York on 12 November 2013). The Japanese collector Yusaku Maezawa paid $57.3 million for the 1982 Basquiat canvas. Measuring five metres wide, the painting was acquired for just $4.5 million twelve years earlier (at Sotheby's London, 23 June 2004). This new record substantially upgraded Basquiat's previous record, set three years earlier when his Dustheads fetched $48.8 million at Christie's New York. For Basquiat – ranked 7th in the Global Top 500 by auction turnover and the top American artist with $171.4 million in 2016 – the supply is structurally incapable of meeting the huge demand for his high quality works, so the prices just keep rising. This is also true for a number of his Postwar and Contemporary compatriots.
Nevertheless, in 2016 the -46% contraction in New York's Fine Art auction turnover (which alone accounts for 97% of America's Fine Art auction turnover) included a number of turnover contractions among major American signatures. Although the artists active during the second half of the 20th century represent a sounder investment in the long term, the results of 2016 reflect some significant changes in focus among collectors.
A selection of new records for American artists
| Artist | Artwork | Auction results ($) | Auction |
| --- | --- | --- | --- |
| Jean-Michel BASQUIAT (1960-1988) | Untitled(无题) | 57,285,000 | 10 May 2016 Christie's New York |
| John CURRIN (b. 1962) | Nice 'n Easy | 12,007,500 | 15 Nov. 2016 Christie's New York |
| Sam FRANCIS (1923-1994) | Summer #1 | 11,842,000 | 11 May 2016 Sotheby's New York |
| Richard PRINCE (b. 1949) | "Runaway Nurse" | 9,685,000 | 10 May 2016 Christie's New York |
| Keith HARING (1958-1990) | The Last Rainforest(最后的雨林) | 5,565,747 | 28 June 2016 Sotheby's London |
© artprice.com
Abstract catching up with Pop…
American Abstract artists have in fact become more expensive than the "historical" Abstract artists… yet another illustration of what might be described as the hegemony of the American art market over the European market. Whereas Kandinsky's auction record stands at $23.3 million after the sale of his Rigide et courbé in November 2016, and Mondrian's at just over $50 million (2015) and Malevich's at $60 million (2008), their American counterparts are still hitting higher scores: Clyfford Still with a record of $60.1 million in 2011, Cy Twombly with a record of $70.5 million in 2015 and Willem de Kooning, whose masterly canvas Untitled XXV rose to $66.3 million in November 2016. Having been acquired for $27.1 million a decade earlier, the value of Untitled XXV therefore increased +145%, putting the De Kooning almost on a par with his contemporary Mark Rothko. With a total 2016 turnover of $115 million, Willem de Kooning even outclassed Alexander Calder ($102 million) and moved up 23 places in the global ranking to 11th position.
Other good auction results confirm the strong appetite of collectors for American abstract art. One paid $28.1 million for Clyfford Still's canvas PH-234 (1948) on 10 May 2016 at Christie's New York; another doubled Sam Francis's world record by acquiring Summer #1 (1957) at Sotheby's for $11.8 million on 11 May 2016, and a third pushed minimalist artist Robert Mangold over the million-dollar threshold for the first time (Untitled (1973), $1.08 million) at Christie's London on 11 February 2016.
Robert Ryman finished the year in 72nd place in the world ranking with a sales turnover total of $26 million. After an exceptional year 2015, Cy Twombly  confirmed his market strength ($76.4 million) taking 19th place in the Top 500. His best result of the year ($36.6 million at Sotheby's New York on 11 May 2016) was nevertheless a long way short of his over $70 million result at Sotheby's New York on 11 November 2015, which put the artist on the same price level as the grand icons of Modern art like Edouard Manet and Paul Cézanne. Taking just a couple of years to catch up with the prices of the great American Postwar painters, including Jackson Pollock and Mark Rothko, Twombly's prices rocketed, particularly after his death, and today his price index shows an increase of +370% since 2010.
Cy Twombly's price Index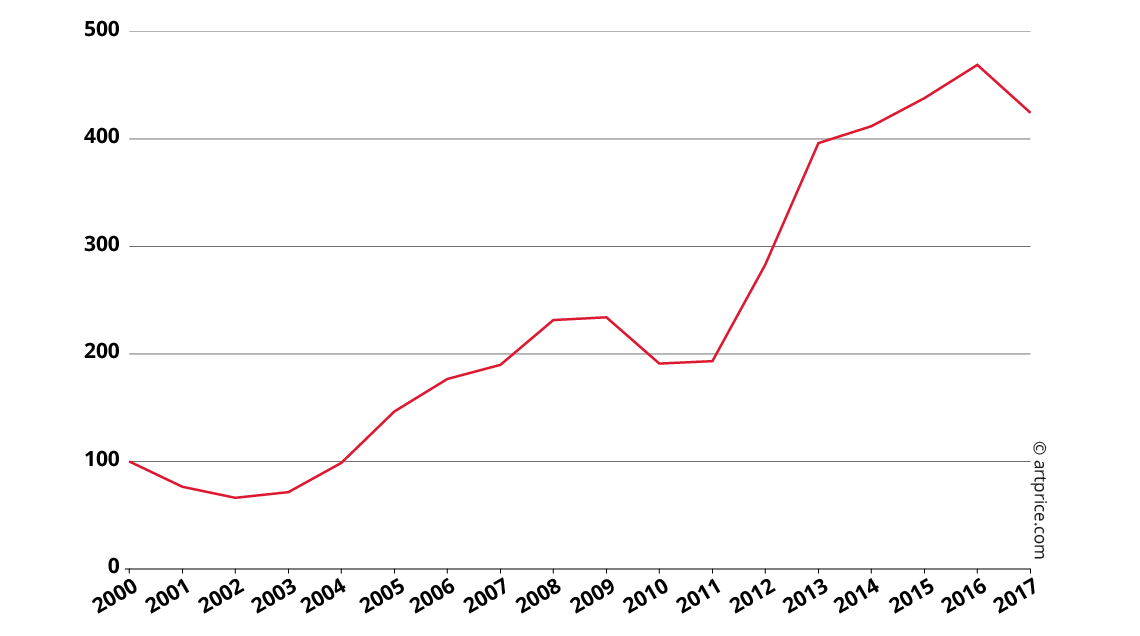 Another remarkable performance during the tumultuous year 2016 was that of Agnes Martin. With a price index up more than 200% since 2000, the icon of American Minimalism crossed the $10 million threshold for the first time in 2016 when her Orange Grove fetched over $10.6 million at Christie's New York (versus a previous record of $6.5 million). This new record came just before the opening of her retrospective at New York's Guggenheim Museum (7 October 2016 – 11 January 2017), a traveling exhibition that has already visited the Tate Modern in London, the LACMA in Los Angeles and the Kunstsammlung Nordrhein-Westfalen in Düsseldorf. Agnes Martin's work had never been so popular at auctions and her turnover amounted to over $30.5 million in 2016 compared with $20.2 million in 2015.
Particularly affected by the contraction of the American art market, Pop Art posted a sharp slowdown this year. The overall market climate seems to have considerably restricted the flow of rare masterpieces from this period onto auction podiums. Andy Warhol's total was down -70%, Rauschenberg's down -73% and Lichtenstein's down -76%. However, in volume terms all three artists were stable as each has a sizeable market of affordable works, with prints representing between 75% and 90% of the lots sold under the three signatures.
Sales for Andy Warhol and Roy Lichtenstein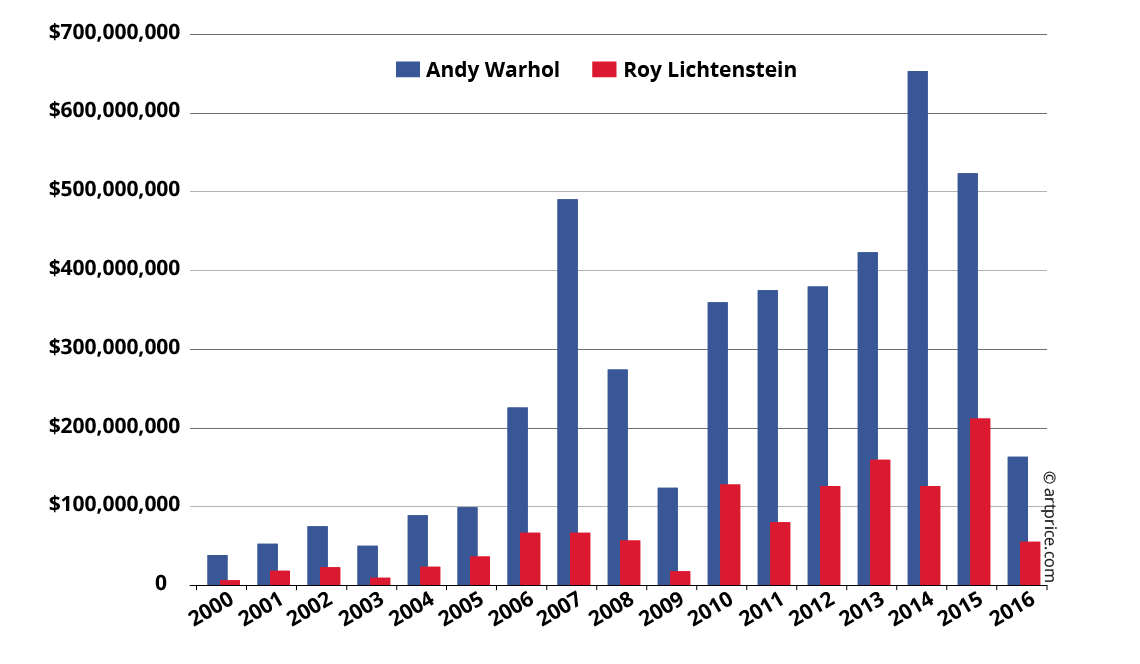 American artists on top of the sculpture market
In the West, sculpture is a relatively common medium for Contemporary art. The 5,500 lots sold in 2016 (for a total of $170 million) represented 11% of the segment's transactions and 16% of its turnover, considerably higher proportions than for any other period of creation. However, the list of leading artists in this discipline is limited: a few Asians (including Murakami and Ai Weiwei), several Brits (Anish Kapoor, Antony Gormley, Toni Cragg) but mostly Americans, including Mike Kelley, Robert Gober and of course, at the top, Jeff Koons. In fact, in 2016 Koons alone accounted for a quarter of the total auction turnover from Western Contemporary sculpture. The King of Kitsch (sublime or otherwise) posted $43 million in revenue in 2016, more than France's total 2016 auction turnover on Contemporary art. Moreover, Jeff Koons not only dominated the high end of the Contemporary sculpture market with five new 7-digit results in the year (including a work from his Equilibrium series that fetched $15.3 million), he also reigns over a massive 'affordable' market with his Multiples: reproductions in editions of several thousand, sold for under $10,000 each.
Top 5 American sculpture results in 2016
| | Artist | Artwork | Auction results ($) | Auction |
| --- | --- | --- | --- | --- |
| 1 | Jeff KOONS (b. 1955) | One Ball Total Equilibrium Tank (Spalding Dr. J Silver Series) | 15,285,000 | 8 May 2016 Christie's New York |
| 2 | David SMITH (1906-1965) | "Zig I"(金字塔 I) | 9,210,000 | 11 May 2016 Sotheby's New York |
| 3 | Alexander CALDER (1898-1976) | Untitled | 8,314,000 | 11 May 2016 Sotheby's New York |
| 4 | Jeff KOONS (b. 1955) | Smooth Egg with Bow (Magenta/Violet) | 7,445,000 | 10 May 2016 Christie's New York |
| 5 | Bruce NAUMAN (b. 1941) | "Henry Moore Bound to Fail" | 6,997,000 | 8 May 2016 Christie's New York |
© artprice.com
However, this year's top sculpture result was generated by Italian artist Maurizio Cattelan when his subversive representation of Adolf Hitler kneeling in prayer on the scale of a child of seven (Him) fetched $17.1 million in May 2016 in New York. That result added no less than $10 million to Cattelan's previous auction record, but it didn't get him anywhere near Koons' annual total. While Koons' prices play a vital role in the balance of the American sculpture market, the sculpture segment's quality also relies on the work of previous generations, and particularly on the market power of Alexander Calder  (over $102 million in 2016, primarily sculptures) and, to a lesser extent, David Smith ($12.9 million in 2016) and Bruce Nauman ($11.2 million).
Despite the market's overall timidity, we also note a number of strong results for several new signatures in American Contemporary art. One of these was $545,000 for Barry X Ball's auction debut with Sleeping Hermaphrodite. The work is a copy of Carrara's famous white marble sculpture in the Louvre Museum, but in black marble. Although none of his works had been offered in auction rooms, Barry X Ball has been known to Contemporary art collectors around the world and is represented by Nathalie Obadia.