Art best suited to distance selling (categories, periods, prices)
Remote buying has been adopted by collectors with various profiles and all categories of art seem to be suitable. Some, however, lend themselves particularly well to remote transactions.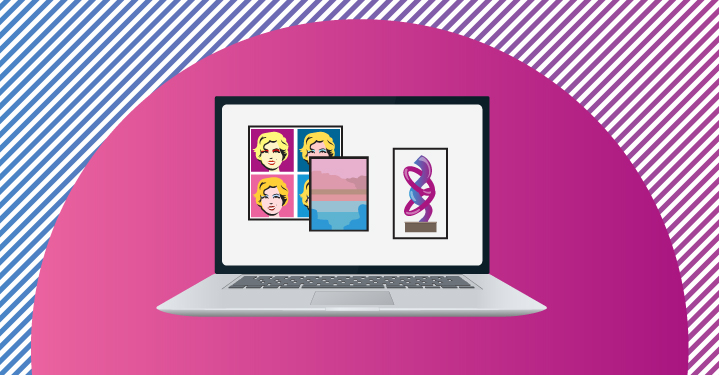 Typology of works sold
The restrictions imposed by the health crisis have generated new constraints and appear to have impacted the typology of works sold. Buyers have focused on lots generating a minimum of financial risk, low logistical costs (transport, insurance) and offering little chance of non-conformity with the image(s) in the catalogue. Perfectly matching these criteria, prints and photography are the only categories where transactions increased in 2020 (+2%). Carried by very fashionable Contemporary editions, typical of "pleasure-buying", prints come out the big winner with more than 111,000 lots sold during the year, which actually represents an all-time record. For the first time, the prints medium generated as many transactions as the drawing medium (23% of transactions) on the global market.
Sculptures, on the other hand, have been somewhat neglected (transactions in this category contracted 8% in 2020), especially large-scale works that involve heavy logistics, not to mention the obvious requirement of inspecting them from every angle before acquisition. There were a couple of major sales (including a large CALDER mobile, Mariposa (1951), which fetched $18.2 million at Sotheby's on 8 December), but, all in all, sculpture remains the most negatively affected medium by the crisis, with a total turnover of just $726 million, down almost 40%.
Auction turnover by medium/category (2020)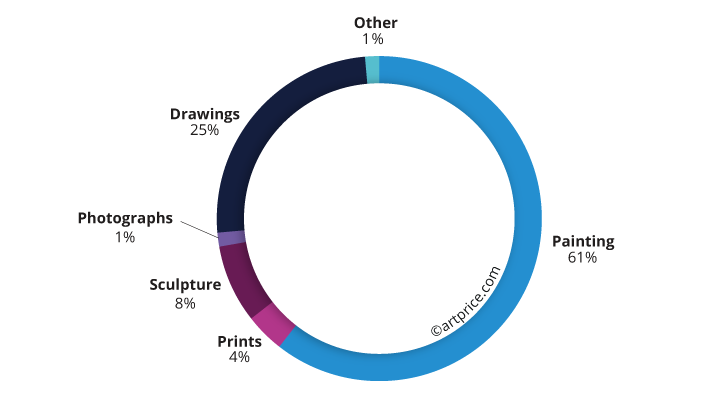 → Overall, the major creative categories more or less retained their respective market shares, whereas turnover contracted quite sharply for sculpture (-38%), painting (-30%) and drawing (-25%). The main problem seems to have been a lack of masterpieces: the number of lots priced above the million-dollar threshold fell by 31%.
Auction turnover per creative period (2020)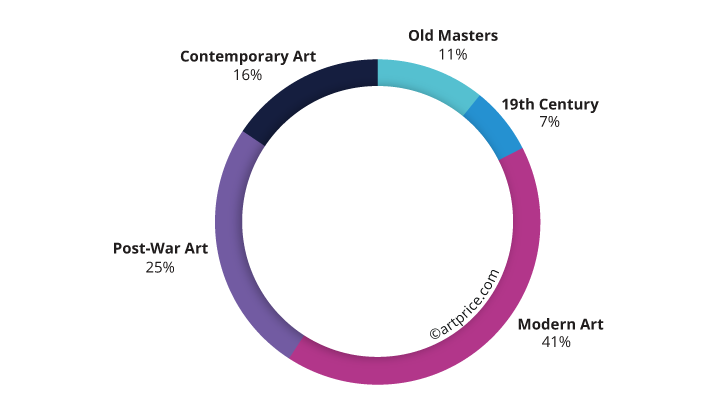 → The relative shares of turnover from Modern, Post-War and Contemporary Art were perfectly stable vs. 2019. Only Old Masters showed growth, perceived as a particularly safe investment in 2020.
Most sought-after periods and styles
Against the backdrop of a generalised fall in transactions (-7%) on the global secondary art market, PICASSO, the world's best-selling artist, generated nearly $245 million from the sale of 3,400 lots in 2020, clearly confirming the Spanish artist's invincible market status. Elsewhere, Old Masters were markedly perceived as safe investments throughout the health crisis (lots sold were up 7%), while Contemporary art gained new buyers during the lockdowns (+3%). These two periods of creation were the most popular of the year, and both reached a record number of transactions.
Old Masters
Old Masters generated exceptional results on all marketplaces: $5.2 milion for Georges DE LA TOUR in Cologne (Lempertz); nearly $17 million for Giovanni Battista TIEPOLO in New York (Sotheby's); $18.8 million for REMBRANDT in London (Sotheby's); $39.5 million for REN Renfa in China Hong Kong (Sotheby's), and a massive $76.6 million for WU Bin in Beijing (Poly International).
Rich with historical art and constantly fueled by new discoveries, the French market attracts interest from international buyers. In Paris, Chinese collectors paid a high price for portrait painter Nicolas DE LARGILLIERE's La belle Strasbourgeoise ($1.8 million at Christie's) and La Madeleine penitente by Leonardo da Vinci's "favorite", Andrea SALAI, fetched $1.6 million at Artcurial. Indeed, new records were hammered throughout France where there is no shortage of masterpieces. In Bordeaux, the auctioneer Briscadieu attracted various European collectors to a painting by Alexandre-François DESPORTES, which finally sold for $2.4 million at 10 times its high estimate, dwarfing the artist's previous record set in New York ($850,000, Sotheby's, 1995). This confirmed an already apparent trend: the masterpieces that are scattered throughout France obtain excellent results when they emerge for sale, including outside Paris.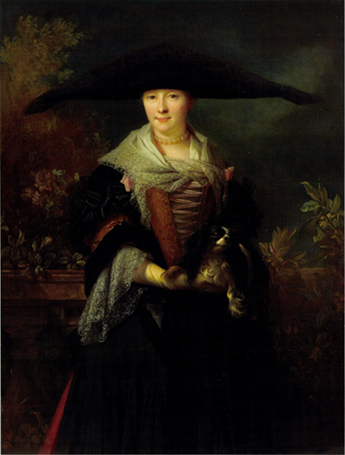 Nicolas de Largilliere
La Belle Strasbourgeoise
$1.86 million, 2020 – Christie's, Paris
Artprice: The best auction record in China in 2020 was set by Wu Bin's (c. 1568-1620) "Ten Views of a Lingbi Stone". The work was sold for $76.6 million by Beijing Poly International Auction Co., Ltd. On 18 October. It has been reported that the previous owner bought the work for $1.21 million in the 1980s. How do you explain the spurt in its price?
Gong Jisui – Consultant of Artron Art Market Monitor of Artron (AMMA):
Views of a Lingbi stone (十面灵璧图卷)
is a grand masterpiece in the history of Chinese art, and it is one of a kind. Wu Bin's painting technique is different from all other painters. He broke through the conventions of traditional paintings in the way he expressed the mountains and rocks, and his use of pens and inks to paint realistic objects. He also referred to the principles of geometry, rhythms, and the theory of the five elements. We can say this work is a classic legend. It sold for $1.21 million in the 1980s, but this does not mean that it was only worth that amount. Since the economy in China had not resumed yet at the time, Chinese collectors were not able to bid for any auction items of much more than $1 million. The same artwork though fetched $76.6 million this year, which indicates the rapid development of the Chinese art market and the sharp rise and strong purchasing power of Chinese collectors after the rapid growth of the Chinese economy. In addition, it also reflects the return and recognition of classic Chinese artworks. Due to the rarity and irreproducibility of ancient classic paintings and calligraphy from China, their prices at auction are becoming increasingly expensive, which is inevitable.
Old Master turnover and percentages by marketplaces (2020)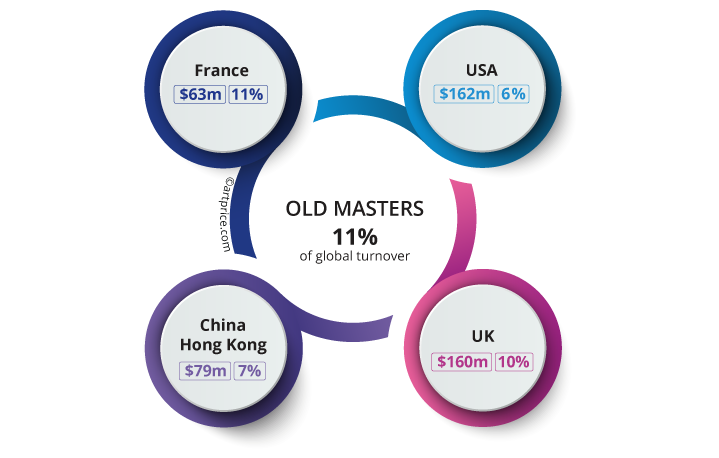 Top 10 artworks by Old Masters (2020)
Rank
Artist
Artwork
Price
Date
Auction house
1
WU Bin (c.1568-1620)
Views of a Lingbi stone (十面灵璧图卷)
$76,579,560
18 Oct 2020
Poly Auction, Beijing
2
REN Renfa (1255-1327)
Five drunken princes returning on horseback (五王醉归图)
$39,552,130
8 Oct 2020
Sotheby's, China Hong Kong
3
ZHU Dunru (1081-1159)
Running and Cursive Script Calligraphy (暌索帖)
$22,922,000
1 Dec 2020
China Guardian, Beijing
4
REMBRANDT VAN RIJN (1606-1669)
Self-portrait of the artist, half-length, wearing a ruff and a black hat (1632)
$18,840,265
28 Jul 2020
Sotheby's, London
5
Giovanni Battista TIEPOLO (1696-1770)
Madonna of the Rosary with Angels (1735)
$17,349,000
29 Jan 2020
Sotheby's, New York
6
Andrea MANTEGNA (1431-1506)
The Triumph of Alexandria
$11,654,000
29 Jan 2020
Sotheby's, New York
7
ZHU Da (1626-1705)
Nature and Calligraphy (山水花鸟书法册) (1698)
$10,848,580
1 Dec 2020
China Guardian, Beijing
8
DONG Qichang (1555-1636)
Landscape and calligraphy (书画合璧山水小景)
$10,754,955
16 Aug 2020
China Guardian, Beijing
9
QIAN Weicheng (1720-1772)
Flora (花卉册)
$8,603,964
16 Aug 2020
China Guardian, Beijing
10
Jan Davidsz DE HEEM (1606-1683/84)
A banquet still life
$7,746,199
15 Dec 2020
Christie's, London
© Artprice
As far as Post-War and Contemporary Art were concerned, the global art market followed a certain number of clear trends, with substantial preferences for Street Art on the one hand, and important works by major abstract and figurative painters on the other.
Figurative Painting
The high-end market remained buoyant for lively, cheerful and daring figurative painting. There were third-best results for Roy Lichtenstein and David Hockney, new records for William COPLEY, George CONDO and Nicolas PARTY and there was evermore intense demand for works by MAGRITTE (who enjoyed a record number of transactions and his lowest ever unsold rate).
One signature stood out very clearly in 2020: the Sino-French artist SAN Yu, the second most successful artist of the year after Pablo Picasso. There was no new record for San Yu in 2020, but his works fired up sales in China Hong Kong with Quatre nus (绿色背景四裸女) fetching $33.3 million at Sotheby's ($31.2 million more than at Christie's China Hong Kong in 2005), his Goldfish selling for $21.9 million (88 times its first sale price at Sotheby's Taiwan in 1997) and his Pink Chrysanthemums in a Basket attracting a bid of $17.8 million (versus $420,000 at Christie's China Hong Kong in 2005). This latter canvas, measuring 90 cm, exceeded by $5 million a 4-metre triptych by Zao Wou-Ki presented at the same sale (01/15/82), which fetched $12.2 million.
Demand was also very intense for 21st century figurative paintings, especially those that evoke themes of racial and sexual identity, gender and, notably, 'queerness' (see "Revelations of the Year").
Artprice: Artist Zhou Chunya's "Spring is Coming" (China Guardian, 17 August 2020) set an extraordinary record of $12.4 million, which is $10 million higher than its lowest estimate. Why is this painting so coveted?
Gong Jisui – Consultant of Artron Art Market Monitor of Artron (AMMA):
An art collection usually reflects both ethnic and regional origins, but also a specific aesthetic tradition and recognition. Prolific artists are likely to fetch higher prices, as their numerous works stimulate the market's demand as well as the competition. And
ZHOU Chunya
is definitively one of them. His great creativity has fostered many collectors' demand for his works. His art inherits the traditional Chinese freehand painting style while breaking through the restrictions of realistic paintings. Instead of expressing the aesthetics of representation, he expresses his understanding of traditional Chinese aesthetics. Zhou Chunya deserves the high price fetched by his
Spring is coming (春天来了)
, which can be explained by his worldwide popularity as well as the global evolution of the price of his works. In addition, this piece is a special and rare painting among his early works, so it has an important place in his career. Acquiring this particular work is crucial for collectors to show Zhou Chunya's complete creativity process and also his own development.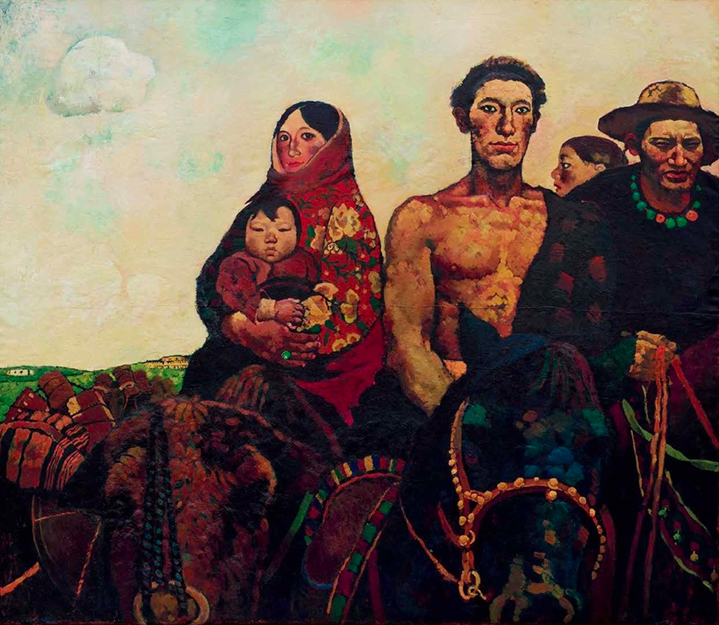 Zhou Chunya
Spring is coming
(1984)
$12.4 million – 17 August 2020 – China Guardian Beijing
Street Art
Kaws, Shepard Fairey and Banksy are still in the top 10 of the best-selling artists in the West and their success is growing with the arrival of new online buyers. In these times of market contraction, the acceleration of BANKSY's sales is remarkable (in 2020 nearly 900 works by Banksy were sold – a new record). His high-end market is also doing singularly well with no less than seven results above the million-dollar threshold in 2020, including one close to $10 million (Show me the Monet, Sotheby's London, on 21 October). In statistical terms, Banksy was the 20th most successful artist in the world in 2020 with a turnover of $63.5 million vs. $28 million in 2019, ahead of both Miro and Giacometti. The extraordinary sales of works by Shepard FAIREY and INVADER, as well as the sensational arrival of MR DOODLE on the Japanese market, confirm the rapidly growing success of Street Art.
Abstraction
On the market for abstract art, the major names of the 20th century are still attracting big money: Rothko, Newman and Twombly all fetched results above $30 million. Joan MITCHELL hammered her second best auction result for La Grande Vallée VII (1983), a diptych that fetched $14.5 million, i.e. 44 times what it sold for in 1989 ($330,000). ZAO Wou-Ki (the world's 3rd most sought-after artist with a turnover total of $158 million), Gerhard RICHTER (12th in the world) and CHU Teh-Chun all posted excellent annual totals. Interestingly, Chu Teh-Chun set a new record at the $15 million level in China Hong Kong, overtaking the first French abstract master of his generation, Pierre Soulages. Other artists are also breaking through, including Georges MATHIEU, brought into the limelight by the Perrotin and Nahmad galleries. His monumental Souvenir de la maison d'Autriche (Remembering the House of Austria) offered at Christie's China Hong Kong in early December fetched a record price of $2.2 million.
Artprice: On 16 October 2020, contemporary artists Mao Yan (
Portraits of four men (苏童、常进、鲁羊、李小山)
that fetched $4.6 million) and Wang Xingwei (
Post-85s looks (八五后标准表情)
that fetched $4.7 million) broke the auction record of $4 million at Beijing Poly International Auction Co., Ltd. Is there a new impetus in the Chinese contemporary painting market?
Gong Jisui – Consultant of Artron Art Market Monitor of Artron (AMMA):
Both
MAO Yan
and
WANG Xingwei
were born in the 1960s and are representative of the Chinese contemporary art scene. The intensive circulation of the artworks made by this generation of painters can fully support the sustainable development of the Chinese art market. Therefore, the prices of their works have gradually risen, due to the popularity of their aesthetics on the one hand, but also the general rise of the Chinese art market on the other hand. In addition, due to the intervention of art agents in the Chinese contemporary painting market and due the changes in tastes of collectors, the prices of contemporary paintings will likely exceed those of traditional paintings. This is also supported by the greater number of contemporary artworks available.
Price range
From the bulimic collector to the first-time buyer recently seduced by online sales, pleasure-purchases dominated the auctions this year. Over 80% of the transactions involved  works purchased under $5,000. In fact, this attractive and risk-free price segment of the market was the only one that posted an increase in 2020, up 3%.
Moving up the price ladder, the structure of the "intermediate" market was maintained with 96% of transactions involving works under $50,000. The high-end market was the only price bracket to have really suffered: the number of million-plus works (in $) fell by 31% despite a recovery at the end of June after a four-month vacuum. By the end of the year, some 1,149 works had fetched prices above the million-dollar threshold in 2020, twice as many as during the previous crisis of 2009.
Several indicators illustrate the resilience and energy of the market, notably the stability of the number of new records and of lots sold above estimates. Overall, art prices have not been undermined.
Distribution by price range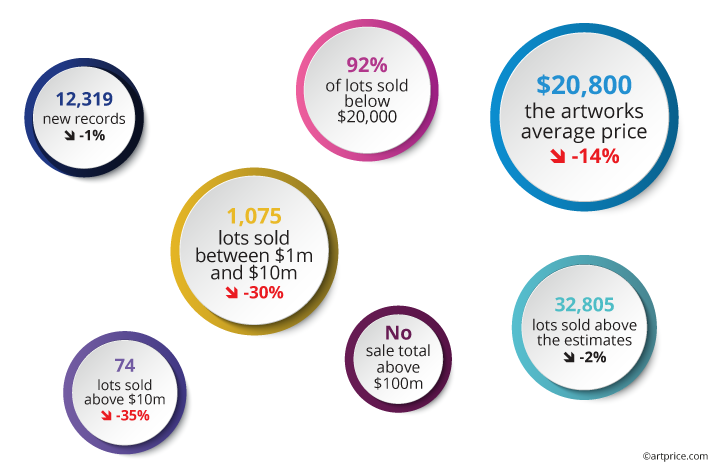 Artprice: The average price is up to $288,800 among oil paintings and contemporary artworks, and $78,600 among traditional Chinese paintings. How can this difference be explained?
Gong Jisui – Consultant of Artron Art Market Monitor of Artron (AMMA): Among traditional Chinese art, 20th century paintings and calligraphy account for the highest proportion, mainly made by late masters. Even though they have highly circulated throughout the market, these works are limited in numbers, especially for ancient paintings and calligraphy. On the contrary, oil paintings and contemporary artworks are made by living artists and, compared with traditional paintings, can be continuously and increasingly created. In addition, the primary market is constantly promoted by agents and representatives, which will increase the future market value of new artworks. Therefore, contemporary artists have greater influence than dead artists who are only available on the secondary market. This also applies to the Western contemporary art market over the last two or three decades. The total auction turnover and even unit prices of the contemporary art market have gradually exceeded that of the traditional painting market. This is the development observed for the global art market.
Table of contents
Art best suited to distance selling (categories, periods, prices)