Towards Art Market gender equality…
Does gender have an influence on an artist's value? With women accounting for only 14% of the Top 500 Contemporary artists in the world by auction turnover, the Contemporary Art Market certainly looks dominated by men. However, if we look at artists born after 1980 the percentage of women rises to 31%. So… the market is slowly moving towards gender parity although the imbalance is still substantial.
Distribution of the Top 500 artists by gender
Contemporary artists
Artists born after 1980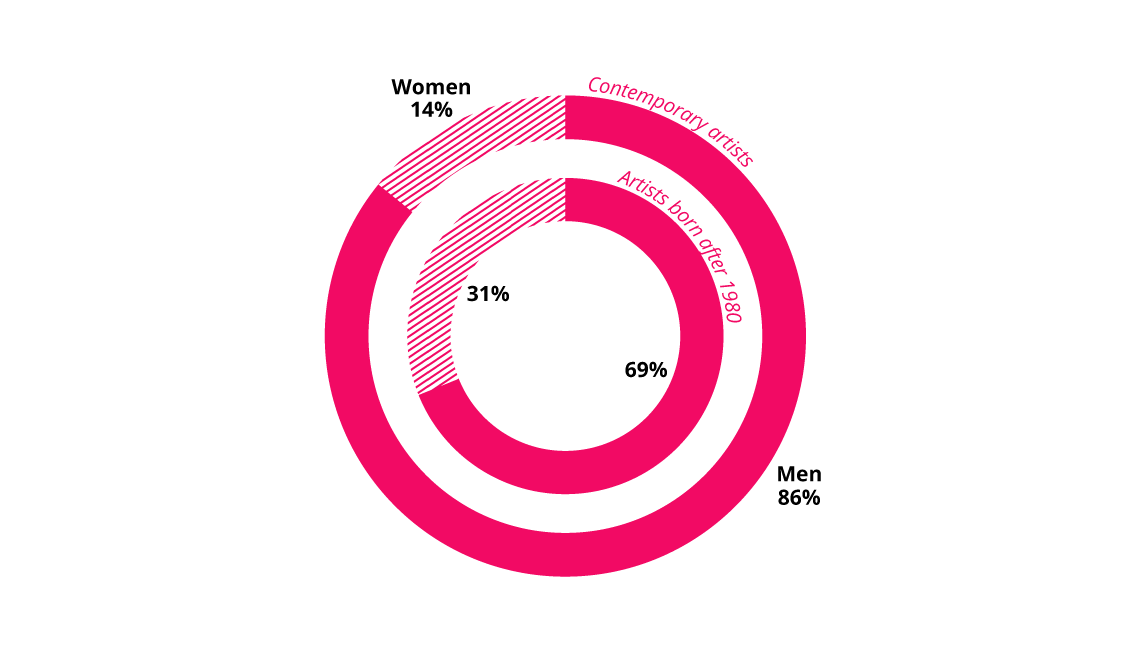 Thirty years ago, a group of feminist artists calling themselves the Guerrilla Girls publicly denounced the flagrant dominance of male artists in museum collections. Their slogan at the time –  Do women have to be naked to get into the Metropolitan Museum? –  hit the nail on the head: women are represented in museums much more as naked objects than as creative subjects.
Under-represented in cultural institutions, women have also been marginalised in the commercial sphere as well. The result is a huge gap between the value of artworks by male artists and female artists, right through the market. In 2015, a study conducted by the American curator Maura Reilly showed that only a quarter of the Retrospective exhibitions organised at London's Tate Modern had female artists as their subjects. Since the publication of that study it would appear that certain prestigious museums, like the MoMA and the Whitney, are trying to correct this imbalance. A number of important female artists have recently enjoyed major exhibitions at key museums, and some major prizes have been awarded to women artists. This is not surprising considering that issues relating to gender equality and male/female parity have taken a firm foothold in public debates in many countries around the world.
In September 2016 the French artist Annette MESSAGER was awarded the Praemium Imperiale, the French equivalent of the Nobel Prize in Art. In May 2017 Carolee SCHNEEMANN, a pioneer of feminist performance Art, received a Golden Lion in recognition of her artistic career at the Venice Biennale. Between October 2017 and February 2018, the MoMA PS1 is organising a first retrospective in the US for Carolee Schneemann.
At the high end of the Art Market, some recent auction records also seem to suggest that gender is no longer a decisive valuation factor. An emblematic photograph by Richard Prince generated a new record; but it fell short of Cindy Sherman's record for a signed photograph.
Some female artists (not many) command prices comparable with their male counterparts. Our Top 500 Contemporary artists ranking reveals a number of 7-digit results for works by Njideka Akunyili Crosby, Cecily Brown, Cindy Sherman, Marlene Dumas, Rosemarie Trockel, Christine Ay Tjoe and Julie Mehretu. Promoted by the Gagosian, Cecily Brown has enjoyed remarkable auction success with a price index up +456% since 2000. And with an auction turnover of no less than $7.39 million in just one year, she has overtaken Cindy Sherman by taking 28th place in the global ranking of Contemporary artists.
Auction revenue evolution for Njideka Akunyili Crosby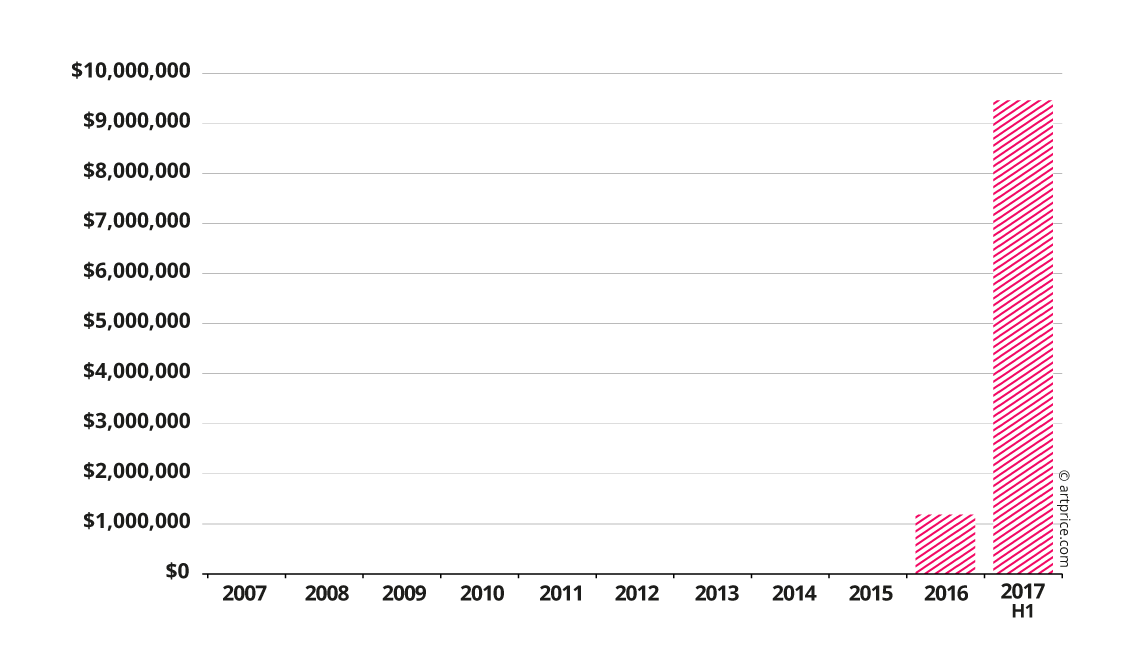 The youngest in this short list of successful female artists, Njideka Akunyili CROSBY, made the best auction debut of the year and has become the highest ranked  female artist in the Top 500… after 21 male artists. Introduced to the secondary market less than a year a ago, her annual performance ($10.6 million) is even stronger than well-established artists like Takashi Murakami or Miquel Barceló. Of Nigerian origin, but living in Los Angeles, Crosby exhibited at the Whitney in 2016 and won the Canson Prize from the Drawing Center in New York the same year. That magic key got her a residency with the artist Tunga and the resulting notoriety had an immediate impact on her prices, especially as her first auction appearance took place just before London's Victoria Miro Gallery opened a show of her work. Galvanised by so many positive signs, collectors snapped up her first work (a drawing) to hit the secondary market: the work fetched more than $93,000 in September 2016 at Sotheby's in New York. Less than a year later, aged 35, Crosby has an auction record of over $3 million (Christie's London, The Beautyful Ones, March 2017) and is represented at the Venice Biennale with a large drawing and collage entitled Cassava Garden (2015), previously exhibited at the Montreal Biennial.
Another female artist with extraordinary secondary market success is the Indonesian Christine AY TJOE whose ascension has already dwarfed the 7-digit auction record of her compatriot, I Nyoman Masriadi. On 28 May 2017 in Hong Kong, Phillips sold her Small Flies and Other Wings ten times over the estimate for a final result of $1.5 million. This record gives Christine Ay Tjoe the 65th place in our Top 500 global ranking of Contemporary artists by auction turnover, with a annual total of $2.9 million. Her ten-year progression is remarkable: her painting Generation 01, which fetched $4,009 at Christie's in Hong Kong on 26 November 2006, was re-sold for $88,550 ten years later (Christie's Hong Kong, 29 May 2016). A graduate in graphic Arts and printing from the Bandung Institute of Technology, Christine Ay Tjoe started to attract attention in the 2000s (Beijing Biennial in 2003) and subsequently confirmed her international reputation with a show at London's Saatchi Gallery in 2011 and another at the White Cube in 2016. She stands out from her figurative compatriots by pursuing abstract painting, but also because she is the only Indonesian woman to pursue a successful artistic career.
With the Art Market being so sensitive to 'cultural news', museums play an important role in the dynamic of auction market results. Given substantial impetus by an exhibition titled After Metamorphoses at the Drawing Center in New York, Amy SILLMAN reached 150th place in the global ranking last year. Her new record reflects substantial market infatuation: her canvas "P" fetched fives times its high estimate, at $504,500 on 18 novembre 2016 at Sotheby's. With an annual turnover of $930,000, Sillman has overtaken an artist as sought-after as Tauba AUERBACH whose secondary market sales have considerably slowed ($925,000) after an excellent total of $6 million in 2015/2016.
The announcement of a major show has also driven auction sales of works by Laura OWENS this past year. Coming out of the Californian scene, Laura Owens emerged at the end of the 1990s with support from Sadie Coles in London and Gavin Brown in New York. News of an upcoming first retrospective at the Whitney Museum (10 November 2017 – 4 February 2018) has already boosted her prices, with two new records above $340,000 since November 2016.
Two years ago the American artist Jacqueline HUMPHRIES had more or less the same market trajectory after the Whitney Museum expressed interest in her abstract paintings. Driven by the prospect of a Whitney show, the prices of her best works tripled and quadrupled up to the $100,000 threshold (a record) for a canvas acquired for just $1,200 in 1994 (95%, Phillips, on 15 mai 2015)…
Although over the last four or five years, certain female artists have started to fetch prices on a par with their male counterparts, there is still a substantial gap between the two sexes. The first (and the only) result above the $10 million threshold, for Louise Bourgeois, goes back to 2015; while Jeff KOONS – 44 years younger than the Franco-American artist – already had fifteen 8-digit results to his name in 2007.
In order to reduce this gap, some museums and galleries have recently organised exhibitions bringing together works exclusively by female artists (the MoMA, with Making Space: Women Artists and Postwar Abstraction; the Saatchi Gallery in London with Champagne Life in 2016), all laudable approaches to correcting the imbalance and generating market exposure for these artists. However, the artists themselves don't wish to be reduced to a category based on gender. This would inexorably lead to another form of sexism because ultimately women should enjoy the same vectors of recognition as men… i.e. because they are good artists, and not because they are women.
Table of contents
Towards Art Market gender equality…