art KARLSRUHE
(16 Feb 2017 - 19 Feb 2017)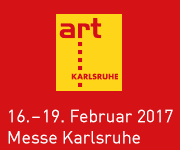 art KARLSRUHE
Messe Karlsruhe
76287
Karlsruhe
Germany
art KARLSRUHE - Discover.Love.Collect.
16. – 19.02.2017, Karlsruhe Exhibition Grounds

Numerous One-Artist-Shows, generously dimensioned sculpture spaces and exclusive special exhibitions – with its hallmarks, art KARLSRUHE – International Fair for Classic Modern and Contemporary Art has been an ongoing success story. Under the slogan "Discover. Love. Collect.", more than 200 nationally and internationally renowned galleries will be presenting their offerings in the Karlsruhe Trade Fair Centre from 16 to 19 February 2017.
Ewald Karl Schrade, for many years curator and project manager of the fair, will be showing the complete spectrum of art from over 100 years for the 14th time in 2017. From classic expressionism right through to the latest movements in contemporary art, and from representational, figurative items through to concrete painting and sculpture. The varied supporting programme includes not only the presentation of an outstanding private collection, but also the two-day ARTIMA art meeting at which renowned artists, curators, private and institutional collectors, as well as representatives from the field of art policy discuss the developments on the art market.
The art KARLSRUHE fair attracts around 50,000 art lovers from all over Europe to the Trade Fair Centre halls every year and makes Karlsruhe a vibrant and prospering art marketplace in the south-west.
On Thursday (16 February 2017), the 10th Hans Platschek Prize for Art and Writing will be presented in the Events Hall. The award, sponsored by the Hamburg-based Hans Platschek Foundation, honours the artist Jonathan Meese, who establishes a connection between visual arts and writing in his works. His work comprises not only paintings, drawings, collages and sculptures, but also installations, video art, performances and theatre works, as well as actions. Jonathan Meese was selected by the single juror Florian Illies, journalist, book author, as well as art dealer and critic.
On 17 February 2017 the art KARLSRUHE Prize of the state of Baden-Württemberg and the city of Karlsruhe will show its appreciation of the best One-Artist-Show at the fair. Unlike other prizes, the award of EUR 15,000, endowed half each by the City of Karlsruhe and the State of Baden-Württemberg – serves to purchase works from the selected presentation with a view to building up the collection of art KARLSRUHE prize-winners in the Karlsruhe Municipal Art Gallery.
Stay up to date about art KARLSRUHE at:
www.art-karlsruhe.de and Facebook at www.facebook.de/artkarlsruhe.
Location
Karlsruhe Exhibition Grounds
Messeallee 1
D-76287 Rheinstetten, Germany
Opening Hours
16th - 18th February, 12 - 8 PM
19th February, 11 AM - 7 PM
Entry Fees
Day ticket: 20 €
Day ticket, concessions*: 16€
Evening ticket (after 5:00 p.m.), Sunday (after 4:00 p.m.): 14€
2- day ticket: 28€
2- day ticket, concessions*: 24€
Season ticket: 34€
Season ticket concessions*: 30€
Groups (10 people or more): 16€ (per person)
Family ticket (two adults with up to three children aged 12-17): 44€
Catalogue 2017 (available in January 2017): €25.00
* for schoolchildren, students, senior citizens, disabled persons, SWR2-Card, CIK
children up to the age of 12 – admission free of charge
Tickets can be purchased at art KARLSRUHE./tickets.