Affordable Art Fair Singapore
(18 Nov 2016 - 20 Nov 2016)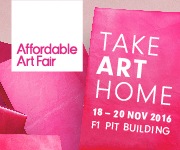 Affordable Art Fair Singapore
Synopsis for Affordable Art Fair Singapore Autumn Edition, 18 – 20 November 2016
(Private View 17 November)

The Affordable Art Fair, the world's leading showcase for affordable contemporary art, will return
from 18 – 20 November 2016 for its seventh Singapore Autumn edition. Proving you don't have to
be an art expert to fall in love with art, the Affordable Art Fair offers a diverse range of
contemporary art all priced between S$100 to S$15,000.

With an abundance of local, regional and international art talents, and a new price cap of
S$15,000, the upcoming Singapore Autumn edition will be brimming with more choice than ever
before! With 75% of the artworks on show below S$7,500, there will be something to suit every
budget. Offering hands on advice and educational guidance to all newbie art lovers as well as
established art collectors, the Affordable Art Fair Singapore is the only place where everyone
can relax in the knowledge that art doesn't have to be intimidating.

So, whether you want to bring the family for a fun day out, brush up your art knowledge via our
collecting art series, or hone your own art skills via the fair's free educational workshops, there is
something for everyone! Even food lovers will be able to enrich their artistic palate with a great
range of food and beverage options from our pop up Bistro 1855 Restaurant, and Common Man
Coffee Roasters Café.

With all this and more on offer at the easily accessible F1 Pit Building, come along and join the
fair for a fun filled arty-licious weekend! As no matter what your budget or art expertise, the
Affordable Art Fair Singapore Autumn edition will help everyone take art home!

Will Ramsay established the Affordable Art Fair in London in 1999 with the main aim of providing
a fun and exciting platform for people to gain access, increase their knowledge, fall in love with
and buy art.

Today, the Affordable Art Fair has become something of a global phenomenon with 15 fairs
happening in 11 major cities including Amsterdam, Bristol, Brussels, Hamburg, Hong Kong,
London, Milan, New York, Seoul, Singapore, and Stockholm. Over the past 17 years, more than
1.9 million people have visited 126 Affordable Art Fairs around the globe, and with £265 million
(over S$530 million) in art sales, the Affordable Art Fair has helped 412,000 artworks find happy
homes!