Zona Maco
(08 Feb 2017 - 12 Feb 2017)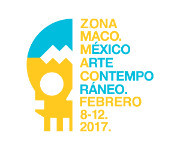 Zona Maco
ZsONA MACO MÉXICO ARTE CONTEMPORÁNEO is the top contemporary art fair in Latin America.
For thirteen editions, the fair has consolidated as the meeting point for gallerists, collectors, artists, curators and directors of national and international institutions.
ZsONA MACO will celebrate its 14th edition on February 8th to 12th, 2017 at Centro Banamex/ Hall D in Mexico City
ZsONA MACO 2016 received 48,000 visitors from Mexico and abroad and presented 123 exhibitors from 22 different countries.
Some important numbers from the 2016 edition of ZsONA MACO :
+90K USD invested in PRESS & MEDIA, with presence in +550 national and international publications
(*including electronic and printed media)
ADVERTISING in billboards all over Mexico City, spots in +600 movie theaters in Mexico City worth +500K USD and +100 TV spots worth +250K USD.
Through its SOCIAL MEDIA, ZsONA MACO reached +15.5 million people.
ZsONAMACO has five different sections that present the most relevant art and design proposals.
Main Section |
consolidated galleries representing mid-career & consolidated contemporary artists. Applying galleries are selected by a Committee of national and international gallery directors.
New Proposals | dedicated to emerging galleries presenting projects by young and emerging artists. Participating galleries are selected by a curator.
Modern Art | presents works of art from the XX Century (up to 1970). Participating galleries are chosen by a Selection Committee.
ZsONAMACO SUR | solo project section where galleries participate only by invitation from the curator.
Design | between 20 to 30 designers are selected by a curator to exhibit furniture, textiles, objects, etc.
In addition to the gallery sections, the fair has areas dedicated to sponsors, specialized publications and publishing houses, conference hall, VIP Lounge and restaurants.
The thirteenth edition of ZsONA MACO featured the valuable participation of important sponsors and partners, such as: Banamex, Mercedes Benz, Fundación Jumex, Fundación Televisa, Ruinart, Tequila 1800, Grupo Axo, Dos Equis, Tudor, Lumen, Purificación García, Huffy, Starbucks, Perrier, Grupo Expansión, Cinépolis, Acapulcoco, Gpo Vallas, Grupo Habita, Rent & Co, among others, as well as the support of public institutions, such as INBA.
ZsONA MACO poses a unique opportunity for brands looking to engage with the art world and reach its audience.
The fair's broad data base, relationship with top collectors and VIPs, media power and international projection provide fantastic platforms to develop and enhance brand strategies.
Across the years, many brands have joined ZsONAMACO as sponsors and allies, through special projects and brand presence strategies that have proved succesful.
PRICES
—
General public $200 MXN per day.
Students and senior citizens $100 MXN per day.
Admission is free for children 12 and under.

OPENING DATES, HOURS AND LOCATION
—
September 21st to 25th, 2016
Wednesday, 21st: 12:00 PM to 9:00 PM (Opening).
Thursday 22nd, Friday 23rd, Saturday 24th: 12:00 PM to 9:00 PM.
Sunday 25th: 10:00 AM to 6:00 PM.
Centro Banamex, Hall D.
Av. Conscripto 311, Miguel Hidalgo, Lomas de Sotelo, 11200, Mexico City.
BOOK NOW
— 1. Select tickets
2. Select the green button "Pagar con Sr. Pago""
3. Enter your payment details
4. Enter your name, phone number and e-mail
5. Complete! -Select an option- Student General
-Number of tickets- 1 2 3 4 5