DDESSINPARIS
(29 Mar 2019 - 31 Mar 2019)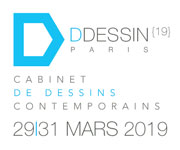 DDESSINPARIS
Atelier Richelieu
60 rue Richelieu
75002
Paris
France
DDESSINPARIS {19} 7ÈME ÉDITION DE DDESSINPARIS
CABINET DE DESSINS CONTEMPORAINS
ATELIER RICHELIEU, DU 29 AU 31 MARS 2019

Depuis 7 ans, DDESSINPARIS investit, durant la Semaine du dessin à Paris, l'ancienne imprimerie du magazine l'Illustration située en plein cœur de la capitale. Un lieu emblématique pour ce rendez-vous désormais incontournable qui se déroulera du 29 au 31 mars 2019.
Cette 7ème édition confirme le rôle majeur de DDESSINPARIS : être un tremplin et une passerelle, tant au niveau national qu'international, pour la jeune scène artistique travaillant le dessin sous toutes ses formes – aux côtés de galeristes et d'artistes plus établis. Un événement qui reste fidèle à sa vocation première, soit soutenir, promouvoir et accompagner les artistes. Partenaire majeur des acteurs du monde de l'art, DDESSIN (19) offrira à nouveau aux professionnels, collectionneurs et amateurs, un moment riche en découvertes, dans un cadre unique et une ambiance conviviale.
Evènement très attendu de cette manifestation, DDESSINPARIS encouragera cette année encore la création contemporaine par la remise du PRIX DDESSINPARIS/INSTITUT FRANÇAIS DE SAINT-LOUIS AU SÉNÉGAL.
Une vingtaine d'exposants français et étrangers
De nouveaux exposants et de nouvelles galeries font leur entrée sous les verrières de l'Atelier Richelieu : Art Gamma Gallery (Saint-Cloud), Espace Christophe Person (Paris), Fondation Duhem – La Pommeraie (Ellignies-Sainte-Anne, Belgique), Galerie Antonine Catzéflis (Paris), Galerie Maria Lund (Paris), Galerie Pol Lemétais (Saint-Sauveur du Moustier), Galerie Polaris (Paris), Galerie Vallois (Paris), Sydney College of the Arts, University of Sydney (Sydney, Australie), Moving Art (Nice), Salon H (Paris), Galerie Ségolène Brossette (Paris), et plusieurs reviennent participer à DDESSINPARIS : Espace Art Absolument (Paris), Galerie Céline Moine (Lyon), H Galerie (Paris), Galerie Polysémie (Marseille), Galerie Marie Jaouen (Paris), Galerie Benjamin Leymarie (Bordeaux), Rizomi Gallery (Parme, Italie), Galerie Sitor Senghor (Paris).