Swab Barcelona International Contemporary Art Fair
(26 Sep 2019 - 29 Sep 2019)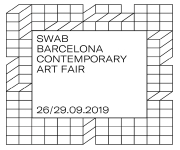 Swab Barcelona International Contemporary Art Fair
PAVELLÓN ITALIANO (Z.6).
FERIA BARCELONA
08038
Barcelona
Spain
ABOUT SWAB BARCELONA CONTEMPORARY ART FAIR

Swab Barcelona is an art fair that throughout its 11 editions has worked on the same philosophy, reflecting the latest trends of contemporary art and being a platform not only for established galleries but also for young and independent spaces that begin its path in the international circuit. Within that idea we created a fair with a wide goal but a clear artistic direction driven by its curated projects and its focus on the latest proposals of the international artistic scene.

Founded in 2006 by the collector and architect Joaquín Díez-Cascón, the fair remains faithful to its original objectives, maintaining an exclusive format based on a human scale of 70 galleries selected by a selection committee integrated by relevant collectors and curators of the contemporary art market.

A NEW PATH

After 11 years of trajectory that have established it as a reference fair both locally and internationally, Swab Barcelona migrates towards a 'boutique' fair concept.

The fair narrows its scale to condense quality in its general and curated programs, which remain committed to artistic and discursive proposals that offer an alternative viewpoint in the current art context.

In addition, Swab Barcelona reinforces its collectors program and continues its mission to support local talent, promote art collecting, and to bring contemporary art closer to Barcelona citizens, with prizes and activities that reach beyond fair walls.

GENERAL PROGRAM

In its 2019 edition, Swab Barcelona welcomes a select group of local and international contemporary art galleries that showcase artists born after 1970.

Participating galleries are chosen by a selection committee comprised of collectors and independent curators of international prestige.

SWAB SEED

The program's 5th edition seeks to give visibility to various independent and selfmanaged spaces and platforms.

MY FAF (MY FIRST ART FAIR)

Swab Barcelona supports a selection of 3 young galleries -less that 2 years old and presenting artists born after 1975 - invited to participate of its first international fair.

SWAB READING

Swab Barcelona invites a group of four projects that feature works in the intersection of art and edition. Books and experimental publications are exhibited in this program.

CURATED PROGRAMS

Special projects led by internationally renown curators which aim to reflect the new voices of the contemporary art panorama.

Ephemeral - Curated by Caterina Almirall This program focuses on installation-based ephemeral projects that encourage interaction and contemplation, serving as a platform to promote local talent from Barcelona's art factories into the international scene.

On Paper - Curated by Carolina Diez-Cascón A selection of galleries with proposals that reinterpret the artistic language of paper as a contemporary technique, exploring its conceptual synthesis.

Swab Performance - Curated by Alexandra Laudo One of Swab Barcelona's most experimental programs, its 5th edition focuses on local performance projects.

Swab Barcelona has a program for international collectors, with which we want to enhance and expand their private collections through presenting in each edition attractive novelties. In addition we count with a new collector target who begins in the passion and knowledge of contemporary art.

COLLECTORS PROGRAM

This program seeks to offer to the collectors the opportunity to enjoy the fair and all its proposals as well as to live an artistic and personal experience in the city of Barcelona through visits to private collections, art centers, exclusive events and other artistic proposals offered during those days in the city.

From Swab we look for an intimate experience with each one of our collectors, many of whom have grown up with the fair and many others have started collecting in it, creating a personal bond between them, the galleries, the artists and Swab.

SWAB THINKS

Conferences, debates, and pannels that will bring together artists, curators, collectors, and cultural critics to discuss the transformations of the contemporary world and the place that the artistic practice occupies in it.