Art Düsseldorf
(15 Nov 2019 - 17 Nov 2019)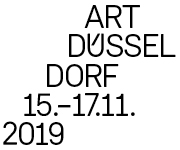 Art Düsseldorf
"Art Düsseldorf is in the right place at the right time. It combines the outstanding characteristics of the Rhineland as a location for art and meets the curiosity of the neighbouring regions. Düsseldorf has a unique location for many collectors from Belgium, the Netherlands and Luxembourg. With the third edition, we will promote greater internationalisation in terms of both content and structure."

Walter Gehlen, Director
HIGH-PROFILE GALLERIES

Art Düsseldorf brings together high-quality modern, contemporary and emerging art from galleries based in the Rhineland, Germany and Benelux countries, as well as international big-name players. The fair positions itself in the region as art fair with global appeal. Art Düsseldorf is dedicated to choosing galleries that will showcase art catered to collectors in the region, as well as educate international collectors interested in the history of Düsseldorf's art scene and the regional 'DNA'. Galleries are carefully selected each year. More than a half of the participating galleries in 2018 came from the region (Germany and Benelux). Most of the international galleries were of European origin. Of all 91 exhibitors, one third came from North Rhine-Westphalia. For its second edition, Art Düsseldorf increased their fair grounds by 10% and is proud to have welcomed 40 new exhibitors.
A UNIQUE EXPERIENCE

The visit to Art Düsseldorf is a meeting place for experts and art lovers alike. With a clear focus on post-war and contemporary art, the fair provides an overview of the most important current trends, coupled with important positions in recent art history. Anyone who wishes can take a guided tour of the fair to enter into an informative and stimulating dialogue with art in 60 minutes. The fair experience makes many discoveries possible.
A SUCCESSFUL FIRST AND SECOND EDITION

With over 40,000 visitors, Art Düsseldorf 2018 followed its successful premiere of 2017 and again received excellent feedback from gallerists and collectors on the exhibitor and visitor experience.
Opening Hours 2019
Thursday Nov 14, 2019 12pm-4pm VIP-Preview
Thursday Nov 14, 2019 4pm-8pm Opening
Friday Nov 15, 2019 12pm-7pm
Saturday Nov 16, 2019 11am-7pm
Sunday Nov 17, 2019 11am-7pm