LUXEMBOURG ART FAIR
(06 Dec 2018 - 09 Dec 2018)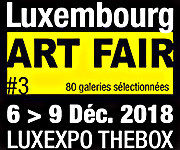 LUXEMBOURG ART FAIR
Luxembourg ART FAIR
6 - 9 December 2018
LUXEXPO THE BOX
The 3rd edition of the international contemporary art fair, Luxembourg ART FAIR, will welcome more than 80 international galleries at the Luxembourg Parc des Expositions from 6 to 9 December 2018.
The fair
Luxembourg ART FAIR will showcase around 80 international galleries, selected by our committee, originating from the four corners of the world.
Art lovers and passionate collectors will find what they are looking for among the paintings, sculptures and photographs displayed.
The concept
art3f, a society that has specialised in organising large scale art events for the last 5 years, has chosen the city of Luxembourg for its first high end fair dedicated to art galleries.
In the magnificent hall 8 of the Luxembourg exhibition centre, we invite you to discover a magnificent artistic landscape in the midst of sleek and expressive architecture that will help to show off the works and facilitate their purchase in a completely relaxed setting.
You will be able to wander along the large aisles and rest in the middle of many oases studded with sculptures.
Visitors and collectors will be able to revel in works by established artists or set off on a journey of discovery of the creations of the rising young international community, which will also be one of the unique features of this edition.
International contemporary art fair
Luxembourg ART FAIR is shifting the boundaries of traditional contemporary art trade fairs by giving these cultural events back their warm, human side. A VIP bar offers quality catering and a wonderful selection of wines, a jazzy ambiance, live performances, a happening zone reserved for children's creativity: there are this many reasons to discover art as a family.
Address
Parc des Expositions - Luxexpo The Box
10 circuit de la Foire Internationale
L-1347 Luxembourg-Kirchberg
Hours
Thursday from 6pm to 11pm (Preview will take place as of 7pm)
Friday from 4pm to 10pm 
Saturday from 10am to 7pm
Sunday from 10am to 7pm
Admission
€ 10 (Free for accompanied minors)
Additional information @ info@luxartfair.com