Art Innsbruck 2019
(17 Jan 2019 - 20 Jan 2019)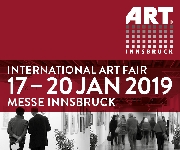 Art Innsbruck 2019
Innsbrucker Messe
Messehalle A, Haupteingang Ost
Claudiastraße 1
6020
Innsbruck
Austria
The 23 rd ART INNSBRUCK taking place from 17 to 20 January 20 19 will be the beginning of another successful ART year.
She loves to run continuously, not only in terms of sports, but also on business. For a quarter of a century, Johanna Penz, the CEO of the ART Kuns tmesse GmbH, has organized at least one art fair a year, and during the last two years, the re were even two of them. But how does she make it? "It's all about perfect timing and appropr iate endurance", smiles Penz. She knows exactly, what she's talking about.
The second editi on of the ART SALZBURG CONTEMPORARY & ANTIQUE INTERNATIONAL, which was founded only las t year and took place simultaneously with the Classic Expo from 19 to 21 October this ye ar, has only just closed its gates, as the planning for the ART INNSBRUCK is getting started.
By founding this fair, Penz entered the art fair business 24 years ago, and this event has beco me a showcase project of an art fair purely based on private enterprise. "In our fairs, we conn ect diversity with internationality and right from the start we have offered a high-quality and y et unpretentious approach to modern art for our visitors", explains Penz. "To manage an art fair that concentrates on the pretended elites and what's more, asks for taxpayer's money i s not art, it is nuisance", adds the smart business lady smiling, but vigorously.
Art has to c ome to the people and should not hang only in museums, but rather in people's homes. This is w hat art fairs are for. All the more since there are so many great artists, who live and work for their art to be purchased. The committed art fair manageress, who was chosen as En trepreneur of the Year for her outstanding entrepreneurial spirit early this year, has endeavoured each year to present the best possible variety of exhibitors as well as insp iring special shows to her audience. "Art can do anything but stand still and be boring", this is the credo of the passionate runner. Art fairs must keep moving. From 17 to 20 January in the Exhi bition Hall A in Innsbruck, Penz and her team will do their best to show that this statement is true.
Buy Art Innsbruck Tickets online