You must have cookies enabled to use this website.
Information on Franz MARC
Artworks up for public auction
Lot Highlight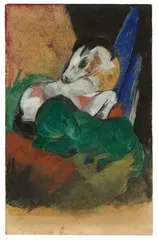 "Grünes und weißes Pferd" 1913
Grisebach , Berlin
Germany 28 Nov 2019
Drawing-Watercolor Tempera/paper
On Artprice.com's Marketplace
Franz MARC (1880-1916) (Germany) is an artist born in 1880 The oldest auction result ever registered on the website for an artwork by this artist is a print-multiple sold in 1986, at Christie's , and the most recent auction result is a drawing-watercolor sold in 2019. Artprice.com's price levels for this artist are based on 719 auction results. Especially: painting, print-multiple, sculpture-volume, drawing-watercolor. One art work by artist Franz MARC (1880-1916) will soon be available in auction rooms. You can also discover 3 artwork(s) currently for sale on Artprice's Marketplace. , sold by 1 Artprice store(s).