Other possible identifications: manner, attributed
Artworks up for public auction
Lot Highlight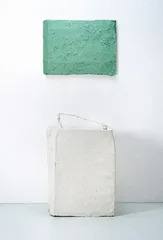 "Ohne Titel" (previously "Requisit")/"Maulschelle – Paßstück"
Dorotheum , Vienna
Austria, 30 Nov 2022, 18h00
Sculpture-Volume Installation
For Franz WEST (1947-2012) (Austria), the oldest auction result ever registered for an artwork by this artist is a drawing-watercolor sold in 1989, at Dorotheum, and the most recent auction result is a sculpture-volume sold in 2022. Artprice.com's Advanced Analytics are based on 1,534 auction results. Especially: sculpture-volume, lightings, drawing-watercolor, furniture, painting, print-multiple, photography, audiovisual-multimedia, objects. 6 art works by artist Franz WEST (1947-2012) will soon be available in auction rooms. You can also discover 4 artwork(s) currently for sale on Artprice's Marketplace , sold by 1 Artprice store(s).