ZHAO Wuji
Other possible identifications: after, attributed, manner
Zao Wou-Ki was a painter and engraver who was born in Beijing in 1920. He acquired French nationality in 1964 and died in the Swiss town of Nyon in 2013.
From a literary family, Wou-Ki entered the Hangzhou School of Fine Arts when he was fourteen and pursued a traditional academic curriculum, excelling in calligraphy. At the age of 27, he decided to pursue his studies in Paris. Initially influenced by
Paul Klee
, his painting soon moved towards abstraction while clearly showing affinities with the Abstract Expressionism he encountered during a visit to New York in the 1950s. Rapidly appreciated in Europe, a friend of
Pierre Soulages
,
Joan Miró
and
Henri Michaux
, Wou-Ki successfully combined his Oriental heritage with the artistic and poetic ambitions of Western lyrical abstraction. Fond of large formats, often in the form of polyptychs, his paintings were veritable explosions of shape and colour. In market terms, Zao Wou-ki's works have been mostly exchanged in France, but his most spectacular paintings are usually offered in Hong Kong. In 2018, Christie's Hong Kong sold his giant triptych
June-October 1985
for over $65 million.
Artworks up for public auction
Lot Highlight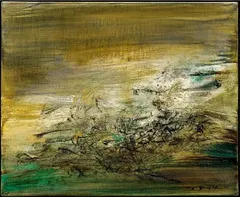 20.6.64 (20.6.64) 1964
Poly Auction Hong Kong , Hong Kong
Hong Kong, 10 Oct 2022, 11:00 am
Painting Oil/canvas