Auction results for ZHAO Mengfu
Artworks up for public auction
There are no artworks by ZHAO Mengfu currently listed in upcoming public auctions
Highlight on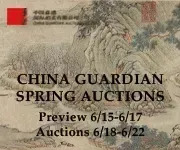 On Artprice.com's Marketplace
On Artprice.com's Standardized Marketplace, you can buy or sell artworks by ZHAO Mengfu.
Decision support tools (statistics & charts) for ZHAO Mengfu
Updated on 18 Jun 2018: ZHAO Mengfu (1254-1322) is an artist born in 1254 The oldest auction result ever registered on the website for an artwork by this artist is a drawing-watercolor sold in 1989, at Sotheby's, and the most recent auction result is a drawing-watercolor sold in 2018. Artprice.com's price levels for this artist are based on 195 auction results. Especially: drawing-watercolor.
Along with "ZHAO Mengfu", our clients also looked up the following: