You must have cookies enabled to use this website.
Information on Tony CRAGG
Artworks up for public auction
Lot Highlight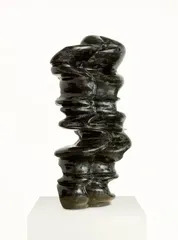 "Solo Diabas" 2007
Grisebach , Berlin
Germany 31 May 2019
Sculpture-Volume Stone
On Artprice.com's Marketplace
Tony CRAGG (1949) (United kingdom) is an artist born in 1949 The oldest auction result ever registered on the website for an artwork by this artist is a drawing-watercolor sold in 1985, at Christie's , and the most recent auction result is a sculpture-volume sold in 2019. Artprice.com's price levels for this artist are based on 655 auction results. Especially: painting, print-multiple, sculpture-volume, photography, drawing-watercolor, tapestry, objects. 7 art works by artist Tony CRAGG (1949) will soon be available in auction rooms. You can also discover 14 artwork(s) currently for sale on Artprice's Marketplace. , sold by 5 Artprice store(s).