Adrian Ghenie crosses the $10 million threshold
[14 Jun 2022]

Rapidly compared to Francis Bacon, Adrian Ghenie has been electrifying the art world for 10 years. Now crowned with a record at over 10 million dollars, he is one of the 100 most successful artists in the art auction market and has established himself as one of the most sought-after painters of our time.

A graduate of the University of Art and Design of Cluj-Napoca (north-west Romania) in 2001, Adrian Ghenie produces powerful paintings on the cusp of representation and abstraction, preferring the palette knife to the brush. His favourite subjects tend to be vivid depiction of key figures from 19th and 20th century history – Charles Darwin, Vladimir Lenin, Vincent Van Gogh and Marcel Duchamp – sometimes as partial self-portraits. His highly expressionist and organic paintings seem to focus on distorted matter and tortured flesh, much in the same vein as Lucian Freud and Francis Bacon (to whom he has often been compared and even juxtaposed at a 2012 exhibition at the Palazzo Strozzi Foundation in Florence).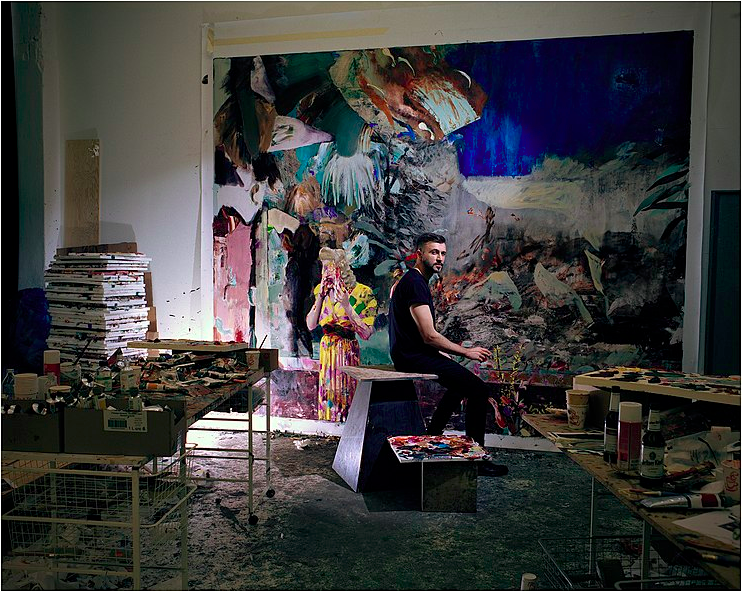 Portrait of Adrian Ghenie by Oliver Mark, Berlin 2014, Collection of the Bucovina Museum
Adrian GHENIE's meteoric rise began in 2011 when his work was included in a group exhibition at the prestigious Pace Gallery. Supported by one of the world's most respected galleries, a powerful painting titled Swimming Pool (measuring less than 50cm) was subsequently presented at Phillips de Pury & Company in New York that same year where it immediately attracted strong bids from wealthy collectors, fetching double its estimate at $22,500. While the Pace Gallery label undoubtedly contributed to that initial success, the art world had already noticed Adrian Ghenie since a 2006 exhibition at the Haunch of Venison gallery in Zürich. A year later, in 2007, the Haunch of Venison gallery subsequently became a subsidiary of the world's most powerful auction house, namely Christie's. In 2011, Haunch of Venison-Christie's opened its second space in London and devoted a solo show to the young "Ghenie". After that, his work was exhibited at numerous venues around the world including the Museum of Contemporary Art in Denver, the Palazzo Strozzi in Florence and the Kunsthalle Műcsarnok in Budapest and his reputation grew commensurately. Not surprising therefore that his auction debut and subsequent secondary market evolution was highly successful.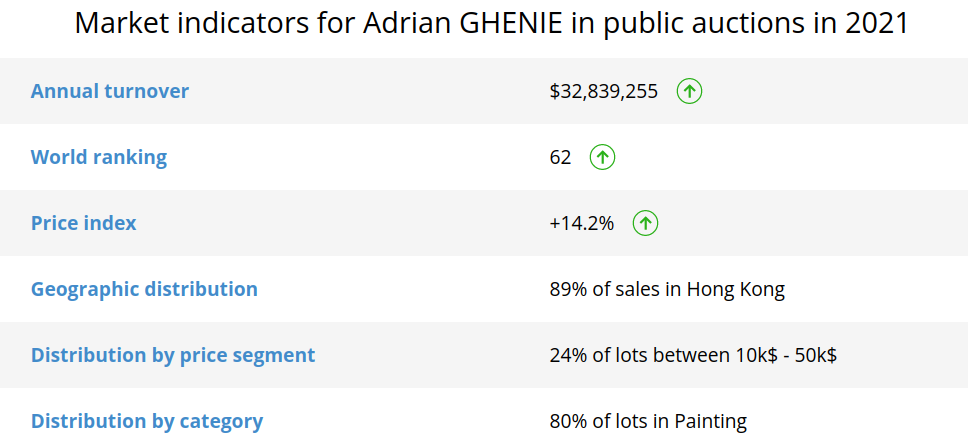 Copyright Artprice.com
High valuations, driven by major galleries and auction houses
The scene was set… a new star was in the making. In 2013 the Pace Gallery considerably accelerated the already strong momentum by devoting a first solo exhibition – with catalogue – to Ghenie's work in New York (Adrian Ghenie: New Paintings, 8 March – 4 May 2013). Following this show, his auction prices soared with a 'revisited' portrait of Elvis Presley fetching over $330,000 at Sotheby's London in June 2013. The following year, he crossed the million-dollar threshold for the first time with a work called The Fake Rothko that fetched $2.4 million (on 30 June 2014 at Sotheby's in London) vs. a high estimate of $596,000. This spectacular result naturally enhanced his celebrity and the art auction sphere began to see him as a new "prophet" of Contemporary painting.
In 2015 his career received two further boosts: the first being his entry into the Thaddaeus Ropac gallery, which gave him an exhibition in Paris at the end of October (coinciding with the Fiac) and, the second being an immensely successful show at the Romanian pavilion of the 56th Venice Biennale where Ghenie represented his native country with Darwin's room, a deep dive into painting, history and art history. This highly acclaimed contribution to the Biennale propelled him to the forefront of the Contemporary scene, and his prices rocketed in the months that followed, up to the record of $4.5 million in February 2016 for a work paying homage to Van Gogh (Self-Portrait As Vincent Van Gogh).
Three months later, another Sotheby's sale offered a self-portrait of Ghenie as Vincent Van Gogh with an estimate of around $200,000. Exhibited in 2013 at the Pace gallery, then at the Venice Biennale in 2015, the painting fetched $2.59 million, ten times its initial estimate.
Adrian Ghenie : Turnover at Auction
Copyright Artprice.com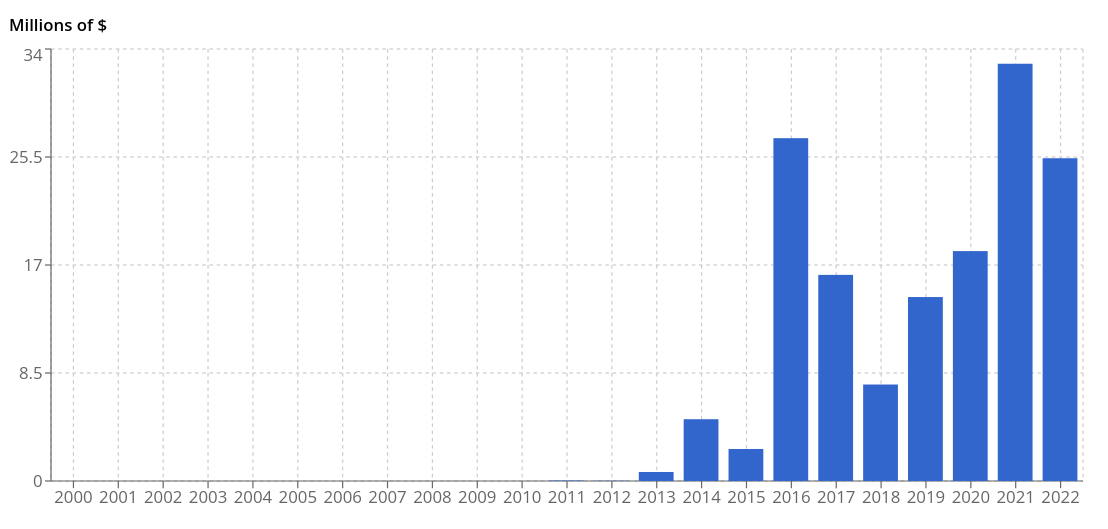 In October 2016 the momentum acquired dramatic force when his Nickelodeon (2008), estimated at under $2 million, fetched over $9 million! At the end of 2016, Ghenie's auction turnover amounted to $27 million, a performance that promoted him from 550th to 60th place in Artprice's global ranking of artists by annual auction turnover. There followed a period of slowdown, but in 2021 the momentum began to recover, and, on 26 May last, Christie's set a new record for the artist at $10.3 million – a new auction record – with a monumental painting titled Pie Fight Interior 12 (2014).
This spectacular result was hammered in Hong Kong in parallel with an exhibition titled « Flesh and Soul: Bacon/Ghenie » also organised by Christie's. Full of praise for this "genius" of painting, Christie's described Ghenie's "unique artistic language" as being "inspired and influenced by a range of art masters from Rembrandt's prolific history paintings, Tintoretto's dramatic Renaissance canvases, to Francis Bacon's turbulent, ghostly visages. Ghenie's Abstract passages also conjure Gerhard Richter's scraping technique, and the gestural vigour of Willem de Kooning alike.". The pre-sale press release also expressed Christie's satisfaction at being able "to offer this monumental painting in Hong Kong and continue to cement the city as one of the leading sale sites for contemporary masterpieces.".
Adrian Ghenie : Geographic distribution (2000-2022)
Copyright Artprice.com