Aristide Maillol at Orsay
[26 Apr 2022]

"If the word 'genius' still has meaning today, it is indeed applicable in this case: Maillol has a clear genius for sculpture". Auguste Rodin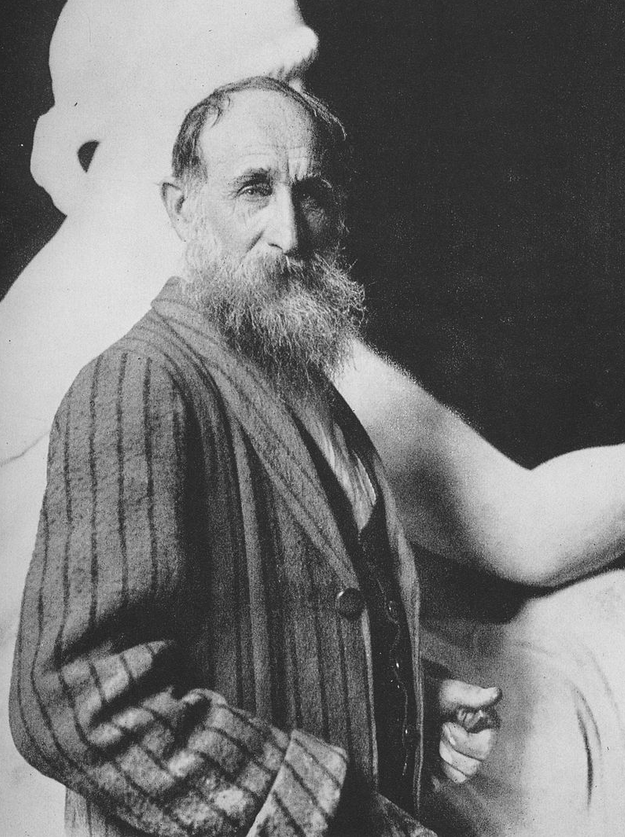 Originally from the Pyrénées-Orientales region, Aristide MAILLOL moved to Paris at the age of 21 with a very clear penchant for fine arts. Accepted into the Painting and Sculpture section of the National School (Ecole Nationale) in 1885, his tutors were the likes of Jean-Paul Laurens, Jean-Léon Gérôme and Alexandre Cabanel. In the heady atmosphere of late nineteenth century Paris, he also met and befriended Maurice Denis, Édouard Vuillard, Auguste Rodin and later, Henri Matisse. The most daring artists of the nascent 20th century were quick to recognise Maillol's talent. His absolute devotion to an aesthetic of powerful and voluptuous forms and corporeal expression resulted in creations of timeless sensuality.
At the heart of Maillol's œuvre is a remarkable purity of line, a synthesis of forms and above all, a Quest for Harmony, as the title of a major exhibition currently underway at the Musée d'Orsay reminds us. Uniting more than 150 Maillol works alongside creations by his close friends, this retrospective is indeed an event: the last large-scale exhibition of his works dates back to 1961 when the National Museum of Modern Art organized a Tribute to Maillol to mark the centenary of his birth. The Musée d'Orsay's initiative is an opportunity for us to review the career and market prices of the artist who Rodin considered a genius of sculpture.
A "genius of sculpture"
Known primarily as a sculptor, Maillol was initially a painter (starting with a seascape at the age of 14) and did not really devote himself to three-dimensional works until he was around forty years old.
His early 3-D works were clay sculptures that his friends, Édouard Vuillard, Pierre Bonnard and Auguste Renoir occasionally depicted in their works. Fortunately, his painter friends were not the only ones to admire the purity of his sculptures; a number of decisive encounters soon led to a rapid evolution of his artistic career.
First there was the famous art dealer Ambroise Vollard, who organized Maillol's first solo exhibition in his small gallery on rue Laffitte in 1902. Then came one of the best chances of his life: his meeting with Count Kessler. A great collector and tireless talent spotter, Kessler became his principal patron, giving him several major commissions including La Méditerranée which received an enthusiastic welcome at the Paris Autumn Salon in 1905. A seated woman with full and simplified shapes, La Méditerranée prompted André Gide to say "She is beautiful, but she has no ulterior meaning; it is a silent work. I believe we have not seen such complete disregard for concerns extraneous to the simple manifestation of beauty for a very long time".
The success of Méditerranée at the Paris Autumn Salon in 1905 encouraged Maillol to produce other versions of this sculpture: models in plaster, in stone and then, in 1923, a version sculpted in white marble, commissioned by the French State to be placed in the Tuileries garden (today replaced by a bronze version).
Another Salon, that of 1910, projected him from national to international recognition with his statue representing Pomone. The Russian collector Ivan Morozov was so impressed with it he commissioned a bronze version to decorate his palace in Moscow, alongside a decor by Maurice Denis. Morozov commissioned three other statues from Maillol – L'Été, Le Printemps, and Flore – in order to compose Les Quatre saisons, an impressive ensemble recently presented in a specific scenography as part of the "Morozov Collection, Icons of Modern Art" at the Louis Vuitton Foundation (Paris). After the success of the 1910 Salon, Maillol was solicited to exhibit outside France… in Rotterdam, London, Berlin and even New York, where several of his works were selected for the Armory Show.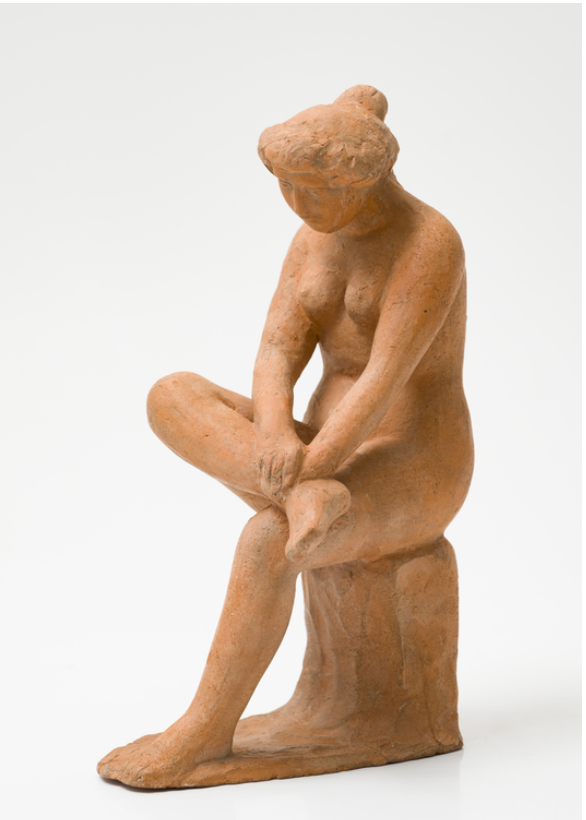 Aristide Maillol, Femme Assise, 1900
Sculpture (1/6), 21,5 x 12 cm. Signed (store : April in Paris)
Maillol in all price ranges
Better known for his work as a sculptor, his drawings and paintings are not always very popular with collectors. Of course, the most impressive drawings (in terms of size and degree of completion) can fetch more than $100,000 (and well beyond), but many drawings remain unsold and the results for 'small' studies vary between 1,000 and only $8,000. And yet… his nudes drawings on paper – especially those of his muse Dina Vierny – are superb, and they perfectly illustrate the spirit and feel of his sculptures!
His paintings are much rarer. One or two per year appear at auction. Last March, a charming Woman reading (1891), with Nabis overtones, sold for $67,000, despite its relatively small size (30 x 39 cm).
The auction record for his sculptures currently stands at just over 8 million dollars, a price hammered in 2013 at Artcurial for a lead version of La rivière(1938-1943). A late cast by the Rudier foundry in the 1970s, the work doubled its high estimate. From Dina Vierny's personal collection, the statue was put up for sale by her son, along with nine other Maillol works, in the framework of the settlement of her estate.
Reminder on Dina Vierny, great muse of Maillol: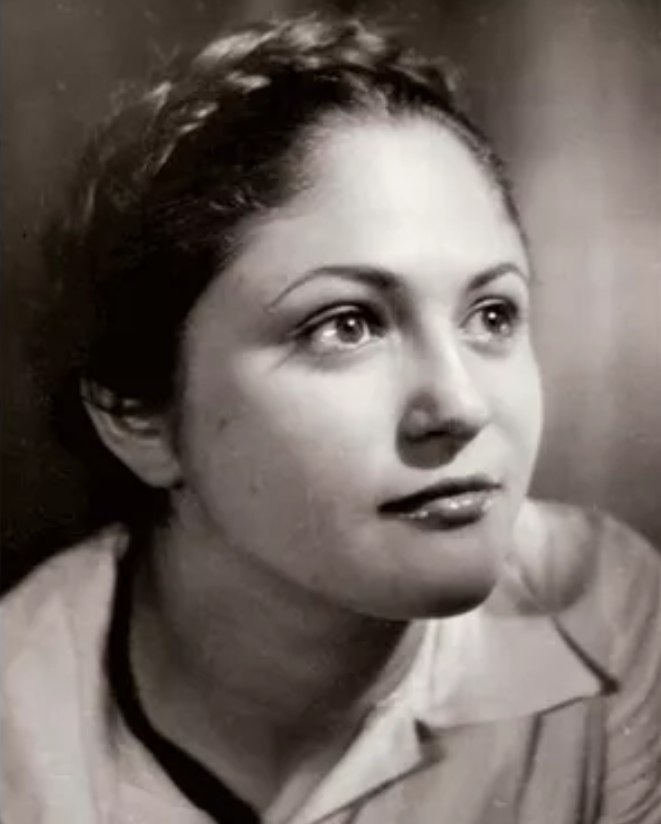 Of Jewish Ukrainian origin, Dina Vierny's musician parents fled Stalin's USSR in 1925 when she was a young child. In 1934 she became Aristide Maillol's model. The artist saw in her the perfect incarnation of the feminine ideals he had always sought. She also became the model of Maillol's friends, including Henri Matisse and Pierre Bonnard, while pursuing studies in biology and chemistry.
After Maillol's death in 1944 she opened a gallery on Boulevard Saint-Germain on the advice of Henri Matisse. In particular, she defended Russian artists rejected by the Soviet regime. To honor the memory of Maillol, she opened a museum in Banyuls (eastern Pyrenees), where the sculptor is buried.
Dina Vierny also donated many works to France to make Maillol's work known to the general public. Minister of Culture in the 1960s, André Malraux had some twenty of Maillol's sculptures installed in the gardens of the Domaine du Louvre and the Tuileries.
Current exhibition…
Aristide Maillol. La quête de l'harmonie is open at the Musée d'Orsay in Paris until August 21. It will subsequently be presented at the Zurich Kunsthaus from 7 October 2022 to 23 January 2023, and then at La Piscine – André Diligent Museum of Art and Industry in Roubaix from 18 February to 21 May 2023.